Cross valley rivals Racing San Miguel, were the opponents at the neutral venue in Algorfa last Sunday. Another week, another "must win" game started in a lively fashion, with Monte utilising their usual efficient closing down tactic and San Miguel seemingly happy to knock the ball between the backs.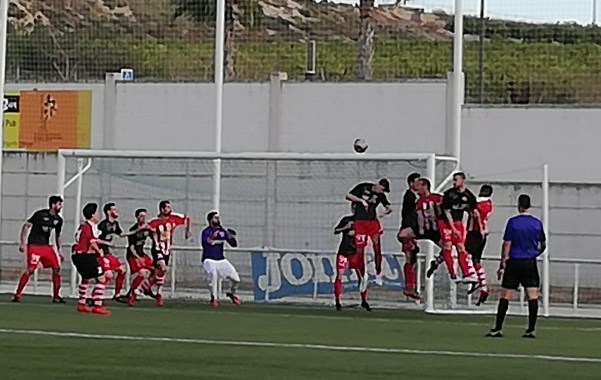 Custodian Carlos was called to action on several occasions as San Miguel slowly grew in confidence but Monte stuck stoically to their task. The half petered out, but with the scores level, Monte were pleased with their efforts.
HT: CD Montesinos 0 – 0 Racing San Miguel
Within 5 minutes of the restart, Carlos again had to be sharp, saving from another one-on-one, San Miguel were slowly turning the screw and it was surely only a matter of time before Monte's luck ran out and it did on 70 minutes.
While Monte were crowded in the attacking third, a slip by wing-back Daniel on the half way line, let in a breaking San Miguel attacker who raced forward, drew Carlos, and passed to a team-mate to slide the ball home.
Far from lying down though, the goal spurred on Monte and they raised their game yet again, chasing and harrying and generally making their opposition uncomfortable in all areas of the pitch.
On the 77th minute their efforts were justly rewarded when intense Monte pressure, resulted in David nonchalantly clipping the ball into the net. Cue delirious scenes both on and off the pitch. Monte had clawed their way back into the match.
With their slender lead gone, San Miguel upped the tempo again and pressured Monte, who were dropping deeper and deeper as the half ran to its conclusion. But Monte held firm, riding their luck at times, but stolid in protecting their hard won point.
With other results not doing Monte any favours, anything from this game should be considered a bonus, but in a sense, the fighting performance clearly showed that this team has enough in it's locker to stay the distance.
Monte's next game is away at CF Rafal, full details be forwardeed when known.
Match report by Steve Robinson.
Photo's by David Winder