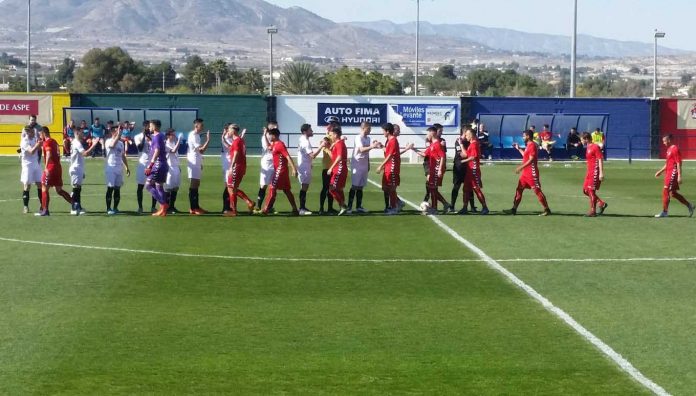 ASPE UD – 1 CD TORREVIEJA – 1 … BY STEVE HIBBERD
It could only happen in Spain! Just when you thought that Torry had found the right managerial blend, Kiko Lopez and Paco Guillen only go and resign – for the 2nd time that is! However the Director of sports, Juanjo Fernandez has wasted no time in appointing a replacement but, unfortunately it came too late and the new manager Jesus Ruso was ineligible to sit in the dugout for the match at Aspe.
So, can Jesus save Torry from relegation? With 8 games remaining, his new team must overcome a 4 point gap between their current 2nd to bottom slot, and Benidorm who sit just outside the relegation zone.
Whoever was in charge of team selection for Saturday's crucial relegation battle, made 4 changes from last week's mauling by Intercity San Juan. Guille, Mariano and Xavi all made their debuts, in a team that no longer has any players remaining from the opening game of the season.
Back at the end of October, Torry were good value for their 2-0 victory over Aspe at Nelson Mandela Stadium, which quite alarmingly was the last time that long suffering fans had witnessed a home win.
Torry started the match inside Las Fuentes stadium brightly, earning 3 corners in the opening 2 minutes. From the 2nd of these corners, Tomy´s powerful header forced an acrobatic save from the impressive home keeper Riqui. But as has often happened this season, poor defending has been their undoing. When on 16 mins an unmarked Viri picked up a loose ball on the edge of the box, he was given oceans of space to pick his spot, before unleashing an unstoppable drive which beat Cristo all ends up.
Battle as they may, Torry couldn´t get back on equal terms before the interval. It´s criminal that for all their 2nd half dominance, they just couldn´t convert statistics into goals. They did score one though, on 53 mins, courtesy of a speculative Thales shot, which took a wicked deflection off defender David, before wrong footing Riqui as the ball rolled across the line.
All in all, Torry deserved more from a game in which the host's keeper was without doubt man of the match. There is a bye for all teams in the Preferente league next weekend, giving Jesus Ruso a chance to become more acquainted with his new squad.
Next up for Torry is a home match against 2nd in the table Hercules at Nelson Mandela Stadium. This will presumably be on Sunday 24 March, although it´s strongly recommended to check the club website for confirmation of date and ko time.