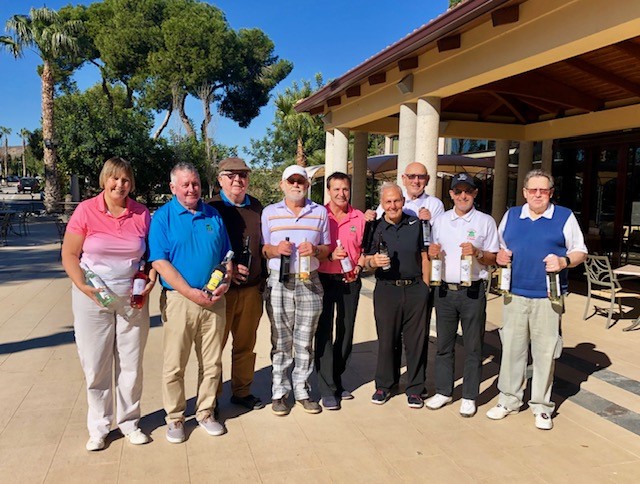 An unfortunate late withdrawal due to the golfers bane, a bad back, left a slight imbalance of entries for El Plantio 2's 'Texas Scramble.'
Instead of an ideal 5 x 3 members, one team were at a disadvantage having to play with only 2 team members. After a late start due to frost on the course, the teams experienced ideal conditions. The competition winners took advantage of these, scoring a gross four under par with no bogeys and four birdies, which, I think, is a record low score for 3 players.
Nearest the pins: Hole 1 – Helen Beddows, Hole 4 – Rod Loveday.
Third place – H/C 5, Alistair Douglas, Benny Jorgensen, Allen Robinson – 49 shots.
Second place – H/C 5.2, John Wilby, Rod Loveday, Brian Edwards, 48.8 shots.
First place – H/C 5.5, Helen Beddows, Barry Walthall, David Swann – 45.5 shots.
If anyone would like to join our Society, we play at El Plantio Golf Club every Tuesday, Friday and Sunday. We use both courses – the Par 3 nine hole course and the main 18 hole course, so we cater for all abilities. The membership rates are very competitive, so call for more details. Anyone who wishes to play in the Society as a guest or join as a new member, contact Ian Henderson on 966 716 616 or 636 116 230.
Picture from L to R: Helen Beddows, Barry Walthall, Benny Jorgensen, Brian Edwards, Alistair Douglas, Allen Robinson, David Swann, John Wilby, Rod Loveday.