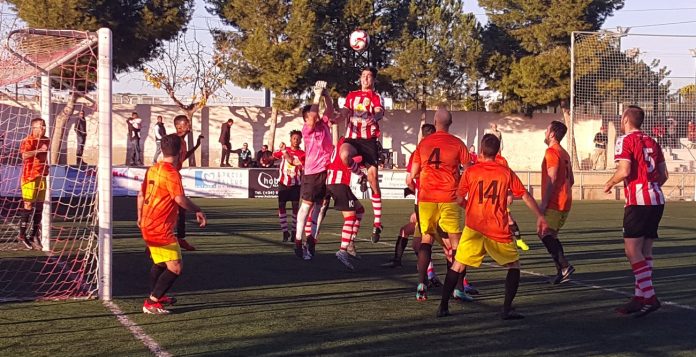 CD Montesinos 0-1 CD Altet 1
CD Montesinos suffered a shock 1-0 defeat against rock bottom club CD Altet in the 1st Regional Valencia Group 8 at The Municipal stadium.
The visitors, who look certain for relegation having chalked up a mere seven points from 15 games going into the fixture, netted a spot kick on 87 minutes to take a rare three points.
To make matters worse Montesinos defender Morante was red carded for dissent following the penalty kick.
Montesinos, sixth bottom, having sacked coach Carlos Perez in November after a dreadful run, appointment Ruben in their quest to retain first division status.
And after the unexpected defeat CD Montesinos President Felipe Paradez exclusively spoke to me, saying: "We didn't deserve to win – but we also didn't deserve to lose."
Montesinos bagged four goals against Altet in September – and on a sunny winter afternoon the home crowd were hoping to witness more of the same – but it wasn't to be.
Roberto Paloma, formerly of Torrevieja CF, signed in December, was making his second appearance for Montesinos, and worked tirelessly throughout.
It was Altet who took the game to Monte in the opening stages, with keeper Michael making a fine save, when tipping the ball over the bar.
Roberto, Maccan, who suffered another injury, German and Vazquinho went close for Montesinos as they attacked the Altet goal.
German netted, only for the 'goal' to be disallowed following handball, on 60 minutes.
Roberto was brought down, when attacking the Altet goal, with the offence seeing the visitor's defender receive a second yellow card, and subsequently sent off.
Daniel brought down an Altet forward in the dying minutes – with the spot kick duly fired into the Montesinos net.
David, formerly of Guardamar, was making his Monte debut, with Montesinos adding a further two players to the squad this week in a bid to turn round their fortunes.
"We will have to keep working hard and get better. There are many points to play for," Felipe Paradez told me.
*Next week Andrew Atkinson talks exclusively to Felipe Paradez on CD Montesinos' season – ruling out relegation.