Four weeks after last visiting Villamartin after a previously long stay away, 47 members, joined by 2 guests, turned out for the second round of this season's Bogey's Shield, a competition played over 5 rounds at different courses visited by the society throughout the year. SMGS's last visit had the unprecedented society event of 2 holes-in-one on the same day, both at the 9th. Whilst not quite matching that, John Osborne did his bit by adding another, this time at the 17th.
The medal format of the competition often meant in the past that numbers were down for this particular competition, but the day's turnout was exceptionally good, aided by a desire for many to meet up again after the Christmas and New Year festivities as well as a general liking for the course, which was in pretty good condition, especially the greens. Set up relatively short difficulty was significantly increased by the addition of some tricky pin placements.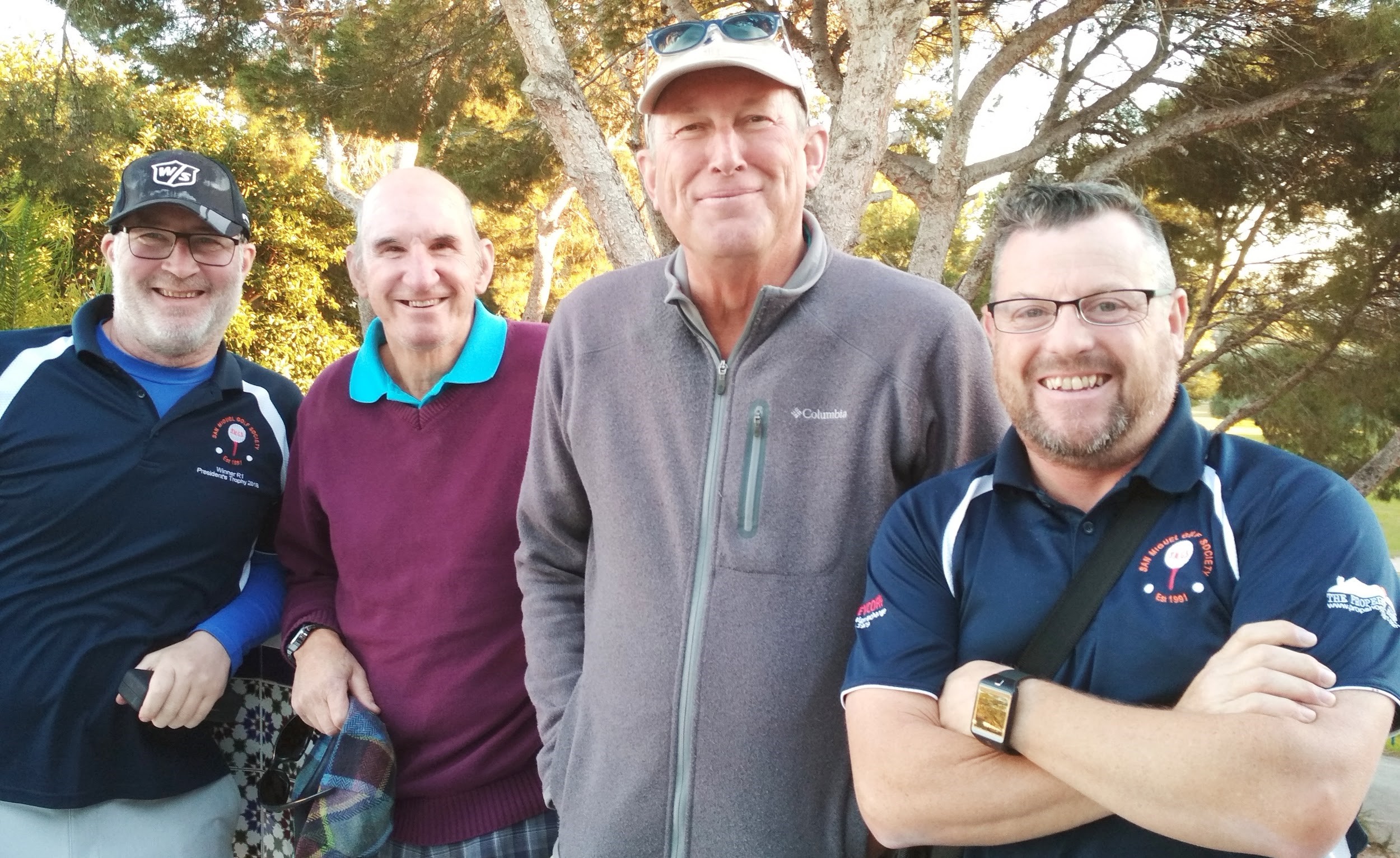 Twenty-two members were unable to achieve a nett 80 or less, indicating how tough it was for many. Interestingly, Bronze Category had better general scores than the other two divisions, a rare occurrence. Seven players beat their handicaps, with two stand-out scores. Local marshall Ian Parkinson scored an excellent nett 67, bettered only by the superb score of Barry Roehrig who recorded a nett 66 playing off of 12, his joint best gross score of the day (78) matched by Jim Imrie (handicap 4).
Results, by category and in reverse order, were the following:
Bronze Category: 5th Kyrre Skarsmoen (72 on CB), 4th Mike Jordan (72 on CB), 3rd Chris Hamblett (71 on CB), 2nd Charlie Harkin (71 on CB) and 1st Ian Parkinson with a nett 67.
Silver Category: 5th Paul Kelsall (79 on CB), 4th Bjorn Pettersson (79 on CB), 3rd Alan MacDonald (77), 2nd Phil de Lacy (71 on CB) and first Mike Greatorex, also with 71.
Gold Category: 5th John Osborne (74), 4th Steve Jones (72), 3rd Tony Smale (71), 2nd Robin Eastman (70) and 1st, with the day's best score, Barry Roehrig with a nett 66.
Nearest the pins (sponsored by Property Shop): Hole 6 Scotty Phillips, Hole 9 Tommy Boyle, Hole 13 John Rose, Hole 17 John Osborne with a hole-in-one.
Abacus: Gary Edwards
Best Guest Winner: Russ Bond (72)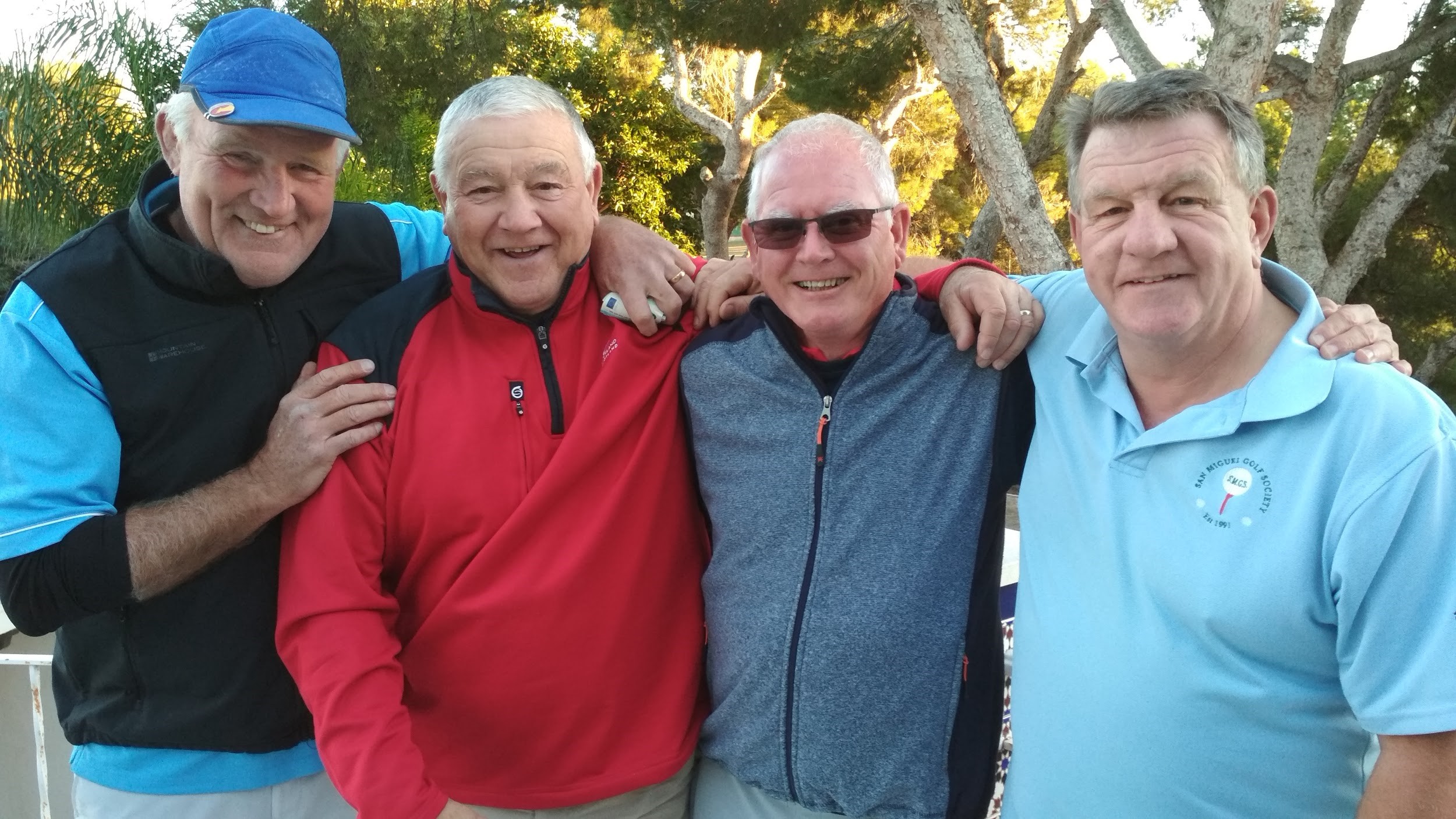 Our thanks go to all Villamartin staff for their contribution to a very enjoyable day. Next week we will be at La Serena, then on following weeks at Vistabella and La Finca. Keep up to date with all SMGS matters by logging on to our website www.smgs.org or simply give Captain Tony Smale a call on 628227687.