The Neighbours' Association of Campoverde (Asociacion de Vecinos) has made its annual donations to various charities. The chosen charities this year are the San Jose Orphanage in Orihuela and Manos Unidas, both of which were given 500 euros.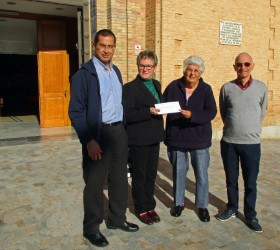 Manos Unidas is an off-shoot of Caritas but carrying out the work in 3rd world countries. Pictured receiving the cheques are Father Jose Antonio, the parish priest for Pilar de la Horadada, and Mrs Enrique from Milar Domestic Appliance store.
Keith Freeman and Jill Dorsett, President and Secretary of the Asociacion de Vecinos presented the cheques.