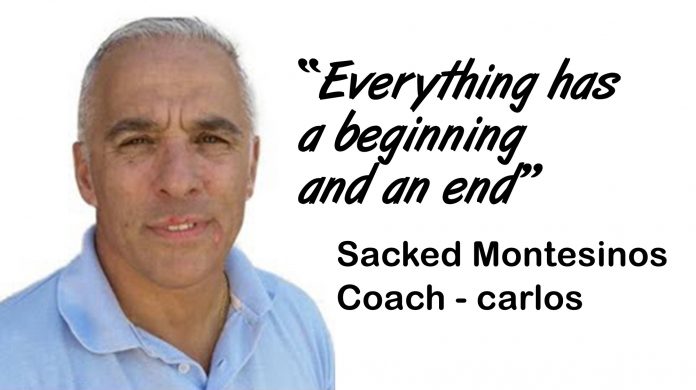 "Everything has a beginning – and an end" – axed Monte coach
By Andrew Atkinson
Sacked CD Montesinos coach Carlos Perez has revealed the stress he has had to deal with following the Los Montesinos football club's promotion to the 1st Regional Group 8.
"This last year has been very stressful. Very hard – and complicated," said Perez, axed after a poor run of results.
Former Bigastro, Guardamar and Torrevieja manager Perez, who replaced Camacho in October 2016, was shown the door after a meeting by the club committee.
"It is time to encourage – not critisise – and move together in the same direction," said Perez.
Perez, who played for CF Torrevieja and Valencia CF (Mestalla), prior to going into coaching, took Alicante outfit CD Montesinos to promotion two seasons ago.
"Everything has a beginning – and an end," said Perez.
"It was a pleasure to be coach of the club and I want to thank the board of directors," said Perez.
"I want to say thank you for being part of the club's history. Thank the committee, the supporters, and the players," said Perez.
"Special mention goes to captains Fernando, Vazquinho and Macan," said Perez.
The club hit the slide after a run of eight games without a win, having gained successive 4-1 wins in the opening two games of the season.
"It is not easy being a team coach, trying to be as fair as possible. I've always wanted the best for the team," said Perez, who came under increasing pressure from the fans.
"It's very difficult to fight the enemy", said Perez, given the boot after a meeting at the Vega Baja based outfit.
"That's the world of football," said Perez, who suffered a blow this season when assistant Angel Ivan left the club.
"I am convinced that CD Montesinos will move to overcome these difficulties and move forward," said Perez.