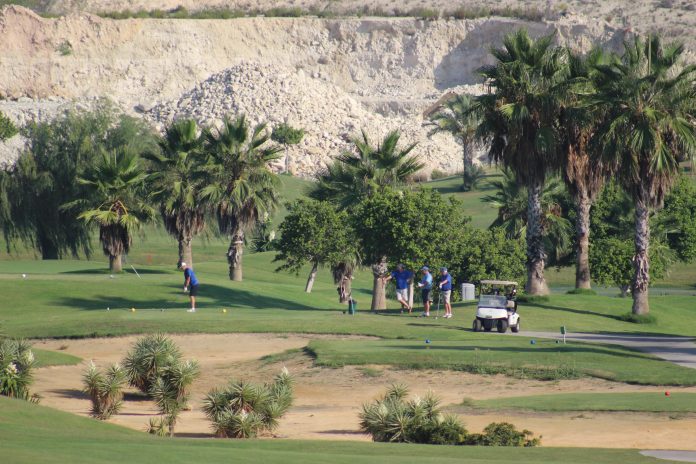 In association with Costa Blanca Green Fee Services
For this month's meeting a group of 30 players visited the established course at Vistabella taking advantage of the excellent society deal obtained from Costa Blanca Green Fee Services.
The course was in excellent condition and the weather beautiful for Jack Fanning's Captains Day and was only spoiled by an over zealous course marshall.
The winning scores on the day were as follows:
1st – Graham Hall – 40 points, 2nd – Morten Kristensen – 37 points, 3rd – Jack Fanning – 36 points, 4th – Graham Mason – 34 points
Nearest the Pins – Mike Probert (2),Gill Singfield and Mick Martin
Dog of a Day – Steve Mather, Football Card – Jim Bryce
After the game we returned to Leaf's Restaurant, which is located at Pueblo Brava, Quesada for a welcome meal prepared by the bar and the prize presentation and we gave our thanks to Lorraine,who has sold the business and to Ed,Lauren and Karen the new owners of Broadway Uptown Quesada for their pledged support in the future.
Our next fixture is the interim game at New Sierra Golf on 15th November 2018 followed by the society day at Altorreal on 29th November 2018.
Report by Mike Probert of Costa Blanca Green Fee Services on 966 704 752 or 661 345 931 or see us at our web-site at www.costa-blanca-greenfees.com.