Ten years ago La Murada was campaigning heavily for its independence from Orihuela City. With a population of less than 2000, over 1500 residents signed a calling for its independence and segregation.
Whilst independence wasn't granted the village did get much more self-sufficiency with control over all its services including police, medical centre and chemists and utilities. Naturally this was provided by investment from Orihuela which was not so keen to relinquish the 'ownership' of the village.
For the moment the move seems to have calmed things down but there is still a voice in the village which won't be appeased so look out for further demonstrations in the future.
La Murada or to give it the name by which it was previously know, La Murada de Los Vicentes, is a pretty village or pueblo situated on the road towards Benferri. Take Junction 81 from the A-7/E-15 and follow the signs for the CV-870. The village is very much what one would expect from a typical Spanish village and the local people are wonderfully welcoming.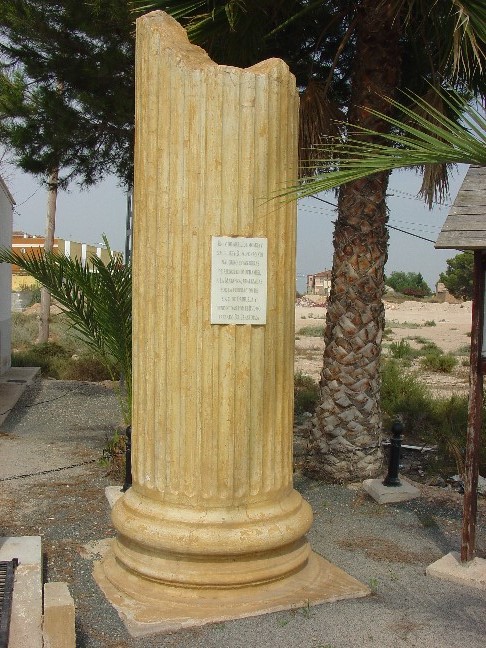 Perhaps unusually for such a small village is the range of bars and restaurants which seem to be able to provide cuisine for any taste, some are very sophisticated and some are more what you would expect to see in a small village.
Whilst the history of the village seems to have been somewhat more peaceful than many others in the area they no doubt had their problems as there are some remains to be seen. One interesting building is an attractive old house which is empty and many people have wanted to buy it but have not been successful.
The reason for this, so folklore has it, is that the building was once a work house where the children of the village and surrounding areas were put to work from a very early age. As such the house has been left as a reminder that such a thing must never happen again.
Standing guard or protector to La Murada is El Agudo, a mountain known as 'The Sharp One' maybe because the mountain resembles a shark with its sharp fin. Surrounding this is an area of natural beauty situated between the villages of Barbarroja and La Murada with fantastic rugged, mountainside dotted with ravines made from rivers since the beginning of time.
The area is covered in pine forests and for the nature lover there is an abundance of wildlife and forest birds. For a day out take a picnic and follow the road from La Murada to Los Vives and then on foot follow the Colada del Camino del Agudo.
Although to be on the safe side it might be preferable to visit the town hall in La Murada and join one of the organised walks; stamina and flat shoes essential! However, as you walk upwards there is a plateau about half way with the most spectacular views, a perfect setting for the enthusiastic photographer.
The village has always made use of the orange and lemon groves to support the economy and have since added olives to the list of locally grown produce. Of course as with so many areas on the Costa Blanca many landowners are selling to construction companies but you get the impression that in La Murada that will not happen too often.
So far tourism has not made a mark as a contributory factor towards the economy as for the main part there is only the El Agudo to attract visitors.
However, there is still much to see in La Murada including its seventeenth century church, the Parochial Church of San Jose and the Casa del Musica. If you are not planning to take a fairly energetic walk but just want to visit a Spanish village surrounded by beautiful countryside where you can have lunch in one of the many restaurants then this delightful village will not be a disappointment.