Vistabella has become a regular fixture from now on for the Society and with the new holes in play many members have really taken to the course. The threat of rain did not deter a strong turn-out of more than 50, and whilst it never materialised the skies overhead had players donning jackets and waiting for the downpour for a while.
Whilst buggies are not allowed on the fairways of new holes, a number of members managed to convince those in the pro-shop that they warranted a flag to allow them fairway access, the number appearing on the mown grass likely reflecting the age and health of our average member, as well as an ability to seek sympathy, and Vistabella staff generosity.
Scoring was, at it has been since the new holes opened at the course, very good, with little to choose between the category winners, as can be seen below. Today's scores counted as the first round in the SMGS 2018/2019 Eclectic competition. So leading after Round 1 is Colin Rust, with Norman Padmore in 2nd and Mike Jordan 3rd. With 4 rounds to go much will change.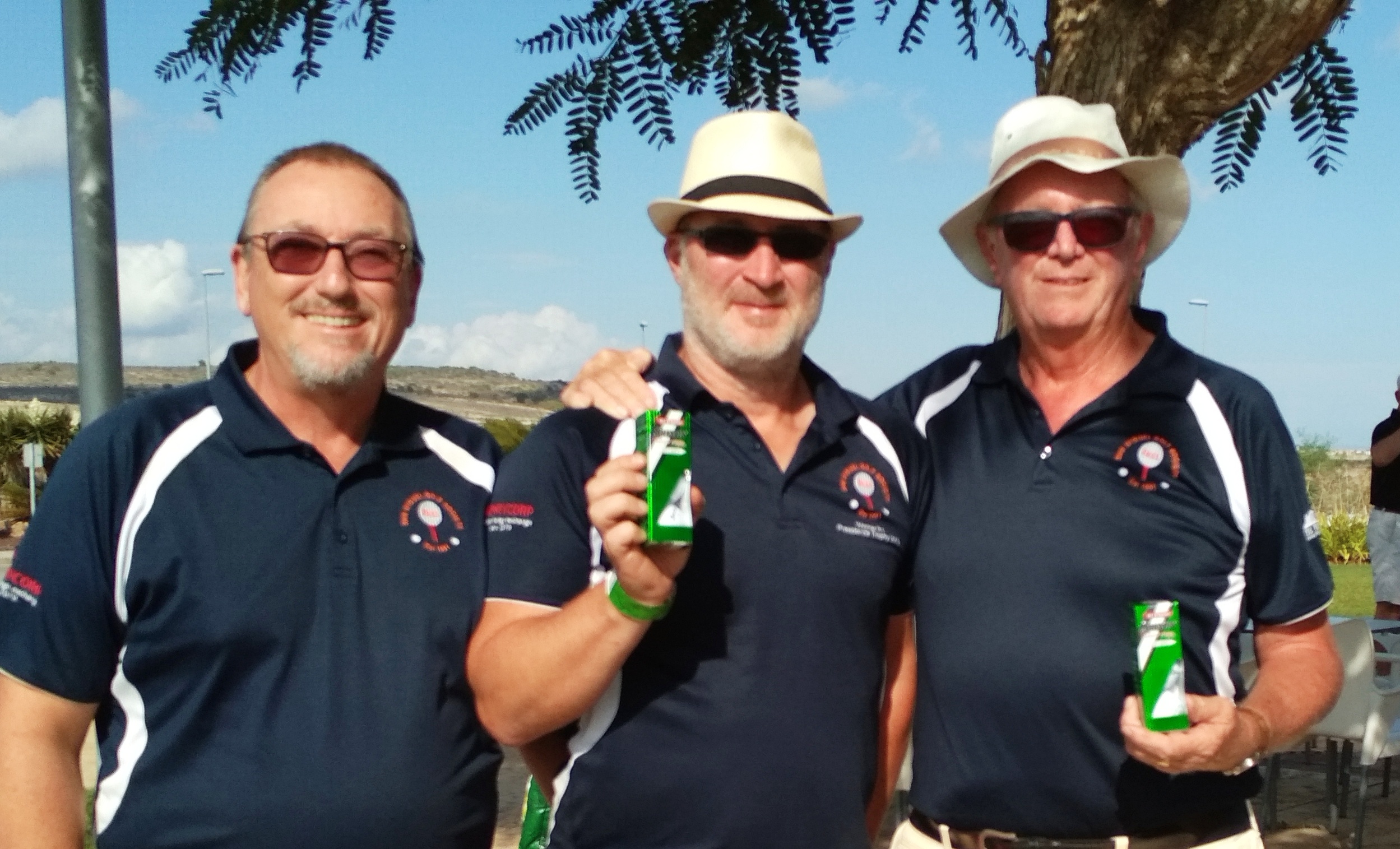 Results, by Category and in reverse order were the following:
Bronze Category: 5th Ron Stenhouse (36), 4th Tommy Boyle (37), 3rd Pete Cunniff (38 on CB), 2nd Mike Jordan (38 on CB) and 1st Norman Padmore with 39 points.
Silver Category: 5th Mike Inns (34), 4th Ivan Hanak (35), 3rd Kev Allbright (37 on CB), 2nd Mike Hughes (37 on CB) and, with the best score of the day on CB, Colin Rust with 39 points.
Gold Category: 5th Steve Jones (36), 4th Matt Taylor (37 on CB), 3rd John Osbourne (37 on CB), 2nd Humphrey Kelleher (38 on CB) and 1st Norman Cahill, also with 38 points.
Nearest the pins: Hole 2 Ron Stenhouse, Hole 7 Kyree Skarsmoen, Hole 11 Robin Eastman, and Hole 15 Steve Jones.
Abacus: Colin Smith
Best Guest Winner: George Brown (33 on CB)
Best Guest Runner-up: Peter Devlin (33 on CB)
Our thanks go to all Vistabella staff for their contribution to a very enjoyable day.
Keep up to date with all SMGS matters by logging on to our website www.smgs.org or simply give Tony Smale a call on 628 227 687. The next three games will be at Serena, Font del Llop and Altorreal.
Guess who did not get past the ladies tee on the eleventh.
Clue starts with Mike and ends in Kaylor.