Vistabella 20th September 2018.
Today's competition(s) were to raise funds for the Royal British Legion and the On Course Foundation.
There were TWO separate competitions held on the day with shotgun starts starts at 8.15am and 2.15pm for 136 golfers.
Todays events were both a 4 person team texas scrambles played in approx 4 hours only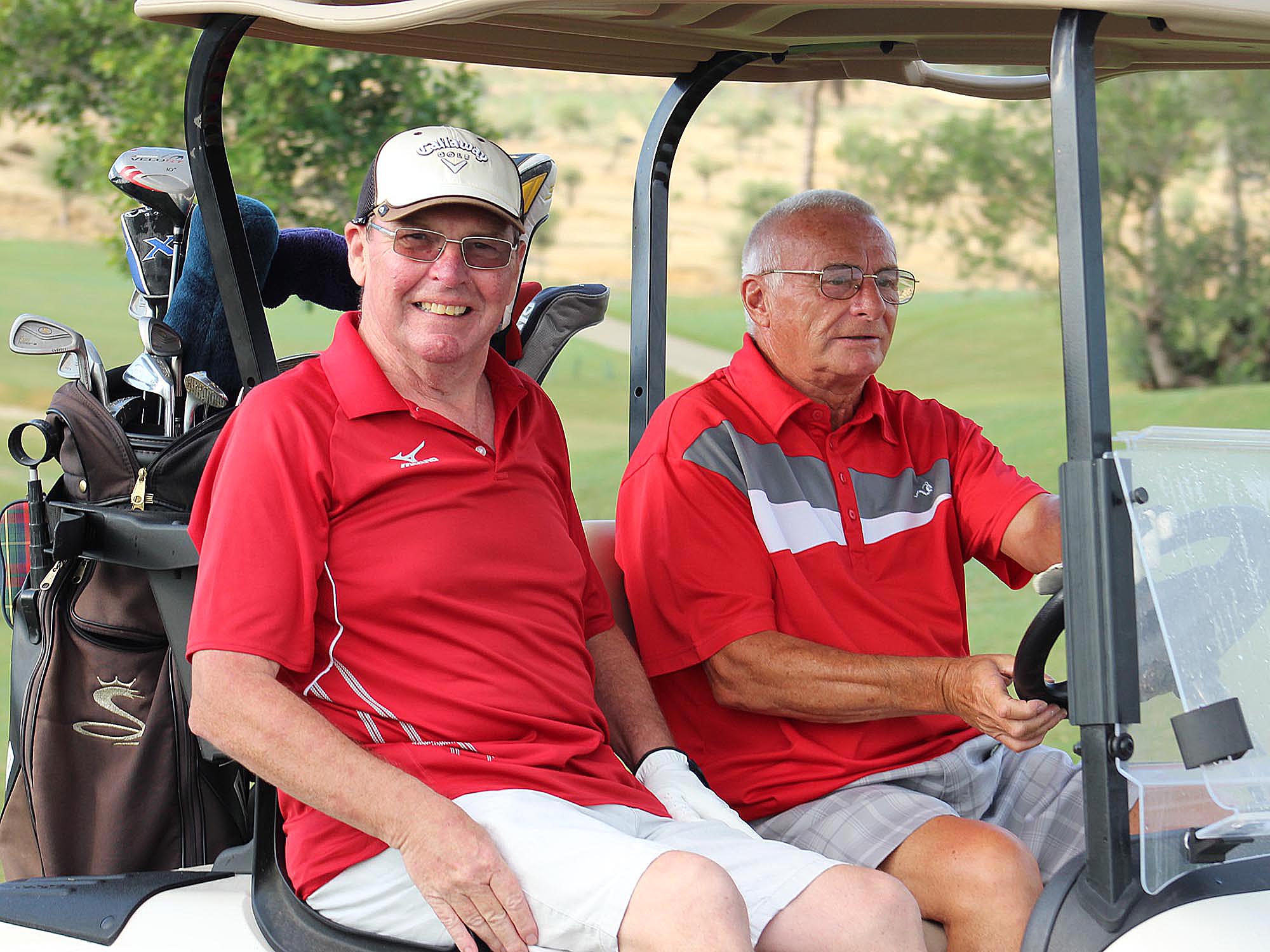 As you can imagine this was somewhat of a logistical nightmare as the afternoon players arrived at the course at approximately the same time as the morning players completed their rounds and there were cards,raffle tickets,meal tickets,buggy keys and money everywhere but with some good organisation all went as well as could be expected and if fact the afternoon players started slightly early due to the excellent speed of play in the morning.
We must say a big thank you to Joaquin Rocamora and his team for presenting the Vistabella course in such excellent condition for our competition given the long hot summer.
Our main sponsors for the day were Sapphire Properties and Currencies Direct and we thank them for their support.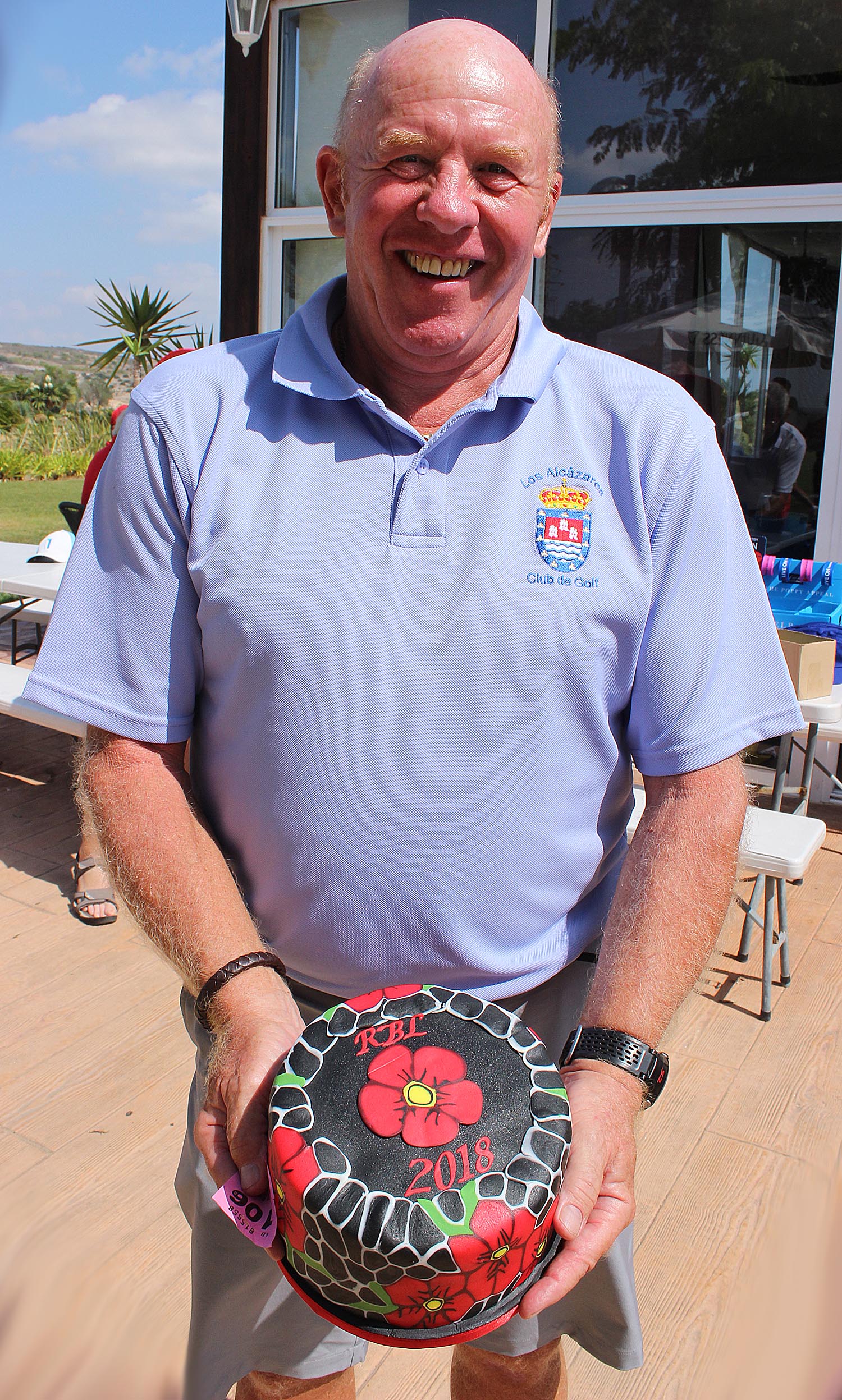 These days don't work without the efforts of many people and sponsors and we thank the other following people for their donations and support:
The Leader Newspaper,Mike Probert (Costa Blanca Green Fee Services),Mick the Grip,Mick Gossage,Jack Fanning,Kevin Reardon,Neil Reardon,Campoamor,Canal Print Rioja,Ortega Cash & Carry (San Miguel),Sunworld.es (Villamartin),Albatross Golf Tours,Billy Wilson,Chris Dodd,Costa Calida Golf Tours,Euronics,Fantasy Golf,Galaxy Golf,Great Golf Company (Balsicas),Jane Knight Cakes,Jessie's Bar,Kevin Barratt,Martin Kay,Michelle Eden,Nigel Bailey (Alicante Club Hire),Pia Koivuranta (Vistabella Professional,Richie Morgan (No Grow Grass),Pearse McMurray (Vistabella Professional),Robin (Vistabella Restaurant Owner) and Tony Head.
In addition the following golf courses donated FREE green fee vouchers for sale with 100% of the proceeds going to the British Legion:
Altorreal,Alenda,Alicante,Bonalba,El Plantio.Font del Llop,GNK Golf Courses,La Manga,La Marquesa,Lo Romero,New Sierra Golf,Roda,Villaitana and Vistabella.
Once again a big thank you to you all.
The following are still available for purchase at special prices:
Altorreal – 2 players & buggy €90
Alenda – 2 players €90
Alicante – 2 players & buggy €90
Bonalba – 2 players & buggy – €90
El Plantio – 2 players €90
GNK (Any Course) – 2 players & buggy €90
La Manga (any Course) – 2 players & buggy €150
New Sierra Golf – 2 players & buggy €65
Roda – 2 players & buggy €90
To purchase any of these greenfees contact Mike Probert on 661345931.
The Competition Results on the day were as follows:
Competition 1 (shotgun Start 8.15am) – 92 players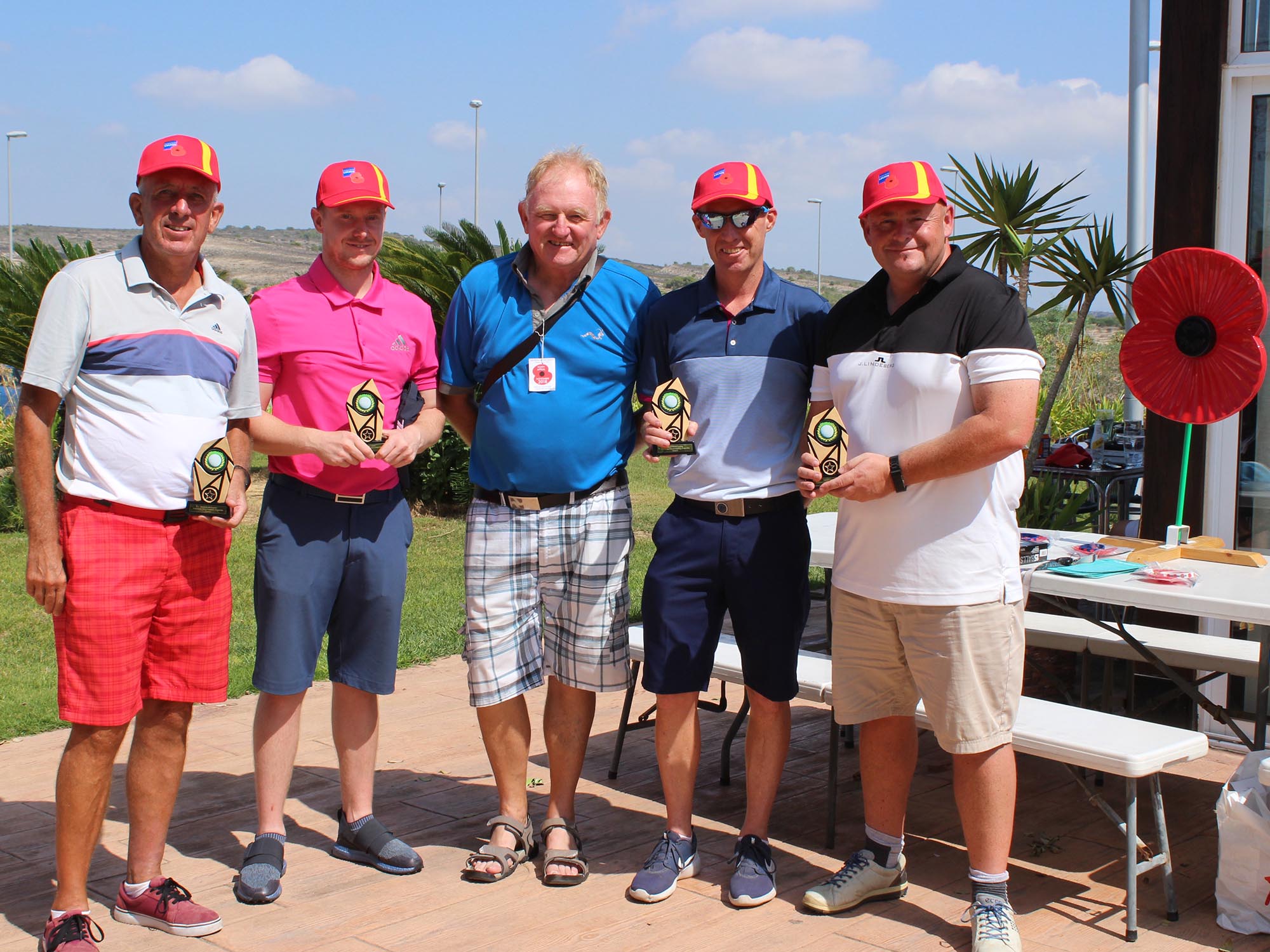 1st – Costa Calida Golf Tours – 57.9 net, 2nd – Clarke's Bar 2 – 60.0 net
Nearest Pins – Clarke's bar 1,Clarke's bar 2,Jessie's bar & Celts 2
2's Pot – Costa Callida Golf Tours,Clarkes' bar 2,Clarke's bar 5,Vistabella 1 & Jessie's bar
Competition 2 (shotgun Start 2.15pm – 44 players
1st – Lime bar 1 – 59.4 net, 2nd – Celts – 59.9 net
Nearest Pins – Phoenix,Team Evans (2) & Venus cars
2's Pot – Celts,Team Evans (2),Team Phoenix (2) & Team Venus cars
The day was a huge success overall with in excess of €2000 being raised on the day and after the sales of the green fee vouchers the total should exceed €3000.