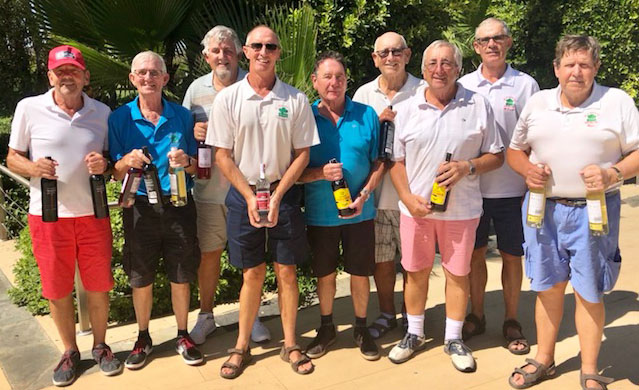 Another enthralling team competition saw the second triple tie in two weeks in El Plantio 2's Texas Scramble Threes. Five teams of three members commenced a 'Shotgun Start' on 24th July. Three of these teams finished with a gross score of Fifty shots.
The winning team (6 Birdies/2 Bogies) did so by virtue of a higher handicap of 0.1. The team finishing second (7 Birdies/3 Bogies) had an identical handicap as the team finishing third (5 Birdies/1 Bogie ) but had a better last nine holes on Count Back (25 shots against 26).
Nearest the pins – Hole 1, Alan Janes – Hole 4, Ian(I don't like Hole 4) Henderson.
Third Place, Alan Janes, Mike Davies, David Swann – Av. H/Cap 4.5 – 45.5 shots.
Second Place, Ian Henderson, Rod Loveday, Henry Mellor – Av. H/Cap 4.5 – 45.5 shots (C/B).
First Place, John O'Brien, Bryan Watson, Lawrence Wanty – Av. H/Cap 4.6 – 45.4 shots.
If anyone would like to join our Society, we play at El Plantio Golf Club every Tuesday, Friday and Sunday. We use both courses – the Par 3 nine hole course and the main 18 hole course, so we cater for all abilities.
The membership rates are very competitive, so call for more details. Anyone who wishes to play in the Society as a guest or join as a new member, contact Ian Henderson on 966 716 616 or 636 116 230
David Swann
The photograph L to R, Alan Janes, Ian Henderson, Henry Mellor, Lawrence Wanty, Bryan Watson, David Swann, John O'Brien, Mike Davies, Rod Loveday.
For a change, John Wilby took this photograph instead of appearing on it.