Lo Romero Golf celebrated its 10th Anniversary (2008-2018) on Saturday June 30 and Sunday July 1 by hosting a commemorative tournament. We were able to enjoy a great weekend of golf culminating in festivities to celebrate a decade of work and a great professional effort focusing on offering our players the best golfing experience and aiming to achieve an honest balance between quality and price.
There were two Tournaments which were both well supported featuring 216 players who all enjoyed the Golf Course, which was presented in excellent conditions.
On both days the Tee-Offs began at 8:30 a.m. All the players were welcomed with a special commemorative "Welcome Pack". During the course of play, two refreshment points were located on the course where players received refreshments and freshly cut melon. Each player had their game captured with a photograph of their best swing which they collected from the club house as they handed in their score card. Players and guests were treated to a tasty snack of European cheeses and cured ham that was served in the traditional Spanish way.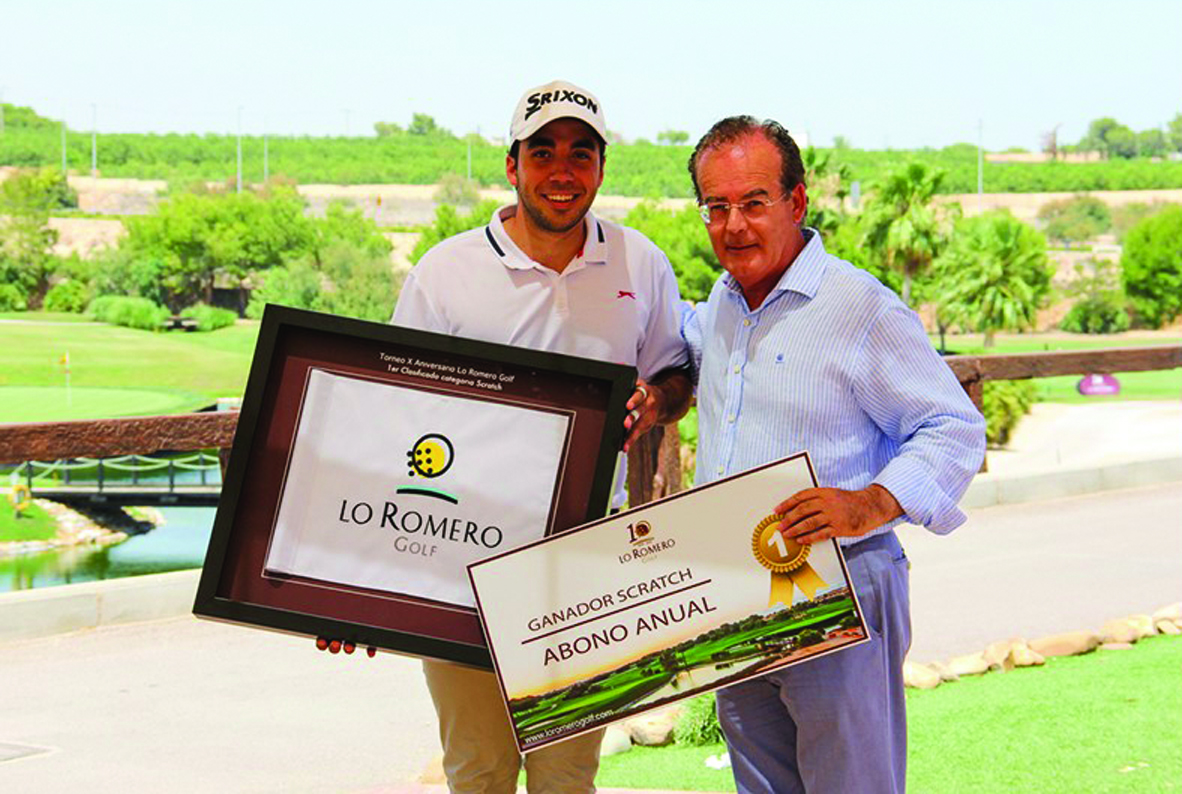 Estrella de Levante, as a supplier to the club wanted, to thank the loyalty of Lo Romero Golf by offering their beer product to all participants. Fresh paella and melon from "Melones el abuelo" was served following the pre-lunch snacks.
The Hole-In-One prize, of a Volkswagen T-Roc, on the 7th Hole, was not won on either of the two days.
On Saturday 91 players took part in a Scratch Stableford format in a non-official tournament, which we wanted to hold, not only to host residents, but also those players without A Spanish Federation License, who visit and are attracted by our climate, gastronomy, culture, and the quality of the golf courses represented on both the ¨Costa Blanca¨ and the neighbouring ¨Costa Calida¨
The prize-giving ceremony was attended by the Hon. Mayor. Don. Igancio Ramos and Don. Antonio Escudero, Sports Councilor for Pilar de la Horadada and Don. Pedro Jiménez as the President of Lo Romero Golf who, together with our suppliers of sports equipment, aimed at highlighting the clubs intentions that the competitiveness is not the main priority but also the friendship that the sport generates in the relationship and cultural exchanges shared in each game.
The dignitaries and ownership were joined by Don. Victoriano Jiménez as General Manager and the management team; of Nigel Hardy, Sergio López and Jesus Granero together with the greenkeeper Manuel Fernández.
Having built Lo Romero Golf in 2008 Don. Victoriano Jimenéz later put value as to what it meant for him and his father that they could continue developing this Project, but now as owners.
After a making public acknowledgment in front of all those present, that:
"… THE MAJOR ASSET OF OUR COMPANY is that each and every person form a different part of team.." he then complimented the whole team for all their positive considerations and loyalty over the years.
The ceremony was brought to an end by the Hon. Mayor Don. Ignacio Ramos, who reaffirmed the closeness of the council with the sport of golf and more specifically to Lo Romero Golf, who he said were the perfect ambassadors for this municipality and a tourist destination attracted by the passion of golf.
Saturday Winners: Scratch Category: Carl Ejollman,
Closest to the Pin Hole 12: Mikael Pauli and Bob Gallard (tied).
Longest Drive Hole 16: Carl Fjollman
Sunday Winners: 1st Division Men: Winner: Jose A. Almendro Garne 40 points, Runner-up: Cayetano Sánchez Saez 37 points.
2nd Division Men: Winner: Cesar López Guillén 43 points. Runner-Up: Wenceslao Navarro, 38 points.
Ladies Category: Winner: Kruse Benedicte 39 points. Runner-Up: Carmen Cano García 35 points.
Scratch Category: Winner: Ricardo Martinez Cereijo
Closest to the Pin Hole 12: Ofelia González Sequeros
Longest Drive Hole 16: Sergio Pérez León
Trophy Ayuntamiento Pilar de la Horadada: Peter Bjorby