Armed Forces Day is an opportunity to show our support for the men and women who make up the Armed Forces community: from currently serving troops to Service families, veterans and cadets. The event is held annually both in UK and in Spain.
The Orihuela Costa Branch of the Royal British Legion on behalf of District North (Spain) are immensely grateful to the Dean of Orihuela Cathedral for allowing us to celebrate the day by holding our service in the 13th century Orihuela Cathedral.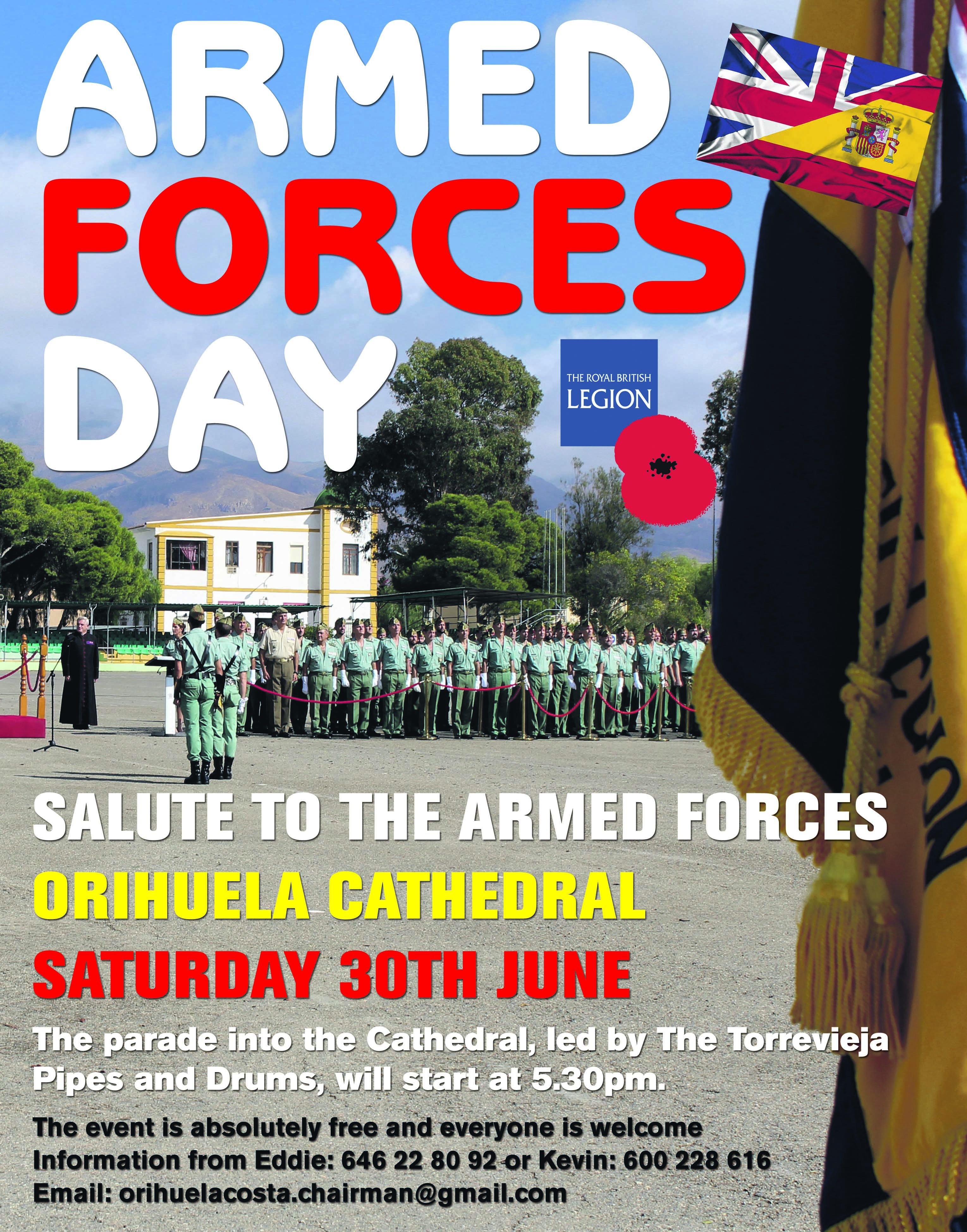 The service, which will take place at 5.30 pm on 30 June, will be conducted by the President of the Orihuela Costa Branch of the Royal British Legion, Pastor Keith Brown. He will be assisted by Father Victor Manuel Ferrer García, the parish priest of Santas Justa y Rufina de Orihuela.
It will be preceded at 5.15pm by a parade and march, the short distance to the cathedral from Plaza Teniente Linares, about 300 metres. The march will be led by the Torrevieja Pipes and Drums and four Chelsea pensioners from the Royal Hospital. It will further comprise of the Standards of the RBL Spain North, RAFA, RNA, RMA, British and Spanish military veterans and serving members of the armed forces and security services here in Spain.
The 45 minute ceremony will start in the cathedral at 5.30pm. It will be a joint denomination service of readings and hymns conducted in English and Spanish with musical and choral accompaniment by the Royal British Legion Band in Spain, the Crescendo International Choir and Paul Michael. The readings, in English and Spanish, will be delivered by invited guests.
It is hoped that all branches across Spain, particularly those in District North, will attend the event at which we hope to see as many standards as possible marching at the head of the parade, along the Calle Mayor de Ramón de Cajal.
As well as representation from the RBL we also hope to see a large number of serving members and veterans of the Spanish Armed Forces and of the Spanish Security Services, the National Police, Guardia Civil and the Local Police.
This is certain to be a truly special occasion and the organisers would be delighted if as many people as possible would make an effort to attend. It is absolutely free and open to anyone, service or civilian, who might wish to attend.
Free coach transport available from La Zenia Boulevard leaving at 4pm. The event will also be followed by a short guided tour of either the cathedral or the historic city of Orihuela after the event with coaches returning at 8pm.
More information about the event and coach bookings from Eddie Coleman or Kevin Reardon on either: eddiecoleman44@hotmail.com or orihuelacosta.chairman@gmail.com