A total of 17,819 bank branches have closed during the last decade, according to a report prepared by the consultancy CBRE, but with almost 30,000 still operating across the country, Spain still has, by far, the largest number of branches per capita throughout Europe.
According to the study, in Spain there are currently 28,181 branches, compared to more than 46,000 in 2008. "The reduction in the number of branches is close to the European average, but there is still a great deal more room for reduction," says Enrique Carrero, national director of Global Workplace Solutions of CBRE, who also quotes the opinion of the International Monetary Fund (IMF), which believes that the Spanish banking sector is the second least productive in Europe.
To reach the point of their international counterparts, according to the International Monetary Fund, the Spanish banking system "could do without a further 20,000 branches, taking the number to less than 10,000 in total ". Spain now has 6.7 bank branches per 10,000 inhabitants, compared to 5.7 for France, 3.5 for Germany and just 1.7 for the United Kingdom.
But are so many branches necessary? Well experts say that the need is gradually reducing, although they are still important, even though an increasing number of users perform the daily tasks from home, but they still need the cashiers and for complex operations, they go to the bank offices.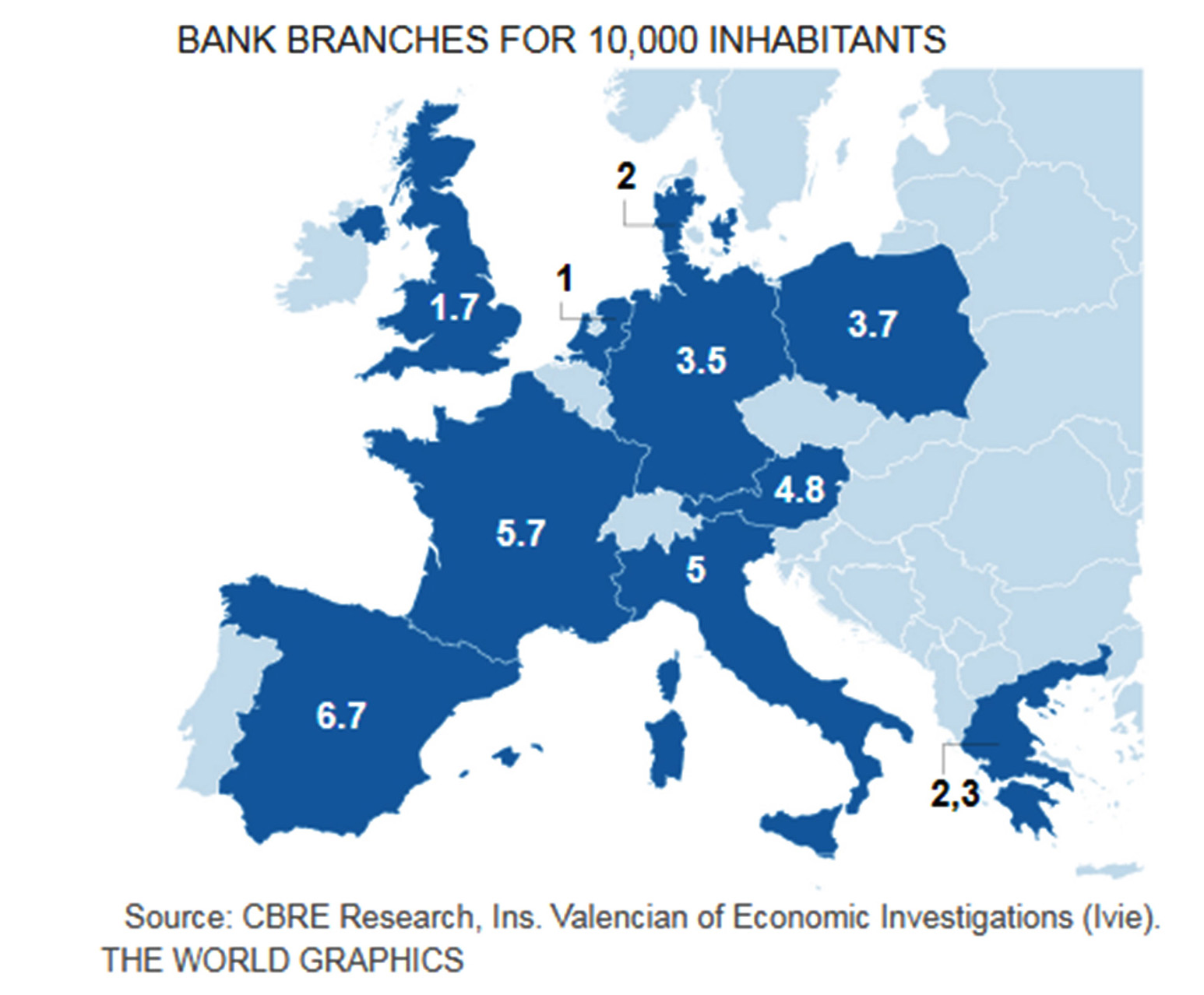 This need is greater in people who have difficulties with the digital environment, but things are also changing here.
A couple of years ago, almost everyone thought the downsizing was finished, but now it's technology, the Internet and mobile phone apps that will force the banks to continue reducing their branch networks, considered too large according to European standards.
Santander and other Spanish banks, on the hunt for greater revenues, are increasingly weary of the fact that branches can be expensive to maintain with branch and staff costs making up about 65 percent of their total outlay. They also know that the digital transformation will produce gigantic savings in both these areas.
As such many now agree that the future is to replace small offices with a larger, centralised office that encompasses a wider area of ​​influence and is better prepared for higher level advice. Several Spanish banks have already reopened commercial premises in high street prime areas.
The Banco Sabadell, for example, has opened a store in Madrid's Gran Vía (700 square meters) while CaixaBank rented a store in Barcelona's Diagonal (2,200 square meters) "where they intend to showcase the bank in addition to offering more personalised experiences to the client, contrasting with the standard tasks of online banking ," the report states.
Banks will continue to seek other types of premises, open and modern units in large premises, of about 1,000 square meters. "The new branches of CaixaBank and BBVA are examples of this."
But it is a still developing change. "We are witnessing the adaptation to the new times of a commercial sector that never stood out for its customer service, but which is now beginning to place it at the centre of its strategy".