Round Robin Semi's: The Hub was where it was happening last Monday as three of the final four pairs faced a round robin shoot out to leave the last two pairs standing. Unfortunately, the fourth qualifying pair of Graham Solomons and Rob Hindle from the Tavern were unable to make the date due to Rob's work commitments- Graham having to content himself with the Men's Singles title instead.
Pair number 1 were Lee Maiden and Andy Rutter from the Junction Jackals facing father and son, John and Harvey Lane from Porter House Bees in the first of the Round Robin contests of 601, best of 5.
Mummy Michelle Lane was there to spur on her boys having been through the pressure herself when winning the ladies singles title a few weeks back. I think it is fair to say that the writing was on the wall from the very first leg as Maiden lead off with 3x 100's and a 60 with Andy assisting courtesy of another 100 and a 70. Harvey was finding his form with 70, 85, 80 whilst waiting for Dad to muck in but Maiden put the leg to bed 12-D6.
Now our boy Rutter, or Trotter as he is fondly known, didn't want to be outdone and scored 140, 80 in leg 2 and Daddy (2 x 60) and son Lane (83, 70, 76) continued to apply pressure but Maiden (81, 96) got the Jackals 2nd leg too, with D5. The 3rd leg also went their way Maiden (99, 60, 81) and Rutter stealing the glory with (81 x 2) and D20-D10 for a 3-0 victory.
In the 2nd round robin, the warmed-up Lanes were against Lee Walters and Adrian Buitekaht from Las Rosas. The pairs were matched a little more evenly this time and the match went to all 5 legs. The first leg went to the Lanes, John scoring 76 and Harvey doing the harder yards with 79, 60, 81 and a super T20-D8 out.
Walters settled in to some promising scoring (60, 81, 85) despite his dodgy throwing arm whilst Adrian reserved his talents for the 2nd leg with a couple of 80+ efforts. Daddy Lane chucked a 116 (t20-S20-t12) but it was Harvey's T20-D4 that took them two ahead of the Rosas. They hit the ground running for leg 3 with some good darts including a ton from Harvey but faltered at the finish allowing the Rosas lads a look-in with Adrian's 8-D12 finale.
Sensing they needed to do a little more work, Mr B (100, 66) and Walters (85, 100, D1) made it 2 all and needing to bull up again for the 5th leg. The decider saw Harvey lane take them to the 3 points with another two dart out, 10-D16.
In the final round of the semi-finals, a well-rested Maiden and Trotter put paid to any hope of the Rosas boys getting the leg they needed to keep them fighting in the competition. Maiden (100) and Trotter (9 -D8) took leg one and in Leg 2 Trotter was well on form with a 180 and 20-D10 check. Walters offered a glimmer of hope in the 3rd leg with a ton but no match for Maiden's 140 and Totter's 83, 89 and D2.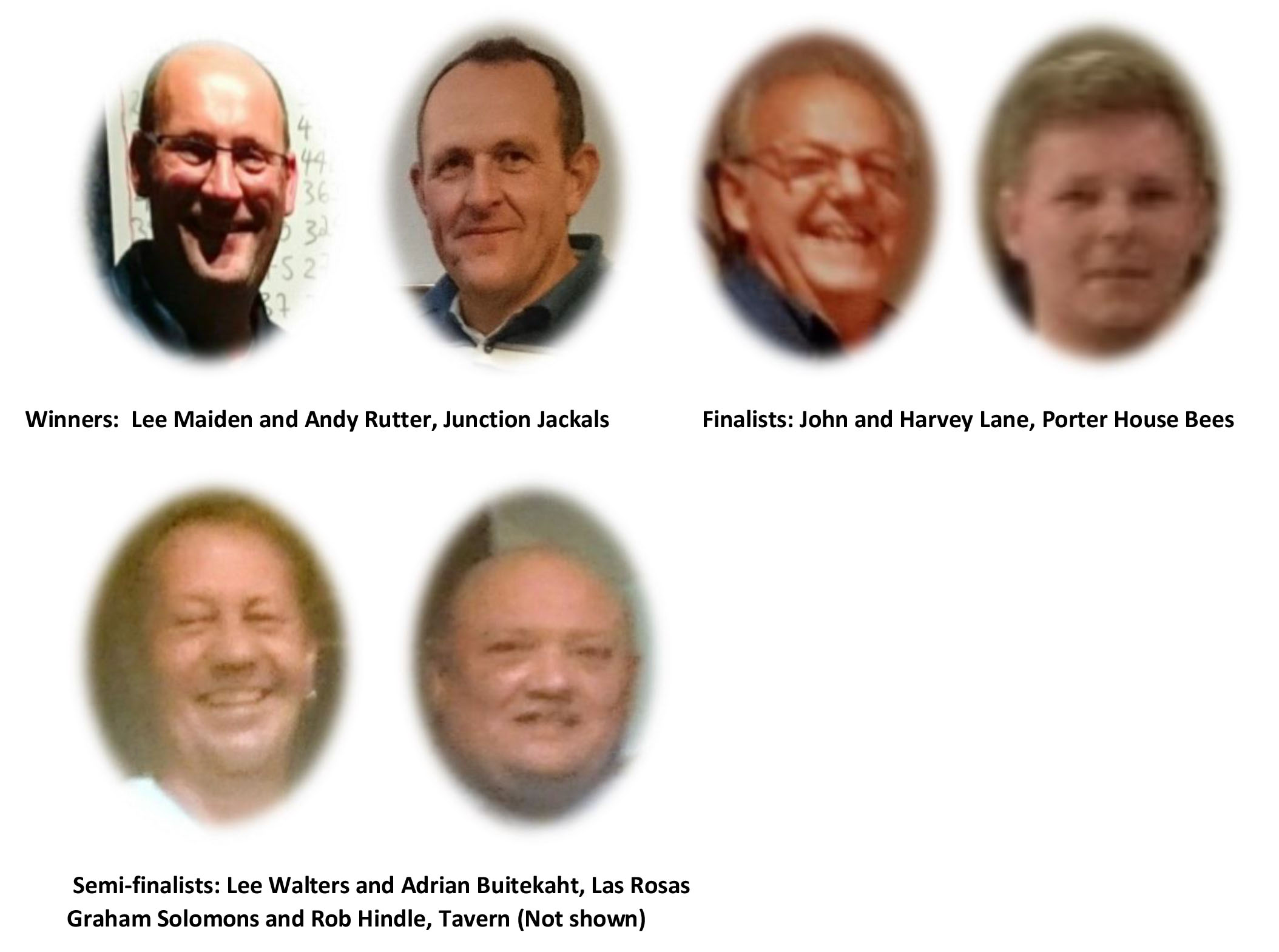 Finals: Starting how they meant to go on, Mr Maiden collected his own 180 and a 100 to back it up with a good reply of 133 from young Harvey but Trotter saw the leg off 4-D2. With some nice darts from all 4 competitors in leg 2 it looked to be anybody's game but eventually went to the Jackals by way of a D2 from Maiden.
The pair of Bees, perhaps sniffing the smoke of defeat pulled a 125 and 100 out of the hive but the Jackals but back with 3 x 100's and a Trotter check of D20. Needing just one more leg, Andy threw 2 x 81 and a ton but Daddy Lane came up trumps with a 95, 85 and D6 to temporarily save them despite a false call of game, set and match for a very narrowly missed D10 for Maiden. In what was to be the last leg, both pairs gave it their all but another D2 clincher saw the Jackals as this year's winners.
A big thanks to all the supporters, volunteer markers (Terry Kirby and Simone) and also to the Hub for holding the event and feeding us!
Team KO Finals:
Congratulations to El Capitan, winners of the team KO Cup! They beat the Junction Jackals 7-4 in a reversal of last season's outcome. This just leaves Las Rosas to play Porter House in the finals of the Auxiliary Team KO on Monday 14th May. All trophies will be awarded on Thursday 17th May, Las Ramblas golf club, 7pm start.