We celebrated our April Open Day at La Serena last Saturday. Thank God we seem to have seen the back of the poor weather. It was a breezy day which added to the degree of difficulty for one or two of the holes.
The green-keeping staff have to be congratulated on their ongoing course maintenance and improvements. Well done Wayne and all your team. The staff in the pro-shop have everything working like, a well-oiled machine, thanks are due to Bruno, Paul, Jose and Karolina for their professionalism. Again, to Camillus, Philip and Terry, I am running out of superlatives, keep up the good work, it really is appreciated by the members and guests who literally have to turn up on the day and enjoy their golf.
Unfortunately, we had two players who went home with their cards in their pockets. If you fail to return your card you cannot have your handicap adjusted and it also delays the presentation of prizes. One player last month went home with the winning score, it is difficult enough to win a prize but to go home with a winning card!
A special thanks to all those who stayed back to show their appreciation of the hard work carried out on their behalf and to applaud the winners who were present to collect their prizes.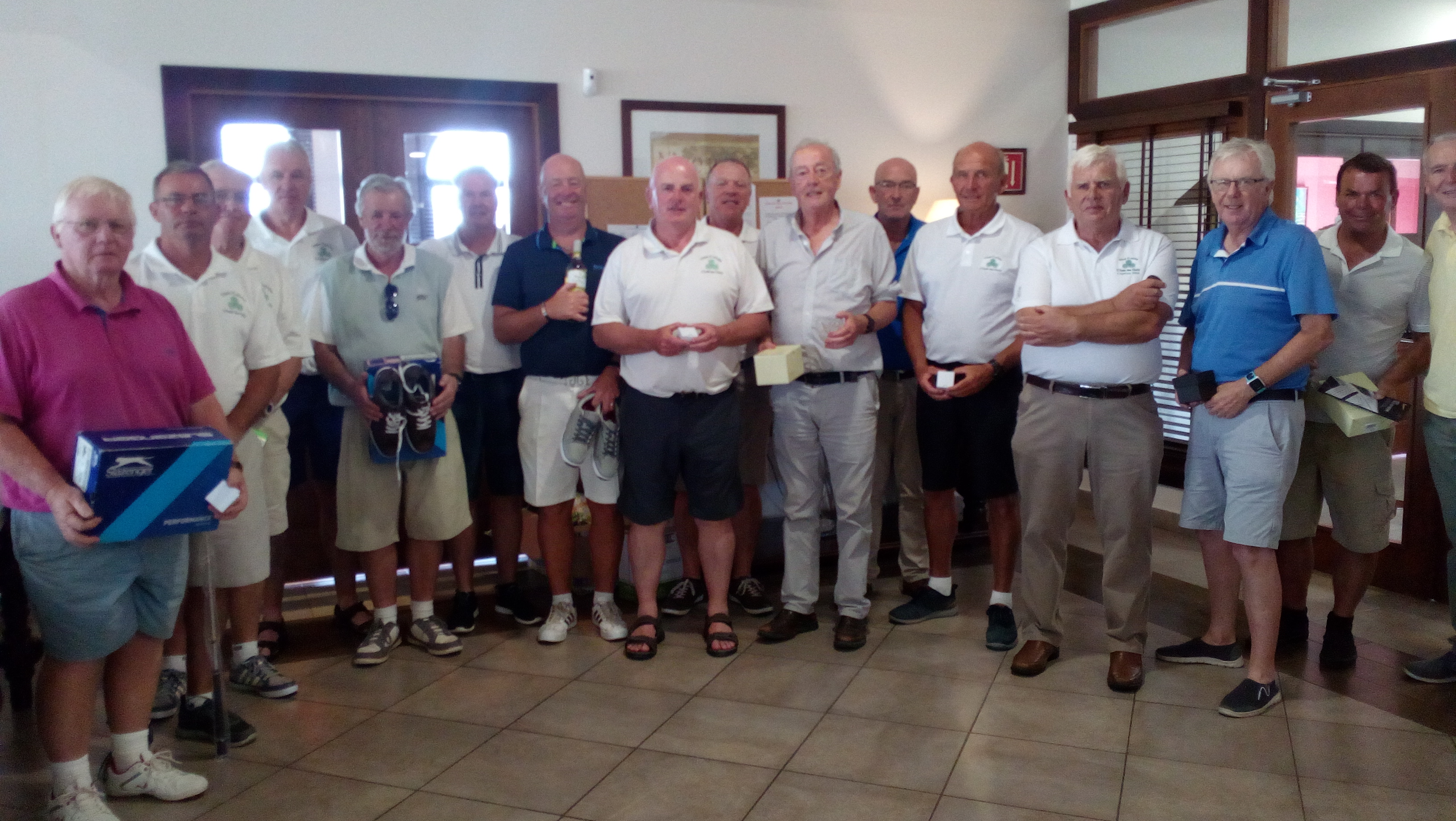 Terry our Captain was on hand to present the prizes for the month; Crystal 1st John Coholan 41. 2nd Tony Head 40. 3rd Camillus Fitzpatrick 38. Week 2. Medal. Cat I. Geoff Ellender72. Cat II. James McEnery 71. Cat III. Gordon Anders 78. Open Day results. NTP's Denis McCormack (2) Gareth Conroy, Tony Head, Alex McIntyre and Catherine Bennett. Visitors prize Alex McIntyre 36. Cat III. 1st Terence Wels 38. 2nd David Locke 37. 3rd Christine Fyfe 36.
Cat II. 1st Alisdair McLean 38. 2nd Frank Considine 37. 3rd Philip Mountford 35. Cat I. Gareth Conroy 37. 2nd Andy Currie 36. 3rd Tony Head 35. Best gross went 77 John O'Brien. 2nd overall Alan Proudfoot 39. The overall winner with the fantastic result of 40 points Mark Knight. Well done to all those present who help make the day special.
Our Captains' Terry Fitzgerald prize 26th of May, can you get your name down as soon as possible? Please send an email to confirm your reservation for dinner. Guests are welcome to the dinner 15 euro?
The International League in Valencia. We have a weekend away in Valencia 16-17 June. Itinerary, bus leaves Torrvieja Sat morning, golf El Bosque Saturday, dinner in the clubhouse Saturday night. Golf El Saler Sunday. Bus transfer between courses and return journey Sunday. Approximate cost 125 euro.
Can those teams who wish to travel by bus please, please give me your names and 20 euro deposit as soon as possible? When the bus fills it is too late. We have a waiting list in operation at the moment for membership at La Serena, however membership of The Celts is always available.
If you would like information on joining our club or entering a team in any of the federation events why not send an e-mail to johnobrienalicante@gmail.com or call 615 466 398?