The Civil Guard has arrested four Spanish men in Crevillente where they have been charged with being members of a dangerous criminal organization.
Crimes attributed to them include an attempted murder, three crimes of kidnap and illegal detention, three crimes of threatening behaviour, four of causing injuries, one of robbery with violence, one illegal possession of weapons, one crime of drug trafficking and one crime of belonging to a criminal group.
This organization was dedicated to the sale of narcotic substances in the pursuit of which they forced other people to work for them as drug sellers keeping them locked in a 10-square-meter area for days at a time.
At the beginning of last March, the Crevillente Civil Guard were becoming inceasingly aware of the presence of an organised group that was selling cocaine and heroin in the municipality.
It's operations centre was thought to be a house in the town, the entrance of which was permanently open. Inside, the property they had built a zulo, a small prison of only 10 square metres, secured with concrete blocks and a metal grid of high density steel, which would be used as a booth for the sale of drugs.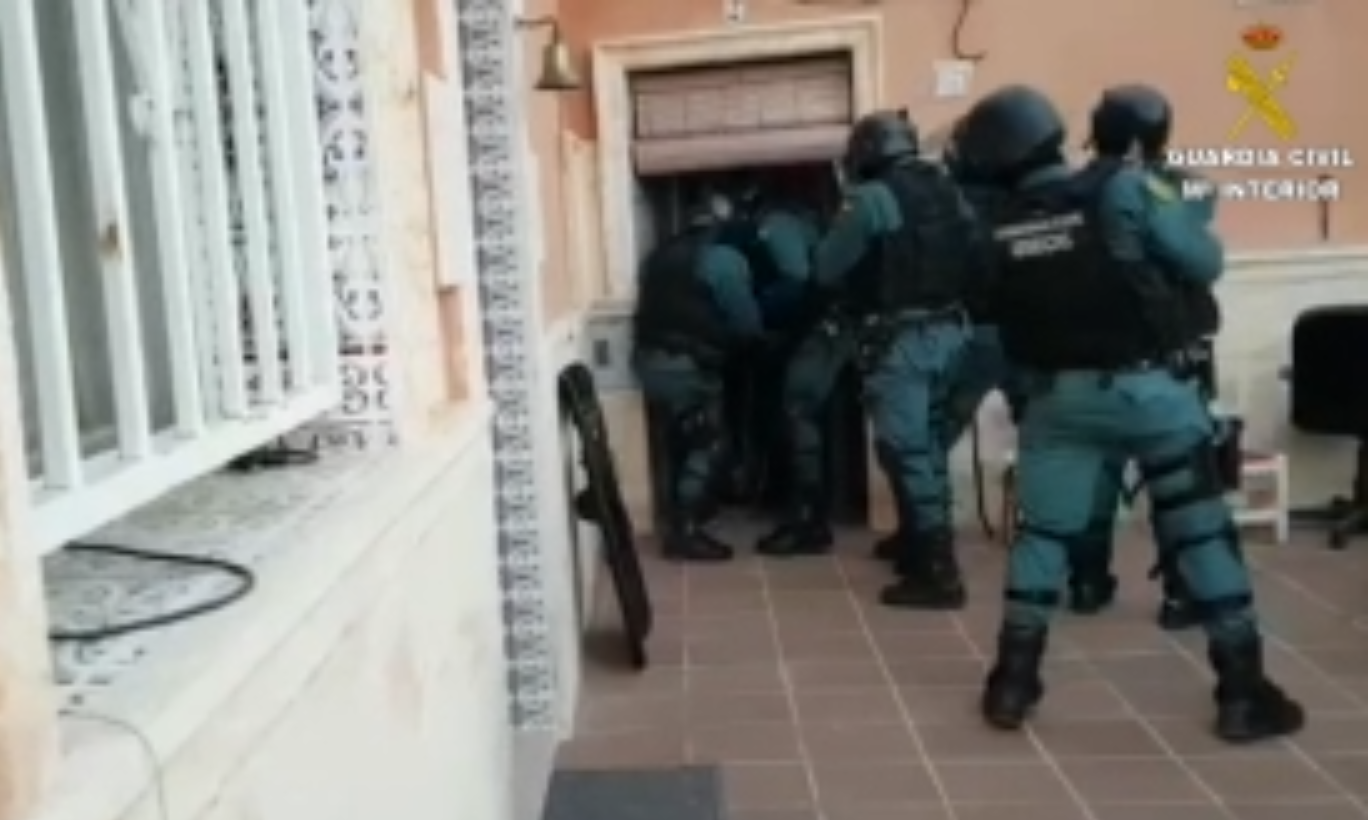 They chose their drug pushers from local consumers who had acquired a lot of debt, money or drugs, with them. Any hesitancy to deal drugs for them would be met with a severe beating after which they would be forced to sell their drugs until their debt was repaid.
In this way, they kidnapped at least three men (one each time), all of Spanish Nationality, who they kept imprisoned, for between 3 days and for up to up to 3 weeks each. The conditions are said to have ben subhuman and unhealthy, without running water, without the ability to wash or to clean, and having to carry out their personal functions in a plastic carafe.
Leaving the area was impossible, as the members of the gang exercised exhaustive control: they provided them with a mobile terminal to receive calls from the buyers which they had to attend 24 hours a day, they supplied the drug for sale, and collected the profits. During these visits, they were assaulted and threatened with harm to their relatives if they informed of their situation.
Identifying the gang members proved to be an arduous task for the Guardia agents as they regularly changed their address to avoid being located.
In one attack last March the four members are said to have attempted the murder of a 32 year old Moroccan; they beat him, they then tried to run him over as they fled the scene in a car at which time they shot at him twice with a rifle.
Once the evidence had been gathered the Guardia raided two Crevillente homes, and in the house where the zulo was located where they found 170 grams of cocaine, 8 grams of heroin, 300 grams of marijuana, drug cutting and preparation tools, weighing scales, 7000 euros in cash, as well as a camera recording system that was ready for installation into the zulo where they could keep track of their prisoners via webcam.
Four men were arrested, all Spaniards, aged between 23 and 51 years, and who have now been charged with attempted murder, drug trafficking, kidnap, fale imprisonment and much more.
After being placed at the disposal of the Court of Instruction No. 1 of Elche, they have all been remanded in custody without bail.