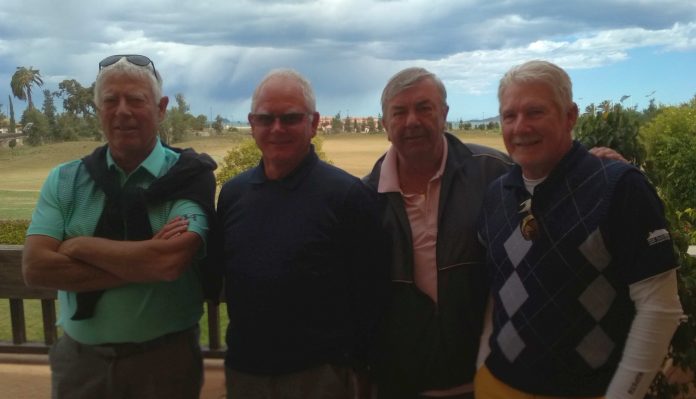 Just eleven days into April saw 40 members and 3 guests trundle a short distance south down the AP7 to visit the "local Lake District" or La Serena, to give this tricky track its correct name. Many golfers across a wide range of handicaps approach this course with the vast majority fully expecting the 16 holes containing water hazards to swallow up their fair share of balls!
A chilly morning, but drenched in tranquil sunshine, greeted the early arrivals as the outlook for the day's weather prospects looked quite optimistic until the sun disappeared and the area was once again gripped by the recent spell of cool, cloudy conditions with a stiff breeze adding to the difficulty. Serena itself means calm, peaceful and settled but by mid morning it was far from any of those – "windy and wild" was a more fitting description.
"Keep left" is the local rule for avoiding most of the trouble but even the 15th, an unassuming par 3 of some 140 mts, became a hole which demanded some respect – out of the 45 tee shots, not one stayed on the green !!
Our thanks go to the team at La Serena for an enjoyable day and if they could just turn up the heat a touch for our next visit, we'd be obliged. Next week sees us visiting Vistabella and you can keep up to date with all our news and fixtures by logging onto www.smgs.org
Results for the Stableford competition were as follows:
Best guest – Richard Morgan with 28 points.
Abacus prize – Hayden Williams.
Nearest the Pins – Micky Roscoe (Hole 3), Chris Hamblett (Hole 9) John Aitchison (Hole 17).
Bronze division – 4th Norman McBride (28c/b). 3rd Marit Ronsen (28c/b).
2nd Ralph Tilbrook (31) & 1st Charlie Harkin (38).
Silver division – 4th Phil Birtwistle (28). 3rd Mike Greatorex (30) 2nd Mike Inns (31) & 1st Theo Boelhouwer (34).
Gold division – 4th John Aitchison (34c/b). 3rd John Osborne (35). 2nd Eva Pettersson (36) & 1st Barry Roehrig (38) which was also a good enough round in the singles knock-out to beat Willy Fenn 7 & 5 – well played, Barry.