Ladies Singles Competition Results: –
Semi-finalists: Hennie Oortwijn (Hen's Teeth), Debbie Wright (Pint Depot Queens)
Runner up: Pat Schofield (Junction Jaguars)
Winner: Michelle 'Mummy' Lane (Porter House Bees)
Quarter Finals: A hard match started us off with Patty Poo Schofield (last year's champ) facing the winner from the previous season, Yvonne Rouffignac. Brilliant darts from both ladies showed why they had both held the title in previous years. Pat's lowest score before her two-dart out (S8-D4) was 53! She meant business and threw 68, 60, 66, 70, 81, 84, 66 in the first leg whilst Yvonne held up her own with 60, 66, 60. In the 2nd leg, both ladies were scoring well again, Roofie with 85, 60, 75, 62 but Pat just edged it again with 90, 70, 140 and checked out on D11. It was all over in a flash!
Up next was Jaguar Simone (81) verses Hen's Teeth Henni. Henni scored well (88, 81,91 -D3) to give her a 1 leg advantage and then took the 2nd leg 89, 57, 59 D4 to Simone's 114, 73. Then it was the turn of their royal highnesses Queen Debbie Wright v Marie Cummins, unlucky to get drawn against each other, even though it assured that a Queen would reach the semi's. Debbie took the first leg 78, 77, 64 and D7 with Marie countering with a score of 98. Marie opened the 2nd leg with a massive score of 140 and went on to win it on D2. In the decider leg, she scored 66, 81 but QD had an answer to that with 74, 60, 77, 70 and D10.
The final game of the quarters was between Sonya Cooper and Michelle Lane. Again great scoring from both ladies Sonya;- 60 x2, 81, 100 in the 1st leg and a 75 in the second and Michelle popping in 82, 73, 60 D9 then 85, 121 D1 to secure her place in the Semi's.
Semi-finals: Patty Poo showed cool, calm determination all the way through her match against Henni. She won the first leg with 66, 85 x2, D2 but then lost the 2nd to Henni who clocked up 85, 67 and D20 out. No great scoring in the third leg but a truly awesome finish from Poo T20-D18 took her ahead of her opponent again. In the final leg of the match, Henni scored an impressive 119 but Poo just kept on finding the treble 20 (78, 100, 73) and finished on D7 to see her through to the finals.
Debbie and Michelle both deserved to get through to the finals but obviously there could only be one winner. They were both on form, Debbie with scores of 65 x2, 98 in the first leg and 95, 124, 71 in the second and Mummy Lane's 64, 60, D12 took leg one. She scored 81, 96, 70 and a two-darter S16-D20 to give her the 2nd and 87, 100, D5 to see her into the finals.
Finals: It looked to be going Pat's way when she won the first leg 81, 66 D1 but Shellie Lane wasn't rolling over to let her take the next. With darts flying left, right and centre at the speed of a Gatling gun, she took leg two, 58, 62, 94 D4. A pair of 71's and D12 got her the 3rd leg to Pat's 85, 83. Starting to get a little rattle, Pat rallied with 140, 85 in leg 4 but Michelle was unstoppable now with 65, 60, 81, 90, 105 and D3. Tasting victory, Michelle won the last leg and the tournament in fine style with 85, 70, 100, D5 despite a trio of 80+'s from the Poomeister.
Thank you to all the volunteer chalkers and to the Tavern for the scrummy chilly, rice and chips for the players and a good turn-out of supporters from all the players' teams.
Men's Singles Competition Results:
Semi-finalists:- Lee Maiden (Junction Jackals); John Lane (Porter House Bees)
Runner up: – John Eyre (Hub Hyenas)
Winner: Graham Solomon (Tavern)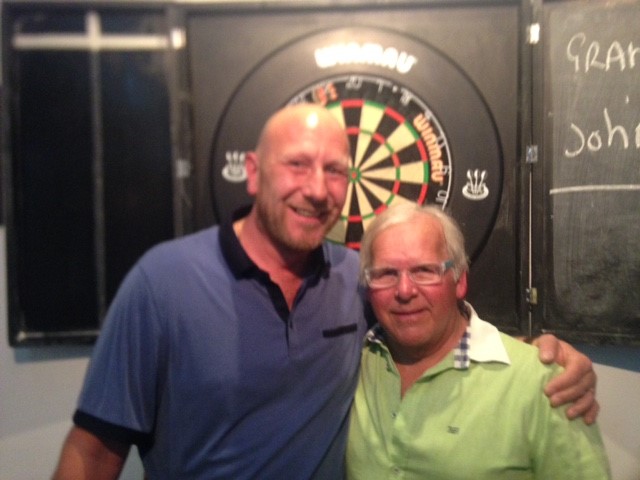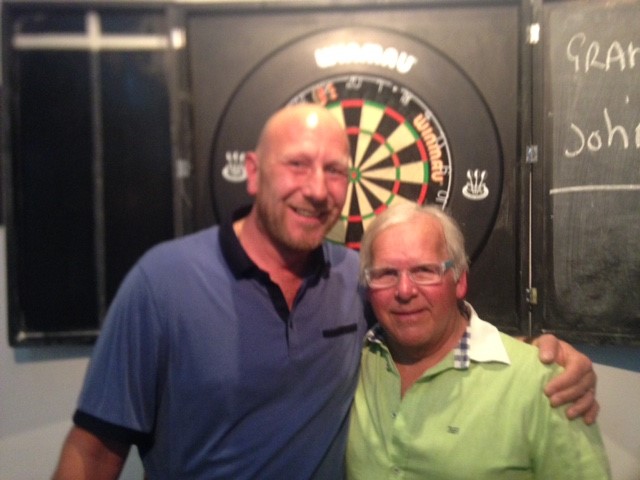 This week saw the 2018 men's singles competition take place at Chemie's Lounge in Villamartin – a great venue much appreciated by players and spectators alike. Unfortunately, only 5 of the qualifiers were available on the night and perhaps the league needs to think of a way of making up the numbers in such circumstances.
The competition was as fierce as ever with some good, steady scoring and some outstanding finishing. John Eyre (The Hub) and Chris Montes (las Rosas) were first to the oche in a preliminary play off to reduce the numbers to 4 semi-finalists. John won without really engaging top gear although his finishing was spot on. Chris had a couple of chances but just couldn't take them
So we were quickly on to the first of the semis – best of five, 501 legs – where Lee maiden (The Junction) faced reigning champ Graham Solomon (The Tavern). The match got off to a good start with Graham posting a 140 and Lee hitting some steady 60's and 80's. However, it was Graham's finishing that took him into a 2 – 0. Lee needed to hit back and hit back he did in spectacular fashion. An early 123 took him into the lead and a little later with 182 to score he only needed 4 darts to finish – T20, T20, T10 for 150 and D16 next go. Unfortunately for Lee he couldn't maintain that form and Graham took the fourth leg to progress to the final.
In the other Semi, John Eyre took on John Lane (Porterhouse B's). Again the scoring was not spectacular and John Eyre took a close first leg on double 1. The next two legs were notable mainly for two three dart finishes by John Eyre – leg 2 saw him hit T18 to leave 16, single 8 and D4 finished the job – in leg 3 he needed 111 – T20 ,19 , D16 – match over 3- 0.
The final was best of 7 legs and John Eyre was quickly at it again – having taken the first leg with D20 he then posted a 140 and polished off 68 – 20, 16, D16 – leaving Graham a bit shell shocked. The man from the Tavern wasn't fazed and proceeded to take the next two legs with some solid play. So we were nicely poised and all to play for. Leg 5 got off to a good start for Graham with a 140 that took him into the lead but John was having none of it – he produced yet another 3 dart finish – 114 this time – 20, T18, D20. Two legs left and Graham need them both – John only 1. Neither player seemed to be able to up his game for the final push although John hit 125 and 140 to keep the pressure on. Both of them had several chances at a double in what was a nervy ending but It was Graham who took both legs to retain his title. Report by Phil de Lacy
Team KO Competition Draws for semi-final matches on 19th April:
Team KO Cup: Auxiliary KO Cup:
Jackals v Hub Hyenas playing at Angels bar Las Rosas v Hen's Teeth playing at El Capitan
El Capitan v Wee Rockers playing at Las Rosas PD Queens v Porters playing at Amigos Bar
Presentation Night:
The presentation night will be at Las Ramblas Golf Club on Thursday 17th May. Captains will have been sent a reservation form for their team and guests. Same format as last year with blind team KO competition, raffle, buffet, DJ and of course, presentation of the trophies!