Grandparents thrilled at teenage gymnast star Lucy in England 2018 Commonwealth Games team
BY ANDREW ATKINSON
Grandparents George and Brenda Stanhope are thrilled that teenage gymnast star Lucy Stanhope has been named in the England 2018 Commonwealth Games team.
"We couldn't be prouder," said George, 79, from his home in Los Montesinos, Alicante, after City of Liverpool Gymnastics Club ace Lucy, 16, was selected to represent England in the 2018 Commonwealth Games in Australia.
The 2018 Commonwealth Games takes place in the Gold Coast, Queensland, Australia in April: "Lucy will be the youngest member of the Women's Artistic Gymnastics team," said Brenda, 77.
Lucy, who has been performing huge upgrades to her routines, is a talented artistic gymnast from Warrington, who has made on-going impressive progress in her young career.
Lucy, who became interested in gymnastics aged four, who trains five days a week, became eligible for junior events in 2014, including the European Championships, Commonwealth Games and European Youth Olympic Festival.
Lucy was the 2014 British Espoir Beam Champion, and represented Team GB at the 2015 European Youth Olympic Festival in Tbilisi.
In 2015, Lucy had a successful year as a member of the GB High Performance Squad; the Sportsaid-supported gymnast also competing in the Espoir British Championships, winning four medals, taking gold on beam, floor silver and vault bronze, along with all-round silver.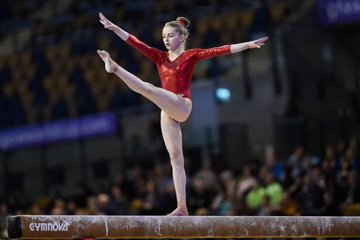 Lucy won an English Championships title, international debut gold with Team GB at the Rushmoor Rose Bowl Invitational, and Team GB gold at the Olympic Hopes Cup.
Lucy, who attends GB sessions at Lilleshall National Sports Centre, missed out on the 2016 Rio Olympic Games, due to being under age, aged 15.
This year Lucy has competed in the English Championships, British Championships, and the Stuttgart World Cup in Germany in March.
Lucy, who also participated in the 2015 European Youth Olympic Festival, has seen her career highlights to date in competing in the 2016 Junior European Championships team, winning silver, and in the 2017 English Championships, winning beam silver.
"Lucy is a powerful gymnast and excels particularly on vault," said coach Claire Duffy.
"As a junior she had success at English and British level, before helping the British team to silver at the Junior European Championships," said Claire.
In 2018 Lucy finished all-round fourth in the British Championships, that followed her success in the 2017 English Championships beam, winning silver.
Lucy, who competed in the 2016 Junior British Championships vault and uneven bars, has trained alongside 2012 Olympians Rebecca Tunney, Hannah Whelan and Beth Tweddle.
Lucy said: "It feels amazing – I'm so excited to be competing for Team England. I'm also really proud of myself and just so happy to be involved in such a big event.
"I was dreaming about being selected and thought I was thereabouts and now it's real it feels incredible. I'm really excited to go to Australia, to wear the Team England kit and to compete.
"I competed at the European Youth Olympics in 2015 and junior European Championships in 2016 but this is another level.
"I think I'm going to be really nervous but really excited once I walk out in to the arena."