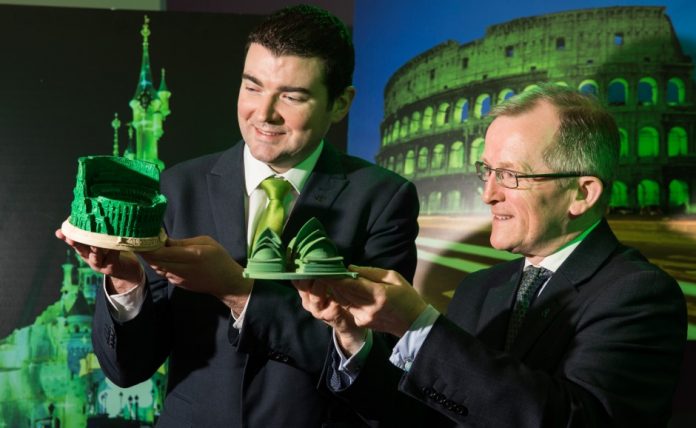 Alicante
The annual parade in Cabo Roig will take place on Saturday 17 March starting at 14.00. There will be lots of activities and fun events happening in the run up to the day, which you can find here.
Almería
The University in Almería will be celebrating St. Patrick's Day with its II Jornadas de Estudios Irlandeses, from the 14-17 March, finishing with the greening of la Alcazaba, Estadio de los Juegos del Mediterraneo and some fountains around the capital. Please see link attached for more details on the conferences and lectures taking place.
Barcelona
Bilbao
The Asociación Vasco Irlandesa, EusCARA, will be organising their celebrations for St. Patrick's Day, including the greening this year of the Estadio San Memés. Please consult their website for all the details.
Canaries
In Adeje, Tenerife, the Irish Honorary Consul and friends are hosting a St Patrick's Dinner in Golf Costa Adeje on Saturday March 10th. Tickets are €40 with some of the proceeds going to the Adeje Asociación San Juan, a non-profit organisation working with special needs young people offering training, education and day care. On the weekend of 16, 17 and 19 March the Plaza de España in the centre of Adeje will, once again, 'go green' as part of the international greening of buildings and cultural spaces around the world.
In Lanzarote the St. Patrick's Day Festival will run from the 15-17 March, with live music, food, fun, hurling on the beach and more. Please see poster for more details.
Las Palmas will join in the celebrations for St. Patrick's Day on Saturday 17 March, starting with mass at the Templo Ecuménico de San Bartolomé de Tirajana and followed by more fun events in the Irish Centre area in Playa de Inglés (San Bartolomé de Tirajana). The following greenings have been confirmed: Templo Ecuménico de, the hotels of the Irish Centre (Green Field, Green Garden, Green Park and Corona Blanca) in San Bartolomé de Tirajana, El Palmeral and the roundabout at Mogán.
Santa Cruz de La Palma will be joining the celebrations for St. Patrick's Day and in honour of Dionisio O'Daly, from 15-19 March. Please see poster attached for information on all the activities.
Madrid
Marbella
The Claddagh Bar in Marbella presents the St. Patrick's Day Festival on Saturday 17 and Sunday 18 March. Admission is free and everyone welcome to come along.
Murcia
Lorca will be celebrating St. Patrick's Day on Saturday March 17, from 11.00 onwards. There will be music, refreshments and a guided walk to Plaza de España and into Saint Patrick's Collegiate. Please see their webpage for more information.
Sevilla
The CEIP Carlos I will organise its fifth year of celebrations for St. Patrick's Cultural Week, from March 19 to 23, which will lead to the St. Patrick´s Gymkhana on March 23. More information
Valencia
The Valencia Irish Cultural Association is collaborating with the GAA and some other local organisations to put on a St. Patrick's Day party, with Valencia's first ever ‌St. Patrick's Day Parade and events which will take place in the Turia riverbed on March 17th from 11.30 to 13.30. It will start at the Alameda metro exit at 11.30 and everyone is welcome to join the parade, which will be led by a group of musicians playing Irish music. The only requirement is that you wear green! There will also be a series of events taking place after the parade finishes, including a céilí, a GAA display, Irish music, face painting and various activities for kids. There will also be some Irish stew to sample! There will be a concert of Celtic music (Irish, Galician/Asturian, and Scottish) that evening from 20.00 in Max Max Pub Celta, with the Pet Pipers Project playing a farewell gig also. There will be music from early evening onwards and everyone is welcome along
Tourism Ireland's 2018 Greenings
Tourism Ireland's global greening will have plenty of Spanish landmarks turning green for St. Patrick's Day. They will be joining global icons such as the Sydney Opera House, the Colosseum in Rome, and the Leaning Tower of Pisa. New for 2018 is Athletic Club Bilbao's San Mamés stadium which will go green at 8pm on March 16th. Other notable greenings include Madrid's Puerta de Álcala and Cibeles fountain. Lots of local authorities will be turning buildings green in places like Murcia, Málaga, Zaragoza and many more on the evening of the 16th and/or the 17th March. Highlights include the Torre de Hercules in A Coruña, the Marbella Arches and several buildings in the town of Tortosa in Tarragona. More information about Tourism Ireland's global greening is available here.
There is also have a dedicated page on the Embassy of Ireland, Spain, website for St. Patrick's Day which they are continually updating, so if you have an event you would like to include please get in touch at annmarie.murphy@dfa.ie
Happy St. Patrick's Day to you all!!