THE KABUL GOLF CLUB, first opened in 1967, was frequently used by Afghanistan's royal family until the last monarch got the boot in a 1978 coup.
Years of war turned the course into a battlefield, with landmines, rocket launchers and burnt-out Russian tanks. In 2004 pro golfer Mohammad Afzal re-opened the grim, grassless course and kept it going in the face of death threats from the Taliban who shot and killed his brother.
Now wealthy golfers are flown in by armed helicopter just to say they have played the world's most dangerous course. Next time you are about to complain about the state of the greens, think of poor Abdul.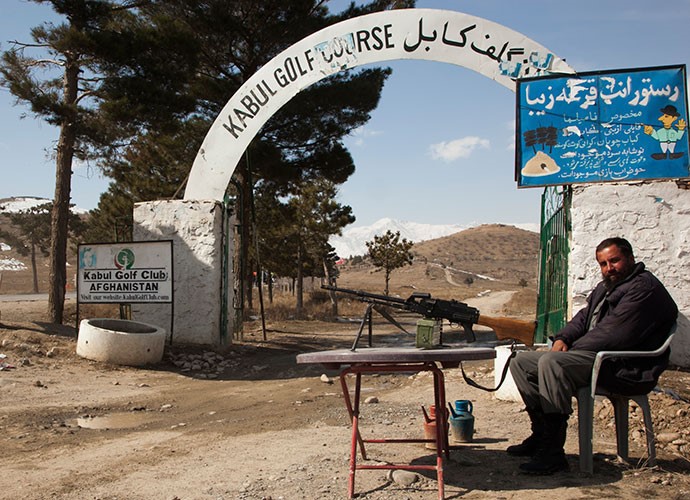 DICTATORS HAVE BEEN KNOWN to stretch the truth about their golfing abilities. During the official grand opening of a Jack Nicklaus- designed course, Turkmenistan's president, Gurbanguly Berdymukhamedov, (no kidding) hit the ceremonial first tee shot. A voiceover claimed: "Our nation's leader scored a hole in one from 246ft despite windy conditions." Jack Nicklaus diplomatically made no comment.
LANNY WADKINS won the 1977 PGA Championship at Pebble Beach after fending off Gene Littler in a playoff to claim his only major. His most memorable feat, however, was at the L.A. 'Genesis' Open, (then the Northern Trust Open) played in February 1985 at the Riviera Country Club. No one has since touched his 20-under par 264, the longest-standing record on the PGA Tour.
Wadkins shot 63, 70 and 67, and then set himself a target for the final round to keep a 5 off his card. He shot 64. The L.A. Times' Jim Murray commented: "Lanny played a concerto for woods and 2-irons". If you missed the Chicago Bears beating the Washington Redskins 73 – 0 never mind, just watch Lanny Wadkins beating up Riviera." Wadkins says: " I couldn't lose, I just saw shots that day." I know just what he means, I often have that feeling. It lasts right up until I hit my first shot.

BEFORE THE HAWAII STATE GOVERNOR apologized for the recent nuclear missile panic, saying an employee had pressed the wrong button, golfers on the island prepared for the worst. John Peterson tweeted: "Under mattresses in the bath with wife, baby and in-laws." Justin Thomas, playing in the Hawaii Open, kept his cool, saying aferwards: "I just sat on the sofa with a can of beer thinking 'There's not a thing I can do, if it's my time, it's my time." He must have British Blood in there somewhere.
PRESIDENT TRUMP'S LUXURY Turnberry Golf Resort has received a tax rebate of £109,580, as part of a programme designed to help 'small businesses.' As the resort is expecting a turnover of £18m this year it hardly qualifies, but apparently the tax relief is 'mandatory' due to a 12.5% cap on rising business rates for bars, hotels and restaurants. Donald can treat himself to a new pair of gold bath taps, courtesy of Revenue Scotland.
AT LAST SOMEONE HAS LISTENED to all the moans concerning the calculation of handicaps. Welcome to the new World Handicap System, courtesy of the R & A and the USGA. From 2020 a consistent handicap that is portable from course to course and country to country will come into existence, with key features designed to provide all golfers with a consistent measure of playing ability.
These include:
1: Flexibility in formats, allowing both competitive and recreational rounds to count for handicap purposes and ensuring that a golfer's handicap is more reflective of potential ability.
2: An average-based calculation of a handicap, taken from the best eight out of the last 20 scores.
3: A limit of Net Double Bogey on the maximum hole score (for handicapping purposes only)
4: A maximum handicap limit of 54.0, regardless of gender. (For more info check out the R & A website.)
The object is to encourage as many golfers as possible to obtain and maintain a handicap, and to enable golfers of differing abilities, genders and nationalities to compete on a fair basis. From 2020 all golf federations all over the world will be implementing the new handicap rules.
Good luck with that! Until next time: Happy Golfing.
Contact Mick for all your regripping and repairs. 638 859 475.