On a bright and sunny St Valentines day, thirty two members turned out to compete for the Colin Arkly Memorial Trophy at Hacienda Riquelme. The golf course was in excellent condition, the greens were firm and very slick from the start and got progressively quicker through the day.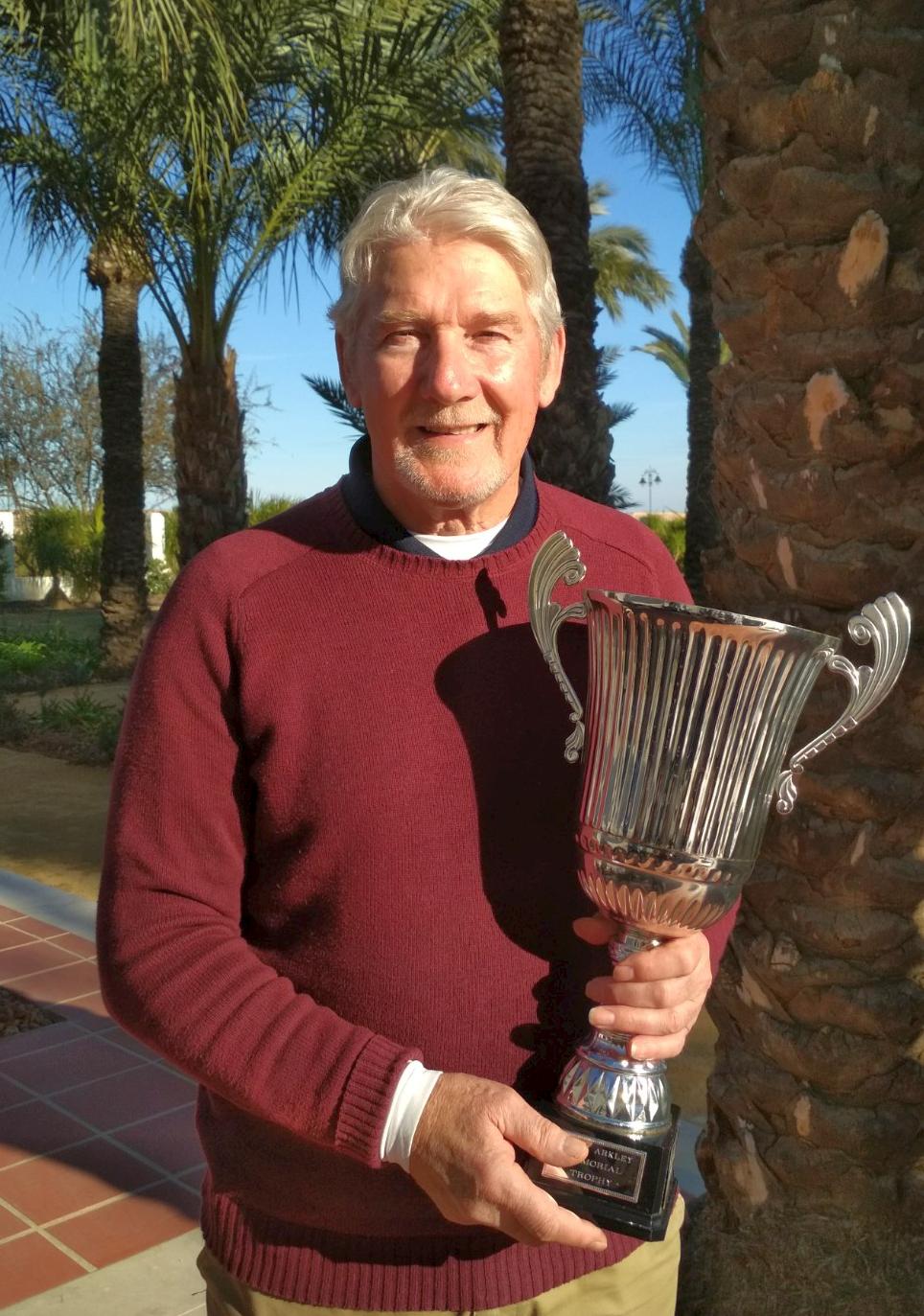 The spear grass lined fairways, a moderate breeze and some tricky pin positions kept scoring honest for the day. After making a green in regulation most members succumbed to the odd three or four putt, or worse, saw their ball roll off the green assisted by the breeze.
A tough day at the office for all. The outstanding scores for the day were in Bronze division, Mike Inns scored 38 points (taking the Trophy) and a long overdue 36 points carded by Norman McBride, well done both! One Doubles Matchplay round was played. Phil de Lacy and Robin Eastman fought back from 5 down to beat Ken Flaherty and Barry Roehrig by 2 avoiding a St Valentine's day massacre.
The day's results, by category and in reverse order, were the following:
Bronze Category: 4th Bob Eyland (26), 3rd Brian Butler (31), 2nd Norman McBride (36), and 1st Mike Inns (38)
Silver Category: 4th Kev Albright (28), 3rd Scotty Phillips (33 on CB), 2nd Hugh Reily (33), and 1st Paul Kavenagh 34 points
Gold Category: 4th John Osborne (31), 3rd Robin Eastman (32), 2nd Mike Cook (34), and 1st Ivan Hanak with 35 points.
Nearest the pins on the par 3's (open to all) went to Neil Sheldon (hole 5), Brian Butler (7 & 15) and John Osborne (17).
The Abacus, sponsored by Glendale Engineering, was won by Alan Williams
Only one guest played, Mick Seymour (now a member) was awarded a sleeve of balls for turning up. Welcome Mick!
Our love to our wives and partners and our thanks to the staff at Riquelme for their contribution to the day.
Keep up to date with all SMGS matters by logging on to our website www.smgs.org or simply give Tony Smale a call on 628227687 to find out more about the society and its weekly golf get-togethers. Next week we will be at Las Colinas.