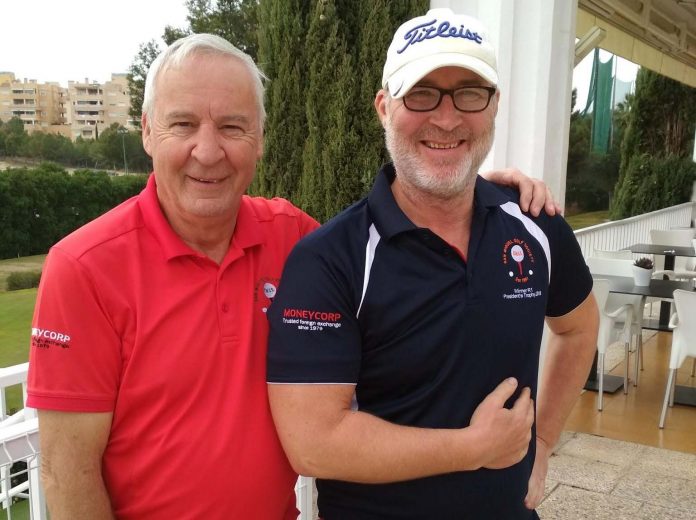 The remarkably mild winter weather continued and the 25 members and 2 guests who ignored the long-range forecast enjoyed a still and mostly sunny day. Well, as much as you can enjoy the pressure of a bogey medal round after weeks of stableford.
We found the course – handy hint for some, A-30 to junction 130 and then along the cunningly named Avenida del Golf – in decent nick. Those put off by the location north of Murcia are missing out. Altoreal's mature 90s-era parkland style layout has a lot of interesting elevation changes which make a refreshing change from the flatter, out-and-back modern courses in the region. Challenging but fair, it's a scenic track with trees and lovely views making it well worth the longer drive to get there.
Scoring was typically varied for a medal round and several double-digit scores were confessed to in the bar later on. Full marks for perseverance if not performance! Competition was tightest in Silver division, countback deciding the places with a single shot difference between the top four.
The winning scores in Bronze were also respectable but in Gold, the winner stormed away with an 8-shot lead over his nearest challenger. Congratulations to Darren Hancock on a great round.
The day's competition results, by category and in nett score reverse order, were the following:
Bronze Category: 3rd Paul Cobain (80), 2nd Keith Stevenson (77) and 1st Chris Hamblett (75).
Silver Category: 3rd Hugh Reilly (74), 2nd Kev Albright (74), and 1st Paddy Diskin (73).
Gold Category: 3rd John Humphrey (80), 2nd Tony Smale (79), and 1st Darren Hancock (71).
Nearest the pins on the par 3's went to Ken Flaherty (hole 5), Declan Maguire (hole 8), Paddy Diskin (hole 10) and Spawny Smale (hole17).
Best guest was Declan Maguire (79) and Bob Eyland snared the Abacus. Cheers, Bob!
Thanks, as always, to the staff at Altoreal for their contribution to the day and to all our generous sponsors.
Keep up to date with all SMGS matters by logging on to our website www.smgs.org or simply give Tony Smale a call on 628227687 to find out more about the society and its weekly golf get-togethers.
Next time out we will be amongst the trees again at Las Ramblas. We have an almost full start sheet but there is currently one free tee slot if you haven't already signed on.
This week's report was written by Mike Greatorex. Chris, Keith and Paul