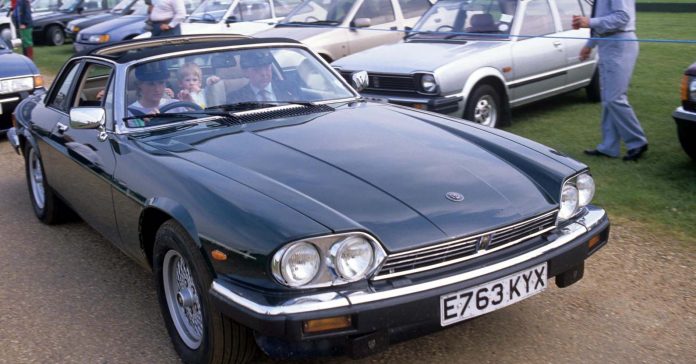 XJ-S built specially for Diana, Princess of Wales at The London Classic Car Show
One-off cabriolet with rear seats for young Princes William and Harry
Automotive and historical icon displayed by XJS Club
Tickets on sale with significant reductions for those buying in advance
A notable Jaguar XJ-S Cabriolet with royal connections will be one of a record number of stunning retro cars from the halcyon heydays of motoring appearing at next month's London Classic Car Show at ExCeL London (15-18 February).
While many of the 700+ wonderful automotive icons on display will have their own incredible histories, few if any will have better stories to tell than this totally one-off 150mph Jaguar – a sportscar which was fashioned especially for Diana, Princess of Wales.
Dating back to 1983 this famous XJ-SC was not only one of the most photographed cars of its era but was also totally unique, built to the Princess' own bespoke specification.
While the other 5,012 cabriolets created in Coventry between 1983 and 1988 were all hedonistic two-seater speedsters, this stately XJ-SC (reg E763KYX) was uniquely fitted with two small rear seats just so the young Princes William and Harry could ride along with their mother and her bodyguard. It is generally accepted that the Princess enjoyed driving her custom-made Jag so much that her protection officer was often relegated to the front passenger seat!
Additionally, the V12 powered regal cabriolet features an individually made, and permanently fixed, rear hard top to ensure that the two Princes could not strike their heads on the solid targa roof bar in the event of an accident.
Also, unlike any other XJS, the once royal roadster is fitted with personalised leather and Harris Tweed seat trims, chosen by Princess Diana. What's more the exterior bodywork came with four round headlights similar to those seen on the US export and was finished in British Racing Green to match the Aston Martin that husband Prince Charles had acquired around the same time.
The Princess was regularly seen driving this majestic model from 1987 to 1991. Then, when the two Princes outgrew their small rear seats, she sold it to the Jaguar Heritage Trust, an educational charity established to preserve the legacy of Jaguar for the nation, in exchange for a contribution to one of her own charitable causes.
The following year, Diana replaced the British-made XJ-SC with a German-made Mercedes 500SL – a controversial decision which caused quite a commotion at the time as no member of the Royal Family had purchased a foreign car in memory.
"The London Classic Car Show is littered with cars boasting their own remarkable histories," said Bas Bungish, Event Director. "There are F1 single-seaters raced in period by world champions such as Graham Hill and Michael Schumacher and getaway cars involved in staking out The Great Train Robbery. Princess Diana's very own Jaguar is another of these evocative exhibits which will certainly conjure up many fond recollections among our visitors who really appreciate nostalgia.
"Seeing the two Princes today, it's hard to remember that they were once a pair of little boys strapped into those special passenger seats behind their mother. How time flies!"
The tailor-made Jaguar is being exhibited at ExCeL by the XJS Club, one of an unprecedented number of enthusiastic car clubs putting together dedicated displays this year's expanded London Classic Car Show.
Classic car owners, collectors, experts and enthusiasts wanting to attend the 2018 London Classic Car Show can take advantage of significant discounts on offer when booking in advance. If purchased now, adult admission costs just £25 (£30 on the door) and a range of upgraded Premium and Family Tickets are also available online.
Moreover, all tickets also include entry to the London Classic Car Show's sister show Historic Motorsport International, which celebrates the UK's leading role in all areas of historic motor sport. Full details can be found on the show's official website – thelondonclassiccarshow.co.uk.