24 members and guests from Alfie's GS travelled to Villamartin GC for the first meeting of the year on January 25th. It was the first venue of our new captain Ian Ingledew. As always Alfies's support a charity for the year chosen by the captain and Ian's chosen charity this year is Prostate Cancer UK.
The weather was chilly. The course was ok but the tees were all at the back making it a challenge. The presentation was held back at Alfies's bar where a buffet was enjoyed by all the players. This year it was decided at the AGM that we would divide the society into 2 categories based on players handicaps "GOLD" & "SILVER"
Our winner of the day in the silver division was Peter Golder with 36 stableford points
Second went to Luke Branch with 29 stableford points decided on count back.
The Winner of the gold division was Ian Connell with 31 stableford points. Second place went to Alistair Quinn with 29 points.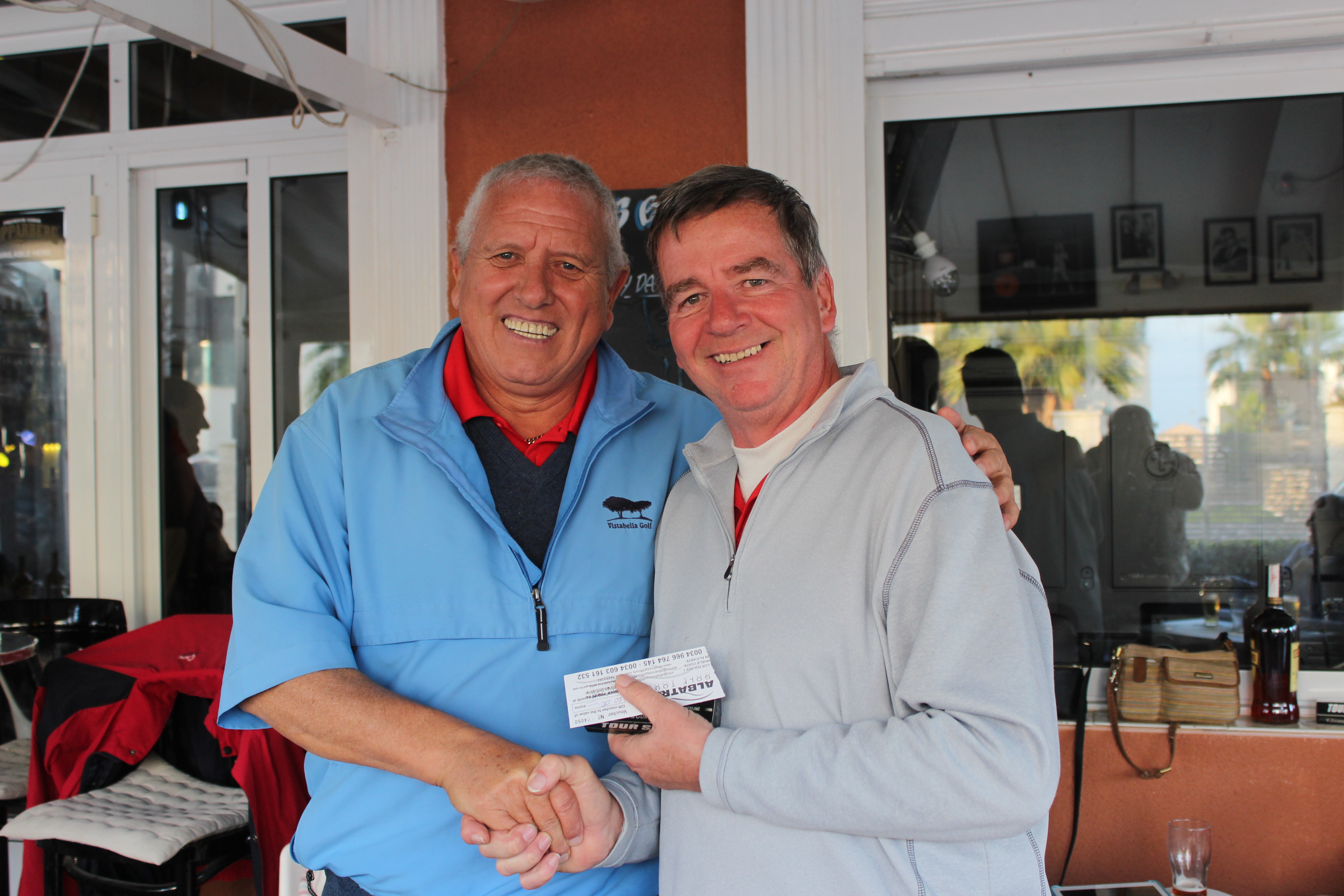 Best Guest went to John Minns with 18 stableford points.
Nearest the pin in the 6th– Sponsored by 'The Street Restaurant' went to Peter Golder
Nearest the pin on the 9th– sponsored by 'The Auld Dubliner' went to Alistair Quinn
Nearest the Pin in 2 shots on the 15th – sponsored by 'The Celtic Drop' went to Rita Potters
Captain Drive in hole was won by Mike Fitzpatrick and the prize was donated by our new captain Ian Ingledew.
The Blind pairs was won by Jim Dempsey and George Potters
I have received a note from our captain and he is looking forward to playing with as many members as possible throughout the year.
Many thanks to our sponsors, our committee for their hard work in the background, and to Mike Probert from Costa Blanca Green Fee Services for arranging our day.
To Rose and Jim and staff at Alfies Bar for their support throughout the year.
Big Thank you to Sandie Hall for organising the charity raffle and prizes.
And finally thanks to all the members for supporting Alfies Golf Society.
The next venue will be held at Vistabella on February 22nd 2018 and we will sample the new holes that have been added this year and it is the first round of the society's Eclectic Cup.
Finally we invited representatives from "The Royal British Legion" to receive the money the society raised last year. In total for the year Alfie's Golf Society donated 1,000.00 Euros to this very worthy charity.