As ex-pats living in Orihuela Costa, we are rarely involved with university students, unless they are serving us a beer or a meal. We just don't move it the same circles. Our interests and pastimes are different, our lifestyles are planets apart.
As a coastal representative on the Orihuela Chamber of Commerce, I get invited to all sorts of meetings and events related to business, commerce, economy and employment that I would normally not even know about.
Recently I was invited to an event called "Conference New Food" in La Lonja, a popular venue in Orihuela. Here students from EPSO University Miguel Hernandez in Orihuela presented New Food Innovations and healthy food products to businesses in the food processing sector, the Orihuela Chamber of Commerce, local government representatives, the press, the university faculty and interested members of the public.
Prizes were sponsored by different companies, entities and the Orihuela Chamber of Commerce.
The University Miguel Hernandez (UMH) of Orihuela is an agriculture, food technology and marketing university. Students learn traditional farming methods, food innovation and getting what they produce into the marketplace. Market research, marketing, planning, cost management, advertising and product development are integral parts of the university syllabus.
This farming university helps to develop practical skills but as it is also a food university, students also explore how to turn basic food commodities into products that people want to buy and eat. They develop exciting new uses for fruits, vegetables and dairy from South America, the Caribbean, Asia and Africa. Cauliflower and carrots were nowhere to be seen at this "New Food" event.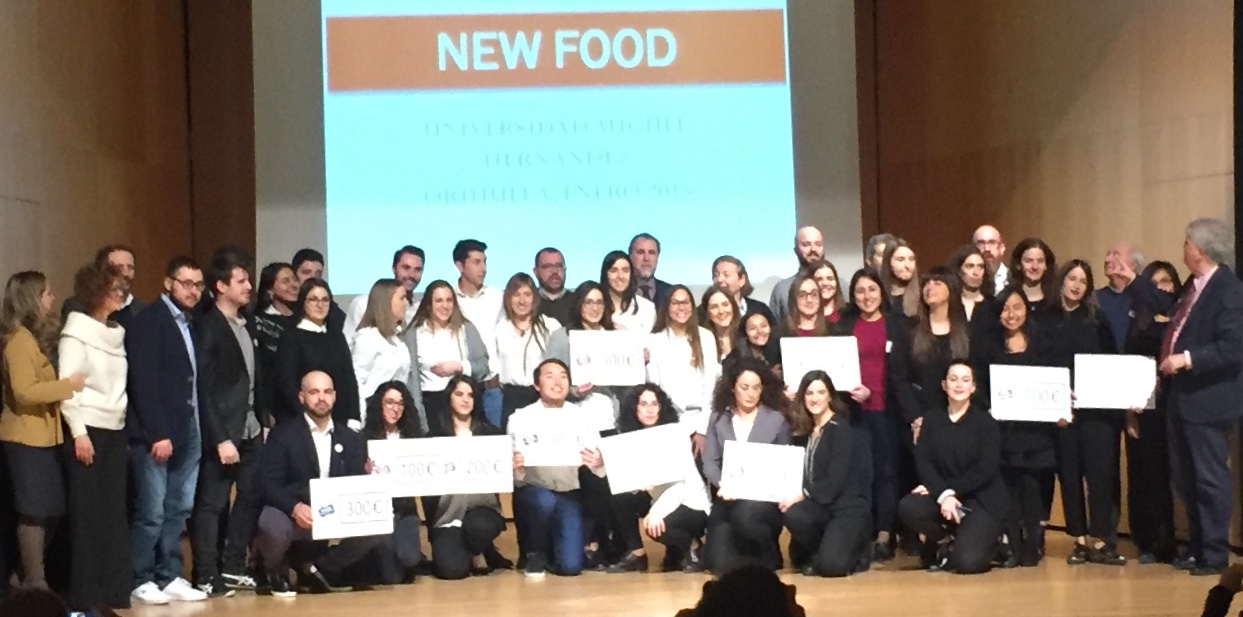 Food technology students began their various different projects in September and over the last three months they literally developed their ideas into healthy tasty marketable products that could be produced in a cost-effective way. They developed marketing plans, product names, logos, packaging, promotional material and even TV advertisements. The students costed their products, found suitable production methods, estimated shelf life, examined target markets and methods of distribution.
At the event there were 9 different stands with 9 different products, each developed by teams of 4 students. The products included delicious crisps made from sweet potato, a low-fat sugar-free ice cream made from cabbage and dates, a tasty low-fat pork pate with quinoa, a sweet pomegranate sauce for meats, gnocchi pasta made from sweet potato and beetroot, a wholesome crunchy bar consisting of chia, quinoa, dates, rice and oats, a sugar-free sweet flan with chia, pomegranate and 50% less egg, , a spicy meat roll with a redberry sauce, and finally a (sugar-free palm oil-free) cricket flour chocolate paste with sweet potato and dates.
As a diabetic, my favourite was the sugar-free ice cream. It tasted good and didn't have that artificially sweet taste that lasts forever in your mouth and that you get fed-up with after a few spoonfulls, it really was delicious. It is also low in fat and high in fibre. One of the main ingredients was cabbage, I couldn't believe it, cabbage never tasted so good before.
The crisps, which were made from sweet potato and came in three flavours, regular, salt and pepper and extra hot. All three flavours were very tasty and won the prize from the Orihuela Chamber of Commerce. The pate was the favourite with both the public and the main jury. Two young boys attending on their lunch break, gave their first prizes to the chocolate flavour cricket spread and the crisps.
Well done to the students and faculty of the University Miguel Hernandez of Orihuela, I admire your vision and energy. All that is needed now is for the food industry to invest in, support and encourage these young creative food technology students.
Since 1998 Raymond Kearney has lived and worked in Orihuela Costa. He is a prominent businessman, community leader, president of OC Avanza, business association and represents the coast in the Orihuela Chamber of Commerce.