Callosa Deportiva 1 – 5 CD Montesinos
Another goal fest for the followers of CD Montesinos this week. After last week´s ten goal thriller, this week it was just the six goals on offer between the free scoring Monte side and their opponents, Callosa Deportiva.
CD Montesinos have now scored eight goals more than any other side in their group and this latest win moves them up into third place. A magnificent achievement for a side playing for the first time at this level after last season´s promotion. Certainly it is early days but at almost the half-way stage of the season, CD Montesinos look more than capable of achieving their pre-season objective of finishing in a comfortable mid-table position.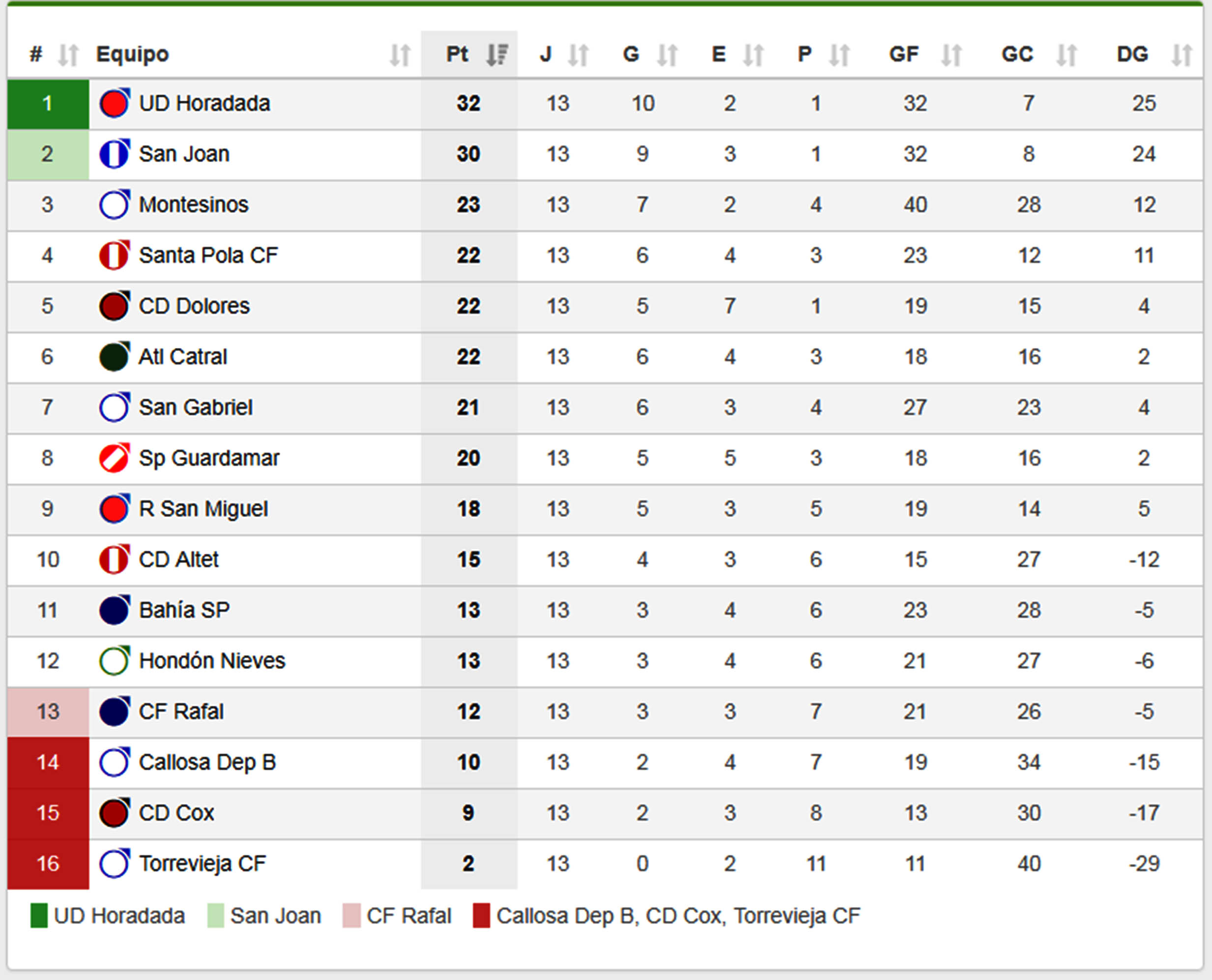 Back to the action. After what has to be said was a terrible first 45 minutes when the home side deservedly took a 1-0 lead into the half-time break. Monte manager Carlos Perez blasted his side and rang the changes in the second half with Maccan, Alex, German and Guirao all coming on. The change of personnel paid off as they injected the urgency and fight that was missing in the first half.
Midfield "Maestro" Luis struck a 25 yard free-kick into the top corner to draw level 10 minutes into the second half, a goal which opened the flood-gates as the division´s top scorer, Vazquinho, lobbed the Callosa keeper on 23 minutes to put Monte 1-2 ahead before German added a third on 35 minutes.
The goals kept coming as Carlos Ventura added two further goals in the 38th and 41st minutes as the home side, which by this time were totally demoralised, were put to the sword in a magnificent display of attacking football. To make matters worse for the home side, they lost their discipline towards the end of the game, picked up eight yellow cards and a red card which left them with ten players. But by that time, the damage had been well and truly done by the Magnificent Monte goal machine.
This weekend, CD Montesinos are at home to local rivals Racing San Miguel. A large crowd is expected at the Municipal in Los Montesinos for the final match of 2017. At this game, the International Supporters Club of CD Montesinos (The Full Monte) will be presenting representatives of the local Town Hall with a large food donation for the local Food Bank. Anybody wishing to make further donations (non-perishable good only) please bring them to the ground next SUNDAY.
The match will be on Sunday, 17th December with a 5pm (1700hrs) kick-off. For additional information about CD Montesinos and regular updates, please keep an eye on our Facebook page.
CDM TEAM:- Dani, Fernando, Bachir, Manuel, Manuel Sanchez, Luis, Carlos Ventura, Koko, Vazquinho, Daniel Saiz and Dimitri.
CDM Subs:- Aitor (GK), Alex, Guirao, German and Maccan
CDM Goals:- Vazquinho, Ventura (2), German, Luis