The Ministry of Finance has sent letters to 22 large city councils warning them that they either reduce the period of paying their creditors or they will intervene in their finances so that suppliers are paid on time.
All the municipalities listed in the document take over 60 days to pay their invoices. Both Torrevieja and Orihuela feature on the Ministry list, with Torrevieja shown as taking 120 days and Orihuela 101 days to pay their invoices.
The mayors of all 22 of the municipalities have been told by the Treasury that they should send a plan detailing the measures by which they will reduce the time they take to pay their bills to less than 30 days. Otherwise, the Treasury says that they will withhold the proceeds from local financing to directly pay their invoices.
The maximum payment period of 30 days is one of the conditions included in the Law of Stability and Financial Sustainability (LOESF) that all councils must adhere to.
Of the 22 councils listed, Jaén, Parla, Algeciras or Telde (Las Palmas) take an average of more than a year to pay their bills.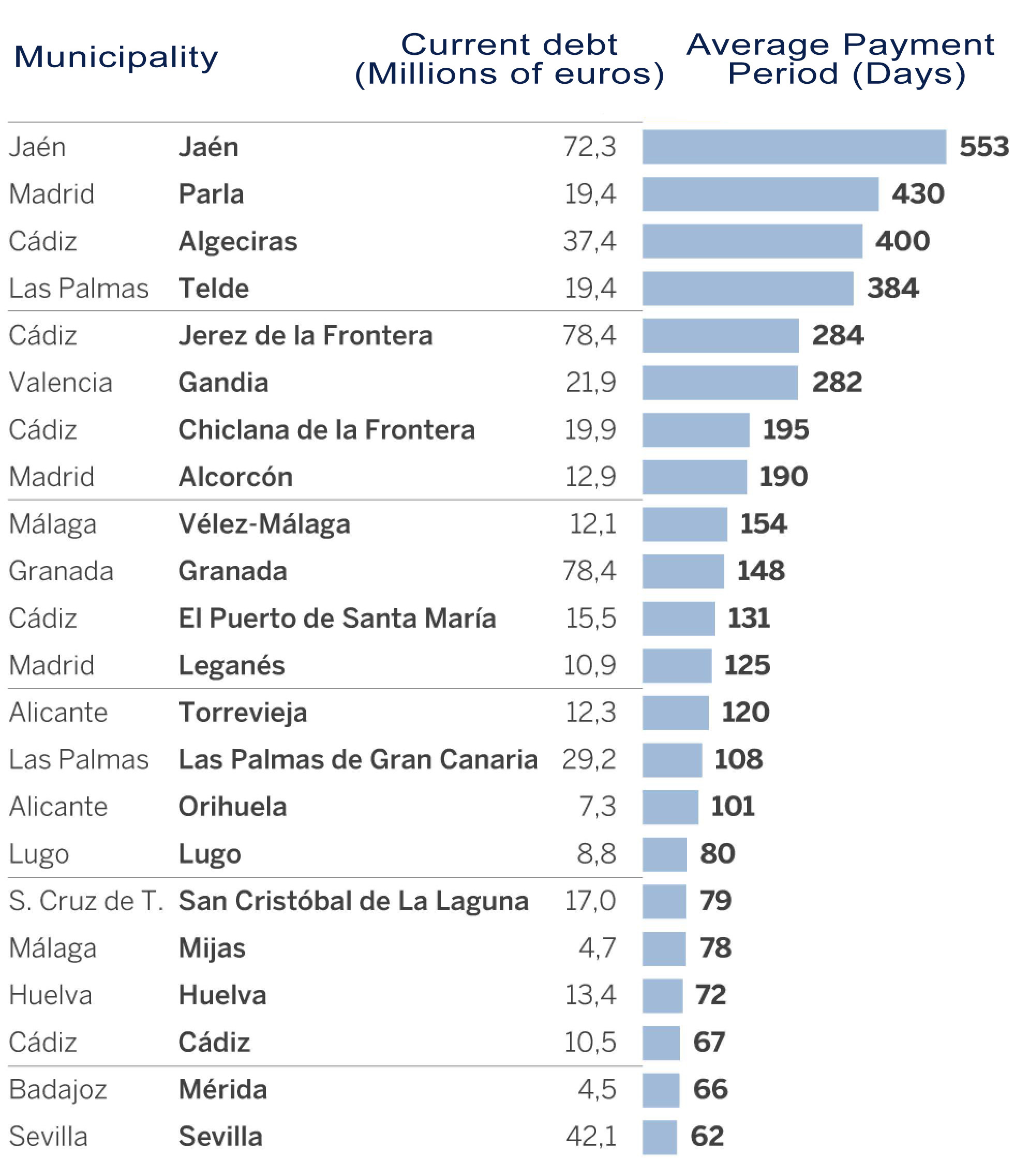 Many of these municipalities are known to be the most indebted in Spain. They are the epitome of bad management, in some cases caused by their predecessors, who left the public finances in a very delicate situation.
But they are not the only ones with problems. In Spain there are at least 688 municipalities that take more than 60 days to settle their bills, according to the last official figures of average payment periods collected by the Treasury.
Despite this situation, which apply to just a handful of the 8,115 municipalities in Spain, most towns and cities enjoy good financial health.
However, according to Torrevieja's Councillor of Finance, José Hurtado, the payment period was reduced to 117 days at the end of September and will be around 30 days at the end of this financial year, the legal limit required by the Ministry of Finance, with new procedures being introduced by the council now to ensure that this future deadline is met.