If you are looking for special hand-made Christmas presents, you should perhaps make a note in your diary of the Christmas Fair that will be held in Benigembla on the weekend of 8, 9 and 10 December. And to make it a real Christmas market, there will be a Live Nativity scene, with a live María and a live Joseph, who are also craft people. Then there will be a local tavern, stalls with Christmas decorations and local delicacies as well as an arts-and-crafts exhibition. All this to the sound of traditional Christmas music from all over the world and from time to time live music by Solredó.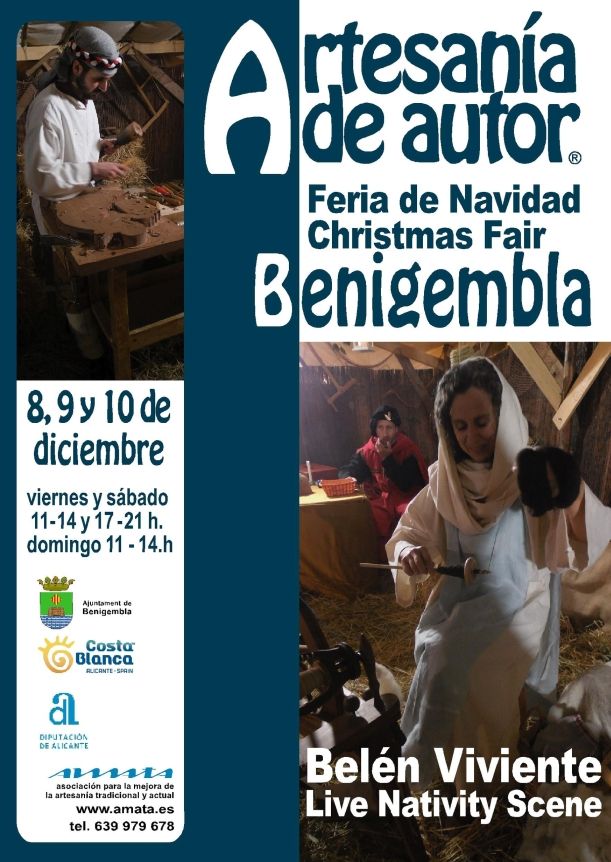 The craft people not only show (and sell) what they have made, but many of them will also be at work, so you can ask questions on techniques, tools and materials. Quite a few even speak some English (or French or German). There will be a blacksmith, a potter who makes beautifull Rakú pottery and brings his wheel to let you have a go at making your own little bowl or cup, stalls with different styles of candles, and an ample choice of presents for children and adults.
But the major attraction of this fair will undoubtedly be the live Nativity scene. Not just because it is a live version of the traditional crib with María, Joseph and the Child in a very rustic looking but comfortable stable (the local pensión was full). No, this is a set up worthy of a real craft fair: Joseph and Maria are people who earn a living with their skills. Joseph is a talented carpenter and wood carver, while Maria produces wool using a spinning wheel. Both will be at work while the Child sleeps quietly in His crib.
The Town Hall has asked a regional craft association Amata to select the stalls and set up the market. Amata has been organizing craft fairs over the last 20 years and makes sure that everything on sale is hand-made by the participants. They use the words Artesanía de Autor® as a guarantee that the man or woman who makes the stuff on the stall is present.
Benigembla is one of the picturesque villages in the Jalón Valley (in the north of Alicante province). Follow the coast road (N332) and turn inland at Benissa; after about 10 km. drive through Jalón, the village that is famous for its wines and the big Saturday morning Rastro (boot sale) and then follow the road past Alcalalí, past Parcent and in the direction of Castell de Castells. A very nice drive at any time of the year.
As Friday the 8th of December is a bank holiday, the fair open all day, from 11 am onwards, with the usual break for lunch from 2 till 5. On Saturday the opening times are also from 11am till 2 pm and from 5 till 9 pm or later, weather (and temperatures!) permitting, but on Sunday it opens only in the morning, till about 2 pm. More information (also in English) on 639 979 678 and on www.amata.es you can find photographs of other fairs organised by Amata.