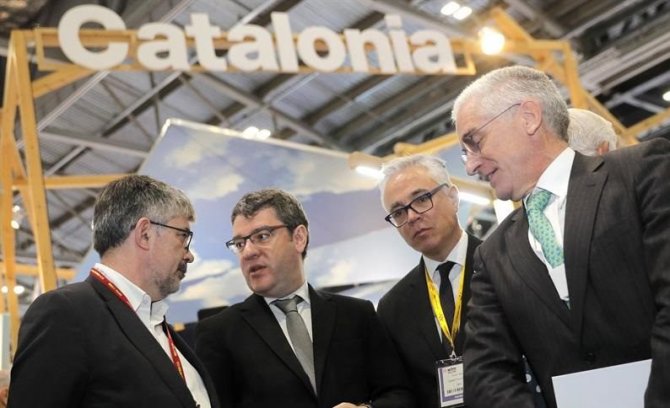 The Minister for Energy, Tourism and Digital Agenda, Álvaro Nadal, visited the international tourism fair World Travel Market (WTM) being held in London, one of the main international events in the tourism sector, with the participation of close to 4,500 exhibitors from 174 countries and regions.
Her was accompanied by the Director-General of the Spanish Tourism Institute, Manuel Butler, as the pair visited the trade fair on Monday morning, beginning at the Turespaña stand. With a surface area of 660 square metres, it hosts 10 Spanish regions and 36 Spanish hotel agencies and companies, travel agencies and transport companies.
The regions of Andalusia, Catalonia, the Canary Islands, the Balearic Islands and Murcia have their own stand. In total, the Spanish presence at the trade fair occupies a surface area of some 2,986 square metres with 347 registered exhibitors, which also included a delegation from Barbados.
Nadal highlighted the Spanish presence and recalled that our country is the leading tourist power in tourism competitiveness and the third ranked in terms of number of inbound tourists. During his visit, the minister, who pointed out that Spain closed the year with more than 80 million visitors, observed how the different regional departments and the sector as a whole expressed their optimism at the outlook for the close of 2017 and 2018 in general.
Among the representatives at the different stands, Álvaro Nadal held brief meetings with Fernando Clavijo, President of the Regional Government of the Canary Islands, Ximo Puig, President of the Regional Government of Valencia, Susana Díaz, President of the Regional Government of Andalusia, and Francina Armengol, President of the Regional Government of the Balearic Islands.
Nadal also recalled that the United Kingdom is the leading emitting market to Spain by number of inbound tourists and by total tourist spending. In the year to date, almost 15.4 million British tourists have visited Spain, 7.8% up on the same period of 2016, spending a total of 14.26 billion euros. According to the minister, this means that Spain represents almost half of British tourists travelling overseas.
During the day, Nadal held a lunch with the main executives in the British tourism sector, and in the afternoon he attended a meeting with the Association of British Travel Agents (ABTA).