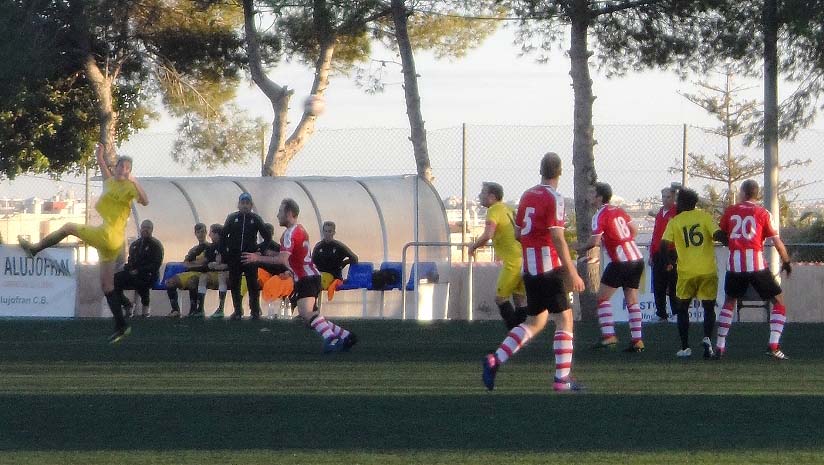 CD Montesinos 2-1 CD Altet
Monte had a chance to climb up the table, against one of the sides directly above them, but it was a shaky start, and a scrappy first half, not helped by the blustery conditions for the first half in Monte's favour, in that the ball was being blown towards the Altet half.
But chances were few and far between. Vaz had the best chance of the half, after some good work out wide from Carlos Ventura.
Ventura was a thorn in the Altet side at both ends of the ground. About half-way through the half, Dimitry and Altet No12 both required treatment after a nasty clash of heads. Dimitry continuing the game with his head bandaged, but it didn't stop him heading the ball away when required.
It was almost a relief to the 325 crowd when the ref' blew for the end of the first half.
If the first half was ordinary, to use an oft-used phrase " it was a game of two halves", because the second half was explosive, due to two goals in as many minutes within 4 minutes of the re-start.
First Maccan crossed the ball to Vaz who headed the ball into the net, then following a pass from Ventura, Manu Sanchez slotted the ball home.
More goals should have come, but chances by Vaz, Maccan, and Ventura went missing. The final 10 minutes were tense and scrappy, maybe as a result of numerous substitutions by both sides.
Dani pulled off a great save, high and to his left. But a few minutes later, Altet scored to hardly any celebration by the team nor their fans, as the Altet team knew they only had minutes to level the score, producing a nail-biting end as the ref' added 5 minutes to the second half.
But Monte held on to take all the points and move up the table to 7th place, 4 places and 2 points ahead of next week's away rivals Bahia Santa Pola (details of day/time of kick-off will be posted when known).
Man of the match was Manu, sponsored by Jim Cripps, presented by Full Monte President Eddie.
Team:- Dani, Alex, Fernando, Manuel, Manu Sanchez, Carlos Ventura, Vaz, Pastor, Guirao, Dimitry, Maccan. Sub's:- Aitor, El Bashir, Dario, Jesus, German
CD Montesinos will travel away to play F.C.Bahia Santa Pola, on Sunday 12th November, kick-off 11.30am.
Directions to ground……N332 towards Alicante, go past the Santa Pola Park and take the slip road on right towards Santa Pola. Travel towards Santa Pola and take first turn right into Avenida Zaragoza. Away supporters to meet at Bar Tambalache at 10.15am