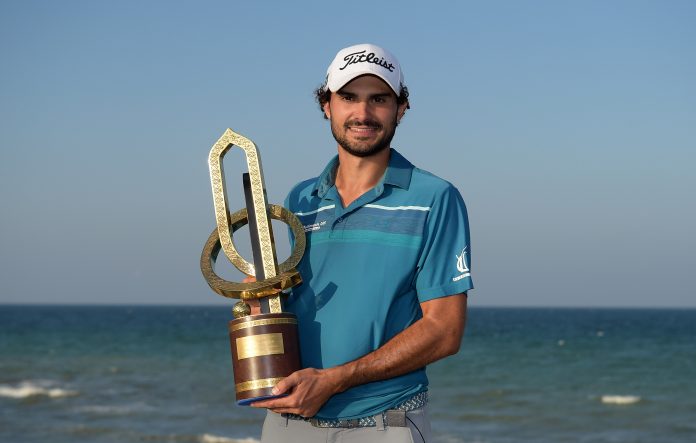 Tournament: NBO Golf Classic Grand Final – Venue: Al Mouj Golf, Muscat, Oman
Clément Sordet claimed a memorable second victory of the season at the NBO Golf Classic Grand Final as Scott Fernandez and Bradley Neil dramatically clinched European Tour cards on the final day of the 2017 European Challenge Tour season.
The top 15 in the season-long Road to Oman Rankings will play in the Race to Dubai next year and there was much movement throughout the fourth round at Al Mouj Golf, with Sebastian Heisele and Robin Sciot-Siegrist ultimately the two to drop out of the European Tour places in the final week of the season.
Estanislao Goya and Oliver Lindell were two others who were inside the top 15 in yesterday's projected rankings but endured difficult days as the wind picked up off the Sea of Oman, ultimately sharing 11th place – not enough to hold those European Tour positions.
Fernandez and Neil both turned in 33 to climb the leaderboard but started to falter on the back nine, each bogeying the 17th before making impressive pars on the last hole in the knowledge that a dropped shot would be costly.
They took the 14th and 15th cards for next season, Neil finishing 4,436 points ahead of Heisele for that final position, and they will both now embark on rookie seasons on the European Tour.
By contrast, Sordet's progress to a fourth Challenge Tour title seemed relatively serene.
The Frenchman stretched his overnight lead to four shots with two early birdies and, with the charges of Erik van Rooyen and Goya falling away, he walked down the 18th with a two-shot lead.
A comfortable par saw him sign for a two under par round of 70 and a 15 under par total, taking the 25 year old to second place in the Rankings, with Marcus Kinhult the runner-up and Fernandez and van Rooyen sharing third place on 12 under par.
The round of the day came from Jens Dantorp, whose blemish-free 66 secured the Swede his European Tour card in a share of fifth place and concluded a remarkable fortnight following his victory in last week's Ras Al Khaimah 2017 Golf Challenge.
Meanwhile, Tapio Pulkkanen was crowned Challenge Tour Number One, the first Finn to achieve this honour, with the 2017 graduates ultimately finishing like this:
Player quotes:
Clément Sordet
"It feels great. I have been playing really good lately and to finish the season with the win is amazing.
"I played pretty good today. It was really tough not to think about the score and what the other guys were doing around me but I focused on doing my own job and I am really, really happy.
"It was definitely the best win of my career and it is the highlight of my career so far. To finish in the top 15 was my main goal at the start of the year and to finish the season second in the Rankings feels great.
"I am going to take two weeks off and enjoy some time at home then I will be ready for next season."
Bradley Neil
"After I bogeyed 17, I didn't really know what to expect coming up the last or where I was standing. I didn't have a clue what was going on and I was just delighted when that last putt dropped.
"I was actually pretty excited today. After going out in three under, it was actually in my hands, I wasn't having to shoot an amazing back nine and I was playing well.
"It was really tough to focus on my game and I had to be really strong mentally to focus on what I had to do. It's been a long, long season and it was horrible to come into the week in 16th place and unable to relax, but it was worth it now."
Scott Fernandez
"I am thrilled as it is a dream come true. I am really excited for what comes next.
"The job is done and it is a great finish to a great year. You know it is going to be a long day from the start, you know there are going to be a lot of emotions, and I started off a little nervous.
"I held my nerve throughout the day – especially on the 17th where I made the best bogey of my career. I hit my second shot into the high rough and after getting out from there I still had 30 yards to the green – but I put my approach to eight foot and holed out.
"That was crucial and I used that momentum to finish well on the 18th. I was left with a tap in for par which was probably the easiest way to make a Tour card in history.
"I have been fighting off a virus throughout the week but I have been able to fight through that and everything else to get the job done."
Tapio Pulkkanen
"It's nice to be in the history books. Some great names have won the Challenge Tour Rankings in the past and it's a great pleasure to now be part of that team.
"After I won in Kazakhstan, winning the Rankings became my goal. I played really well in China to put myself in a good position to do that but it was really important for me to finish it off here.
"I've been here for more or less four years and it's been up and down for me – obviously it's been very up this season! I hope I can continue this next year but it's been a good training ground and I have improved so much from playing on the Challenge Tour."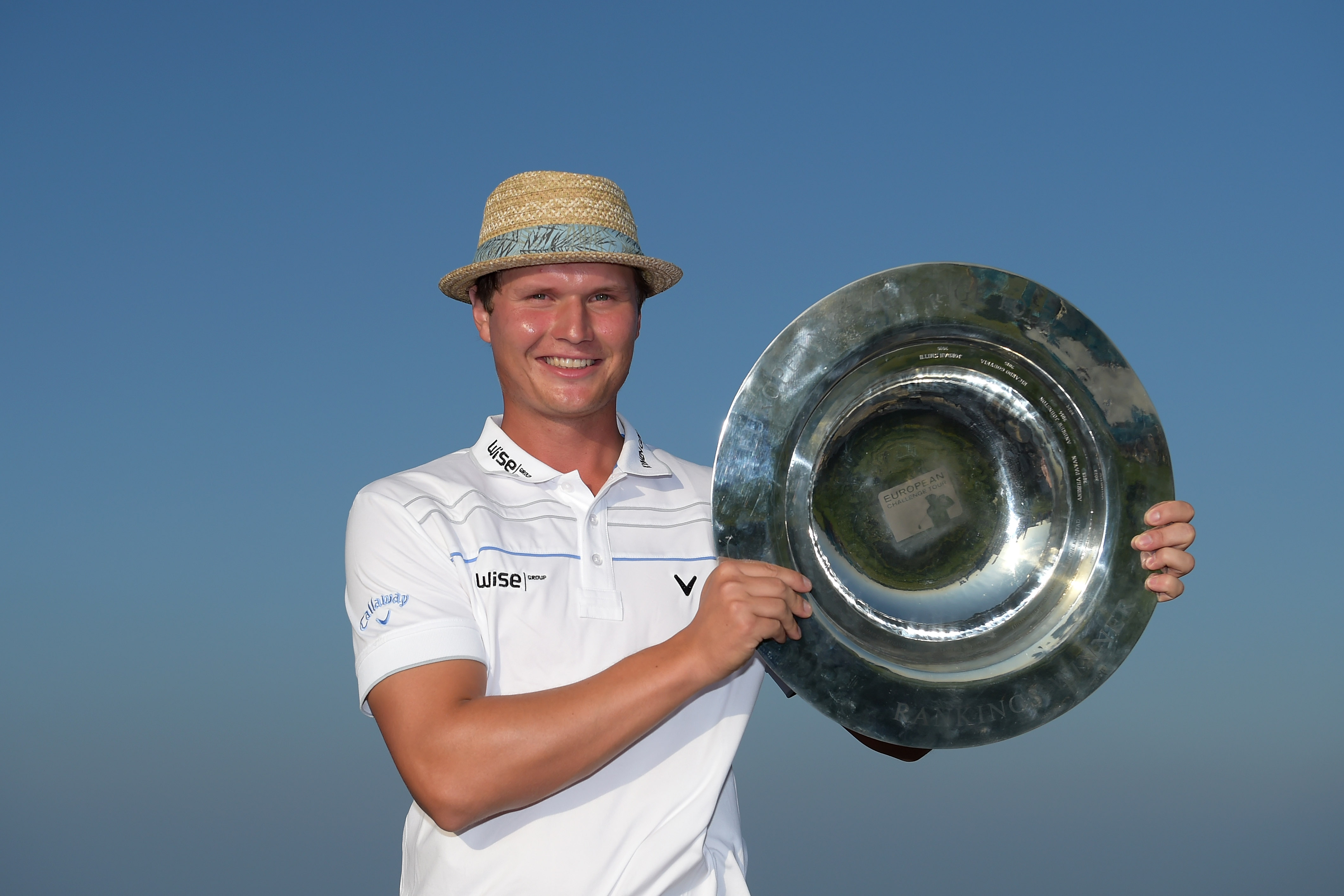 Final Scores:
273 C Sordet (Fra) 68 67 68 70,
275 M Kinhult (Swe) 68 68 71 68,
276 S Fernandez (Esp) 69 69 68 70, E Van Rooyen (RSA) 70 71 66 69,
278 T Linard (Fra) 68 67 71 72, J Dantorp (Swe) 70 71 71 66,
279 N Cullen (Aus) 67 70 71 71, P Oriol (Esp) 69 70 71 69,
280 D Huizing (Ned) 70 70 71 69, B Neil (Sco) 69 72 70 69,
281 O Lindell (Fin) 69 65 70 77, A Meronk (Pol) 67 69 75 70, E Goya (Arg) 67 66 72 76,
282 A Rai (Eng) 68 71 71 72, M Schwab (Aut) 71 69 74 68,
283 S Heisele (Ger) 70 68 73 72, J Heath (Eng) 68 71 72 72, R Evans (Eng) 69 72 71 71,
284 L Gagli (Ita) 70 72 70 72,
285 J Guerrier (Fra) 71 72 69 73, G Porteous (Eng) 71 70 69 75, O Farr (Wal) 68 71 76 70, R Sciot-Siegrist (Fra) 72 72 72 69, T Murray (Eng) 70 76 69 70, J Arnoy (Nor) 71 70 71 73, C Mivis (Bel) 70 73 67 75, O Lengden (Swe) 67 72 75 71, G Moynihan (Irl) 70 73 73 69, A Saddier (Fra) 70 76 69 70,
287 M Tullo (Chi) 70 71 69 77, R McEvoy (Eng) 71 75 69 72, V Perez (Fra) 77 73 70 67,
288 C Koepka (USA) 75 72 71 70,
289 J Girrbach (Sui) 75 72 72 70,
290 T Pulkkanen (Fin) 71 83 69 67, N Von Dellingshausen (Ger) 71 77 73 69,
291 B Hafthorsson (Isl) 76 73 71 71,
293 J Sjöholm (Swe) 72 71 79 71, S Brown (Eng) 75 73 73 72,
295 M Ford (Eng) 79 71 71 74,
296 G Forrest (Sco) 70 72 78 76,
297 P Howard (Eng) 77 73 76 71, C Ford (Eng) 73 73 74 77,
300 M Madsen (Den) 76 76 75 73,
** M Lundberg (Swe) 76 RT 0 0
The European Challenge Tour is 'Where Heroes Are Made'. Since its inception in 1987, it has developed into a proven training ground, where the champions-in-waiting battle worldwide on the Road to Oman to make it to the end-of-season NBO Golf Classic Grand Final and gain a potentially life-changing card for the European Tour.
Many players have progressed from the Challenge Tour and gone on to become Major Champions – including Henrik Stenson, Justin Rose, Martin Kaymer and Louis Oosthuizen – and Ryder Cup stars, such as Ian Poulter, Thomas Pieters and Brooks Koepka.
Today, the Challenge Tour carries a total prize fund in the region of 6.5 million Euro during a season encompassing more than 25 tournaments across three continents.
Using its vast international schedule and relationships with golf federations and PGAs, it is widely accessible to professionals from across the globe, giving players from developing golfing nations the opportunity to test their skill amongst some of the most talented up and coming stars in world golf.
The competition is fierce, testing players' ability and character to the limit. A times, it can be a stern examination, but those who do make the grade know that the chance of fame and fortune awaits.