Father and son cycle from Gibraltar to Alicante for charity
Raising money for charity is often a fun, adventurous time, meaning the good causes get some well needed funds and the fund-raisers have a great time. Well, things were a little different for father and son adventurers, Dave and Mitch Bull, this year when they followed up their challenges of the previous two years (kayaking 52km from Murcia to Guardamar on the Rio Segura and last year a 6,500km motorcycle endurance around the perimeter of Spain) with a cycle ride from Gibraltar in the south to Alicante, some 675km. A trip that Dave described afterwards as `Hell!` but also admitted he'd do it again for the causes.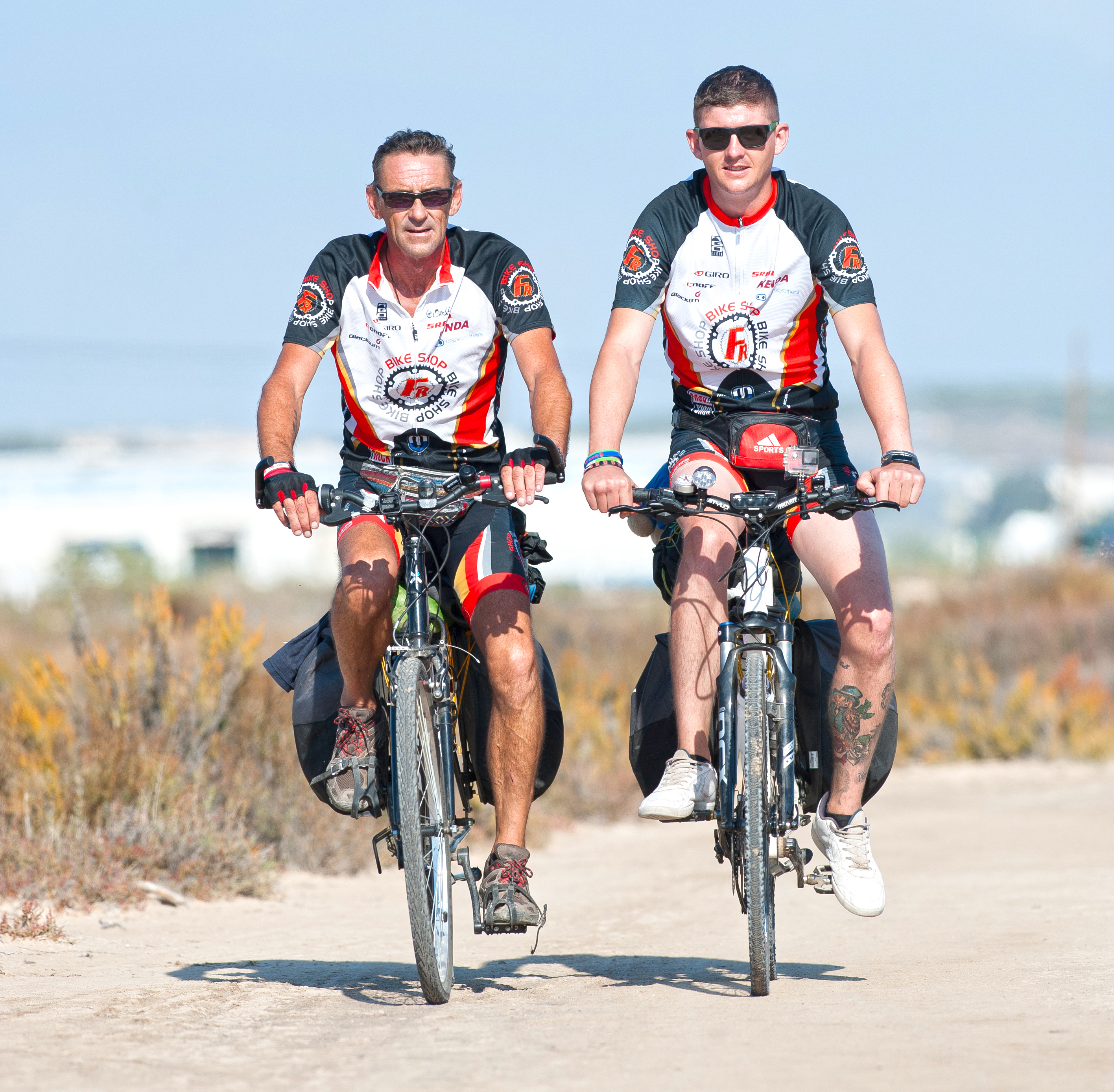 The beneficiaries of Dave and Mitch's trip are as always the Spanish cancer research charity, AECC, and the Samaritans in Spain, of which Dave is a patron. And although they both went on to say that the trip had been much tougher than they'd anticipated they also agreed that they had seen some of the best coastlines in Spain and, more than a few times, had camped on the beach and watched the sun both set and rise) accompanied by a plastic mug of Rioja I'm informed).
The pair left the Grand Casements Square in Gibraltar on the 24th of October, having been driven down by Dave's sister the previous day, heading off up the coast through La Linea, with the aim of reaching Marbella by nightfall, some 75km. The problems started when they entered a national park in an effort to follow a walking path that was shown on the map.
That path soon turned in to a soft sand beach which meant the two riders had to push their fully-loaded, and sinking in the soft sand, bikes over 2.5km. The little shortcut cost them over two hours and was one which Dave said 'almost ended the trip there and then…'we were so fed up.' Luckily things improved and they arrived in Marbella's wonderful old town at sunset ready to fuel up for the next day.
As ever they had an early start the next morning and were on the road by 7.30 am in an effort to keep to some sort of schedule. However, day two was a much simpler affair, although hilly, the 66km to Malaga went smoothly enough with the riders spending as much time as possible on the promenades because as Mitch stated, 'they were lovely and flat!'
Motril was the destination on day 3 and with around 120km to ride they knew they had to get up and away early. As the bleary eyed pair prepared to leave at 5.00am they readied themselves for what would be the hardest day's riding yet, not only the distance but the elevation they would experience would mean some difficult hills. It was as hard as they expected and some 14 hours later they found somewhere to camp on the outskirts of Motril and 'collapsed' into their sleeping bags.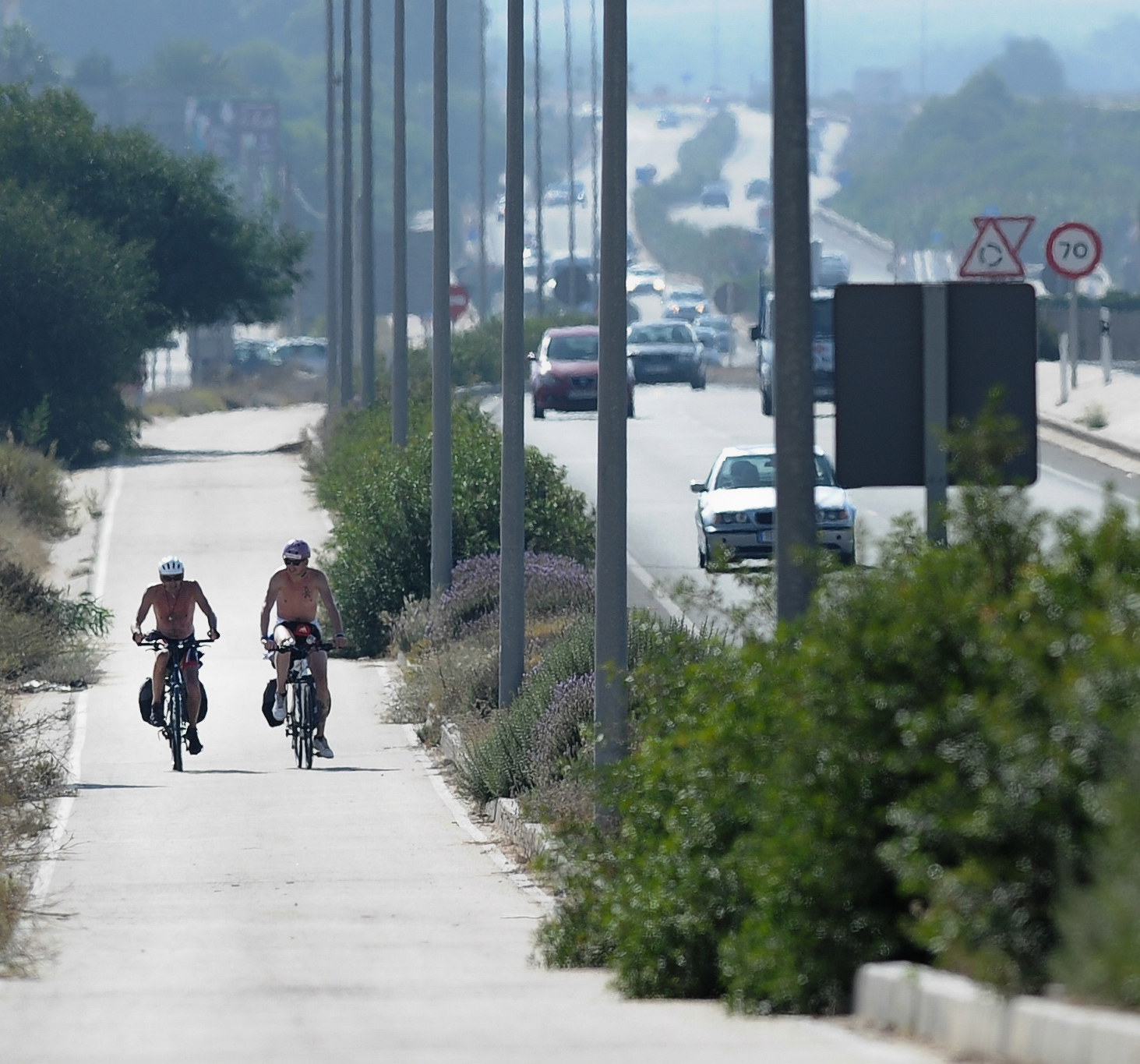 The target on Day 4 was Mojacar on the Almerian coast, a hilly ride of around 120km, and so another early start was needed. Again, they spent the day climbing and dropping down in to valleys. When they finally dropped down onto the coast the views were of blue sea and beaches. Much better.
Although day 5 would be a little shorter and flatter it didn't start like that and after climbing seemingly for hours they eventually dropped down into small fishing villages while heading up the coast to Puerto de Mazarron and then onwards to the historic Naval city of Cartagena.
However, things started to smooth out I more ways than one as the boys found that they had gained a level of fitness and could now ride harder, and for longer.
Soon they were pulling up in the port of Cartagena, a rewarding hotel booked, (although it was 4km from the centre…and uphill!) and feasting on a burger while watching the huge cruise ship that was moored in the port.
The next morning, as they headed for Torrevieja (48km) they stopped at a petrol station to check tyre pressures and were immediately recognised from their Facebook page (The Long Ride Home) and spent the next half hour having their photos taken with the staff!
Day 6 would be the easiest day yet, which they completed in just two and a half hours, arriving for a well-earned refreshment at Rocky's Arena on the N332 in Playa Flamenca.
Day 7 was to be the last day, but first a visit to the Samaritans was a welcome distraction from facing riding up Guardamar hill on the N332. The lads were clapped over the 'line' as they arrived at the offices at the commercial centre and as ever The Leader was there to welcome them and show their support for these good causes.
A vast fare of pastries and mugs of tea were handed round before the photos were taken of everyone outside. An hour later they were off again for the last leg of their epic trip; 48km to Gran Alacant.
Using the old route for the N332 they stuck as close to the coast as possible and once the dreaded hill at Guardamar was negotiated they knew the ride would be pretty much flat all the way home. That's when they tell me the pain began. 'It must be psychological,' said Dave, 'we were fine up until that point, a few sores and aches but nothing much, but once we could see the cliffs at Gran Alacant everything started to hurt!' But not for long. Again the riders decided to push on and covered the distance in two and a half hours, arriving to a heroes welcome at Shooters Bar in the Carrabasi Centre in Gran Alacant. A mock finishing line was held up and locals cheered the pair over it, both beaming and panting with exhaustion.
Two ice cold beers were handed over as they decided that standing up was the best option for the time being. They'd completed 675km in seven days and raised (at the time of print) over 1,000€ for their causes.
And as for doing something like it again Dave told me, we've both said never again but, as ever, once the memory of the pain fades you never know. Mitch made a hasty exit it must be said.
Dave and Mitch would like to thank their supporters including, Anthony Whitaker, Hamilton's Bakehouse, Club Cars, GA Services, Coys Rent a Car, Cooking with Languages, Costa Women, For Riders Bike Shop, Guardia Civil Trafico (N332) and of course The Leader for their continual support.