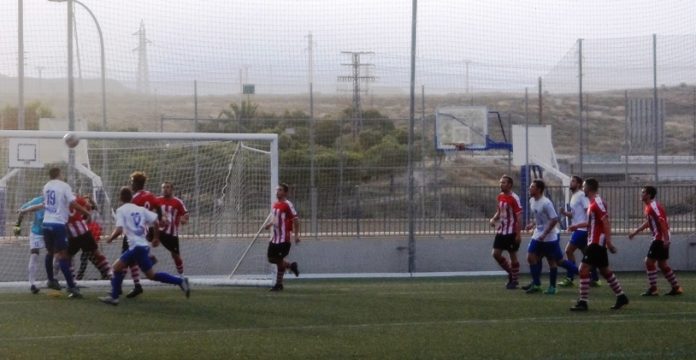 C.F.B. SAN GABRIEL 1 C.D. MONTESINOS 5.
Playing away against a team in 3rd place was never going to be easy.
However after only 3minutes Monte went ahead when CARLOS VENTURA tapped in from close range. The game changed when after 30 minutes CFB were awarded a penalty, when yet another long punt up the pitch found the Monte goalie, DANI, having to accidentally bring their centre forward down in the box. DANI however pulled off a wonderful double save, first in mid-air, then alongside the right post, to deny CFB an equaliser.
Just 5 minutes later, from a long throw-in MANUEL SANCHEZ squeezed he ball in with their goalkeeper wrong-footed.
The large group of travelling MONTE fans were still celebrating, when straight from the restart, the home side pushed forward and pulled one back with a fierce drive which left DANI with no chance. Monte hit back with 2 chances, but had to settle for a 2-1 lead at half time.
The second half started with Monte pressing, and were rewarded when VAZ beat their goalkeeper when turning, producing an overhead kick which found CARLOS VENTURA in front of an empty net, to make it 3-1. Within a few minutes following a lovely through ball to VAZ, who smashed the ball past a stunned goalkeeper sending Monte 4-1 up.
ALEX, LUIS and PASTOR were replaced with DANIEL SAEZ, KOKO and GERMAN. DANI was then called upon to make a great save from a close range header. Following a breakdown of one of the flood-lights, it was becoming difficult to see one corner of the pitch. The fans were dreading an abandoned game for this reason, but after about 15 minutes, the light was restored.
A breakaway saw Monte go 5-1 up when LUIS finished off a move involving several players. With 20 minutes left the home side pushed forward with nothing to lose and missed two very good chances in a 5 minute spell before VAZ went and missed a easy chance of his own.
An excellent game, in to be frank, poor surroundings. There were no obvious signs of toilets to be found, hardly any seats for the fans, no dug-outs for the players, no protection for fans from stray balls or errant players, and no refreshment facilities. For a playing field in the centre of a major City, a poor showing.
Not the players fault, however not knowing the circumstances of the history or development of the the team, but I've seen far far better in little villages in the middle of nowhere. A magnificent following of fans. The team were awesome, everyone would have been up for any man of the match award.
TEAM:- DANI, ALEX, FERNANDO, MANUEL RODRIGUES, MANUEL SANCHEZ, LUIS, CARLOS VENTURA, VAZ, PASTOR, DIMITRY, MACCAN.
SUB'S:- AITOR, FRAN, KOKO, DANIEL SAEZ, GERMAN.
MONTE ARE AT HOME TO C.D. ALTET ON SUNDAY THE 5TH OF NOVEMBER K.O. 5 P.M. THE MATCH WILL BE SPONSORED BY JIM CRIPPS OF PREDICTOR LEAGUE FAME.