By Tracy Storer, Senior Partner, Chorus Financial.
Every week Chorus publish articles to help Brits here in Spain navigate safely and securely through areas such as investing, retirement planning, pension transfers, succession planning, tax and legal matters. This week I felt my column inches would be even better served by telling you all about a very important series of seminars that are coming to our area on November 7th, 8th and 9th, which cover all these important areas.
One of the most common pieces of feedback I've experienced over the years from thousands of expats here in Spain, is that sometimes it's hard to know who to believe when it comes to such vital information such as pensions, investments, tax and legal matters. You ask 3 people a question and you get 3 different answers, and often this means people are getting information on critical subjects from Facebook or a guy at the bar.
The Finance Tour is the first time that experts from major UK based institutions will be visiting the Costa Blanca to answer your questions direct. The seminars will start with a short presentation from each company, followed by an open Q+A (if you're shy you can send your question in by email in advance!). At the end of the session you'll be able to speak with the experts direct, whilst enjoying a free buffet and drinks.
So, who are the experts? George Forsyth from The Prudential, a company who have been helping people plan for their financial future for 168 years and have over 24 million clients Worldwide. The Pru have plans designed specifically for expats in Spain that will help your savings grow in a tax efficient manner, with similar benefits to a UK ISA.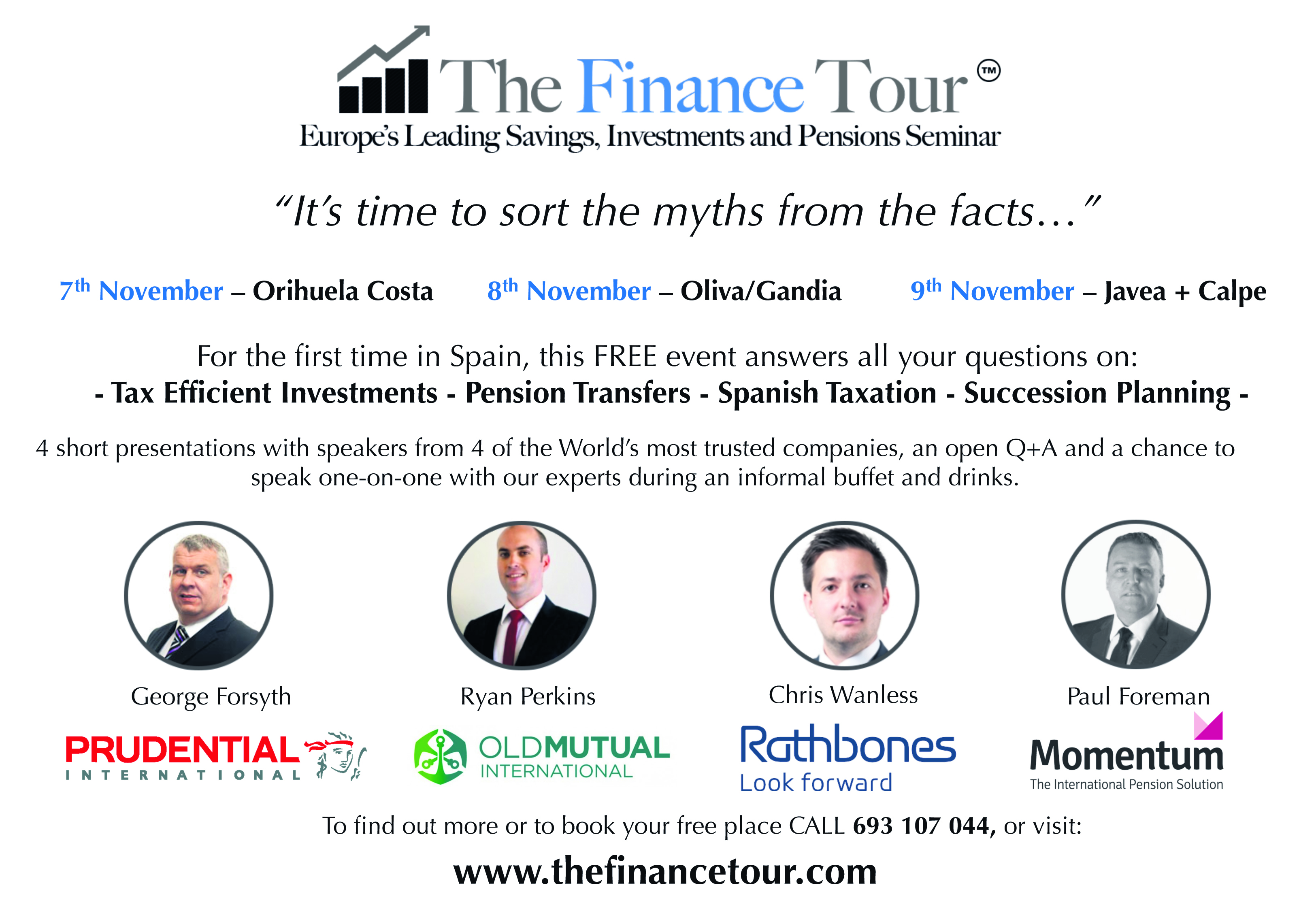 For the more experienced and sophisticated investors the tour brings speakers from both Old Mutual and Rathbone Brothers PLC. Old Mutual are a FTSE 100 company whose presenter Ryan Perkins will answer technical questions on tax efficient investing in Spain, succession planning, including the use of trust to mitigate against inheritance tax. Chris Wanless is a Director from Rathbone Brothers PLC, one of London's oldest and most prestigious investment houses. Rathbones manage billions in investments and pension funds for individuals, trusts and charities, including many clients here in Spain.
Paul Foreman is a Director of one of the UK's leading pension companies, who specialise in solutions for expats. Anyone who has a frozen UK company or personal pension should take this opportunity to speak directly with one of Europe's leading specialists and sort the myths from the facts about pension transfers.
The seminars will be useful for anyone with existing investments, including non-tax efficient plans like ISAs, UK bonds etc, or QROPS/Spanish bonds where they'd like to improve on their returns. For those considering a new pension transfer or investment, this is an unprecedented opportunity to speak directly with the product providers before you go ahead and seek independent advice.
It's very easy to book your free place, simply visit www.thefinancetour.com or call 693 107 044. We really hope to see as many of you as possible at these essential events.
Chorus Financial is a trading style of Tourbillon Limited, authorised and regulated by the Financial Services Commission (Gibraltar), Licence Number FSC1118B and registered with the UK FCA as an EEA Authorised firm, reference 539348.