Ten seriously injured on Monday evening pile up
Thirteen vehicles were involved in a multi car pileup on the A7 motorway on Monday evening in one of the worst accidents seen on local roads in recent years.
The crash occurred during the early part of the evening when five people were killed and another 10 were seriously injured in a collision involving 13 vehicles – nine cars, two trucks and two vans – that were all traveling on the A-7 motorway in the direction of Murcia.
According to the Guardia Civil the accident happened close to La Paz service, in Sangonera la Seca.
Four of the dead were traveling in the same vehicle, a man and three women; two of them are thought to be teenagers, according to sources. The fifth deceased was the sole occupant of another of the cars involved in the tragedy.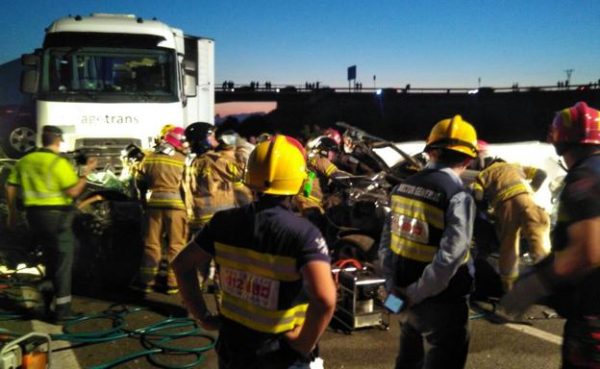 Fourteen ambulances and a number of fire and emergency medical units were despatched to the scene according to the 112 Emergency Co-ordination Centre.
The accident happened when, for unknown reasons, a refrigerated truck drove into the back of several other vehicles, according to a spokesman from the Centre that Coordinates Emergencies.
All of the injured were transferred by ambulances to a number of different hospitals including the Hospital Virgen de la Arrixaca and the Reina Sofía hospital.
The driver that is thought to have caused the accident described how, initially, he remained motionless in the driver's seat of his vehicle, trying to take in what had happened and that two crushed cars with five dead people inside, lay beneath his refrigerated truck.
As he then stood by the side of the road he said he was in a complete daze as he then watched as the paramedics and the firefighters were working to assist and to free from the wreckage the injured people. He said that he was in tears when he finally called his father, the man who taught him to drive, to tell him of the tragedy in which he was involved.