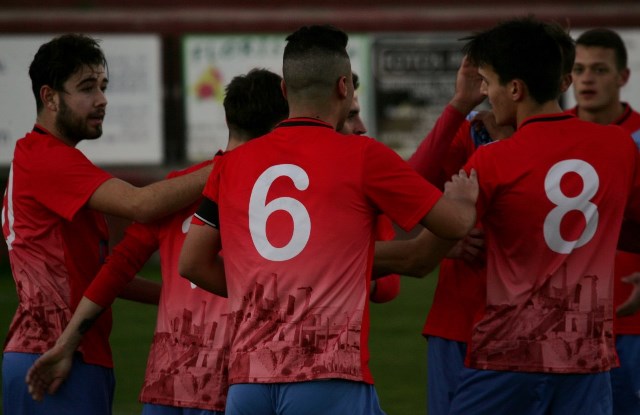 After the first 20 minutes of play when we had only seen the play go from end to end and the loss of several balls flying high over the surrounding walls and nets, Mazarron made the first major impression on the game.
From a corner kick the ball was delivered into the box were it was swiftly headed into the net by Javi Torrano (no 11) – GOAL for Mazarron.
With Mazarron firmly in control of the game the goal tally should have been added to within minutes.
Dani Linares (no 7) raced to collect a long ball. He passed it into the box were again Javi Torrano (no 11) headed goal-wards only for it to strike the crossbar, rebounding back it was rapidly collected by Alfonso Canovas (no 8) who struck it but unfortunately over the net.
With Cartagena defending hard there was an unfortunate clash of heads between two of their players. Play was suspended for several minutes as they received medical attention. Both players had to be substituted and an ambulance called.
For the last 15 minutes Mazarron had chance after chance, again hitting the crossbar and having shot after shot.
The first half finished 0 – 1.
Cartagena got the second half under way. Their standard of play was slightly improved but nothing that would worry Mazarron.
With great control Raul Torrano (no 2) took the ball up the line for Mazarron, passing it to Dani Linares (no 7) in the box but Cartagena tackled hard to dispossess him.
Unhappy with this style of play, an "off the ball" incident occurred in the box but only resulted in Mazarron receiving two yellow cards, Dani Linares (no 7) and Adrian Campoy (no 5).
Dani Linares (no 7) was soon brought down again, this time just outside the box, earning a yellow card for Cartagena.
Mazarron took advantage of the well positioned free kick resulting in Dani Linares (no 7) striking the ball over the Cartagena wall for Mazarron's well deserved, GOAL number two.
Now with 75 minutes played tempers were beyond frayed and a second "off the ball" incident, spotted only by the linesman, resulted in two red cards, Mazarron's being for Boudia (no 6).
With both teams reduced to ten men the play was scruffy and aggressive.
Mazarron took advantage of another well placed free kick as Basi (no 9) repeated the action of goal number two, with a direct kick to make GOAL number three.
Cartagena, still believing, "hard ball" was the way to play saw a red card for the second time and were duly reduced to nine.
The final whistle could not come soon enough as the last few minutes of the match were disappointing, purely by Cartagena's style of play.
The match finished Cartagena 0 – Mazarron 3
Mazarron made three substitutions throughout the second half.
Cartagena made five substitutions throughout the game.
Man of the match voted for by Los Amigos de Mazarron FC was Dani Linares – No 7.