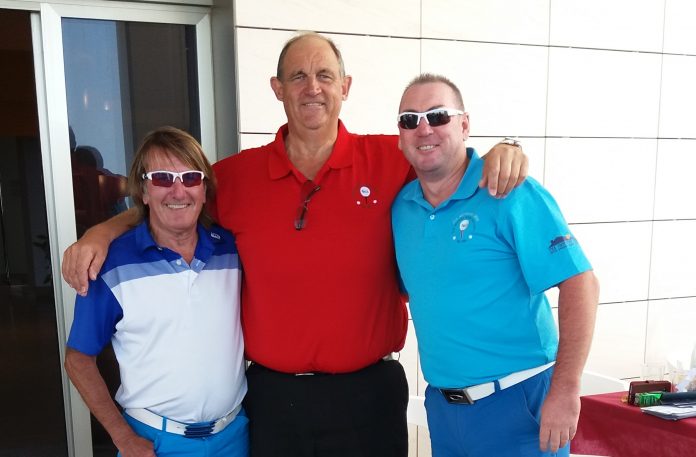 Perfect weather and a shortened course in good condition met 32 members and 2 guests taking part in SMGS's weekly get-together for a stableford competition at Alenda. Several excellent scores were returned, with 40 points for both Norman Padmore and John Osborne (who made hay on the nearest the pins, taking what may be for SMGS an unprecedented 3 out of the 4 on offer), Steve Higgins with 39 and Paul Guest, Keith Stevenson and Keith Wraithmell 38. Steve Higgins excellent play also helped him record a notable victory in the final of this year's singles match play competition, overcoming rival Jamie Rorison for the trophy.
The day's stableford competition results, by category and in reverse order, were the following:
Bronze Category: 3rd Keith Stevenson (38 on CB), 2nd Keith Wraithmell (38 on CB), and 1st Norman Padmore with 40 points.
Silver Category: 3rd Roger Webb (36 on CB), 2nd Ray Smithers (36 on CB), and 1st Norman Cahill with 37 points.
Gold Category: 3rd Paul Guest (38), 2nd Steve Higgins (39), and 1st John Osborne with 40 points.
Nearest the pins on the par 3's (open to all) went to John Osborne (holes 3, 5 and 16), and Steve Higgins (12).
The Abacus was won by Paul Fisher.
The Best Guest prize went to Chris Farlow with 32 points.
Our thanks go to the staff at Alenda for their contribution to an enjoyable day.
Keep up to date with all SMGS matters by logging on to our website www.smgs.org or simply give Theo Boelhouwer a call on 694494824 to find out more about the society and its weekly golf get-togethers. Next week we will be at Las Colinas for Captain's Day.