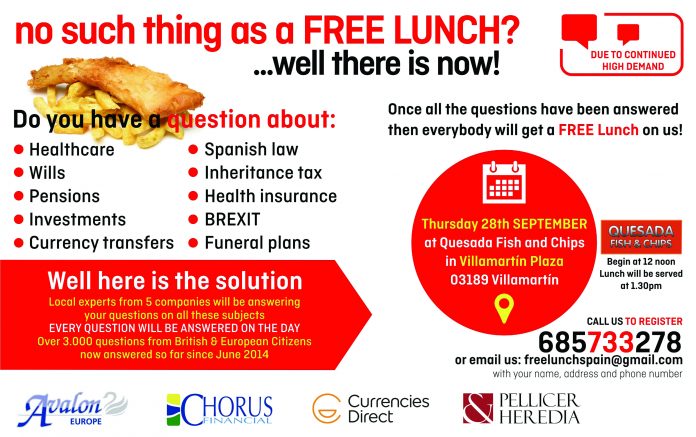 The team at Free Lunch Spain have since June 2014 supplied essential information about life in Spain to over 3,500 people. Each of the local experts has ensured that all the people who have attended get the correct answers to their specific questions.
The team has been created from the five local companies are they are overwhelmed by the continued popularity of these events. As a result they are now expanding the number of seminars. This will be a fantastic opportunity for everybody to get all the facts about life here in the Costa Blanca.
Everybody who attends will be able to ask the experts in various areas of business about how things work in Spain, which is a refreshing change to the continued confusion that reigns here.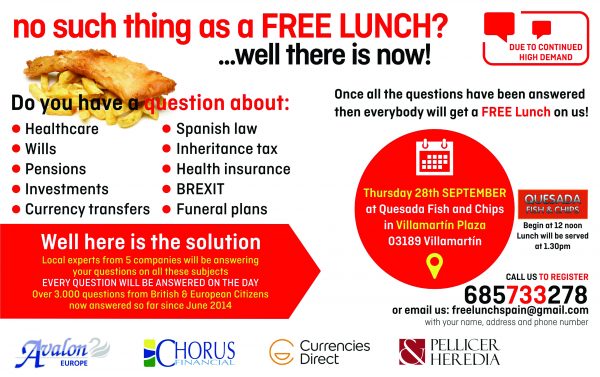 Once again the highly respected UK & Spanish companies based in Spain are inviting all British, Irish & European nationals, spending time or living in Costa Blanca, to a meeting for their questions regarding life here to be answered.
Some of the topics that will be covered will be as follows:-
Brexit – The latest updates on how we are affected in Spain
Savings and Investments – How to get the best returns for your money.
Mortgage Refunds – Find out if you due a rebate from your Spanish bank
Wills – Ensure your will complies with the latest regulations
Pensions – Find a dormant pension of yours in the UK
Inheritance taxes in Spain – Ensure your heirs don't pay too much
Currency exchange – Get advice how to get the best rates for your UK pound or Euros.
Complex Spanish funeral system – Get all the facts.
Experts from five companies will be providing professional advice on all these topics and answering all your questions.
Everybody who attends the event will get all their questions answered. How fantastic is that!!
Once all the questions have been answered then everybody will get a free lunch at Quesada Fish & Chips in Villamartin Plaza. The event begins at 12 noon on Thursday 28th September.
To register to attend this unique event you can e-mail freelunchspain@gmail.com with your name address and telephone number or call 685 733 278. Spaces are limited so I am off to register right now.
The thing is I have about ten questions that need answers. Apparently the experts will have an answer for each one!
Great news.