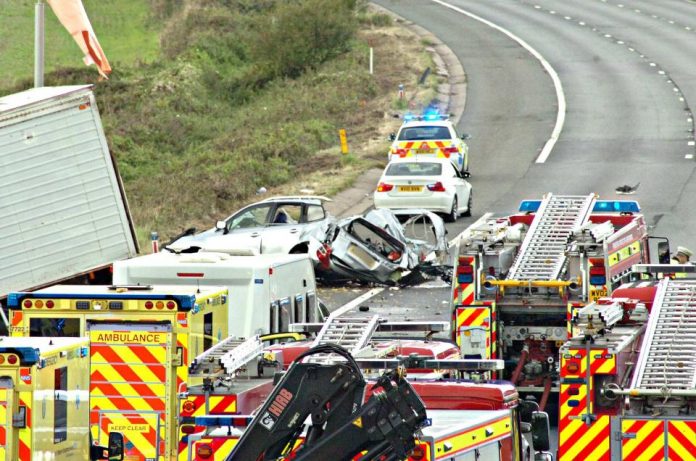 Four people have died and a others are fighting for their lives following a fatal accident on the M5 in South Gloucestershire where a lorry smashed through the central reservation and hit at least two vehicles travelling in the opposite direction.
A woman and two children were injured in the fatal accident which happened between Junction 16 for Aztec West, and Junction 14 for Thornbury in South Gloucestershire. They have been taken to hospitals in Bristol where they are said to be in a life-threatening condition. The driver of the lorry has also been taken to hospital as a precautionary measure.
The lorry crashed through the central reservation and rolled down an embankment before colliding into oncoming traffic and ripping the roof off of one vehicle. It is believed that a puncture caused the lorry driver to lose control of the vehicle which resulted in the crash.
Emergency services were called to the scene at around 1430 on Saturday.
Superintendent Simon Ellis said: "Emergency service personnel have been working tirelessly at the scene in harrowing conditions and I'd like to praise them for the work they've done and are still doing.
"I'd also like to thank the members of the public who courageously went to the aid of those involved in this collision and in some cases rescued them from their vehicles.
"Our priority is to ensure the victims' next of kin are notified and supported, as well as the ongoing management of the scene, and this important work is ongoing."
Heroic motorists were able to pull the victims of the accident out of their vehicles before they burst into flames.
The accident left queues of more than 6 miles on the northbound stretch of the motorway.