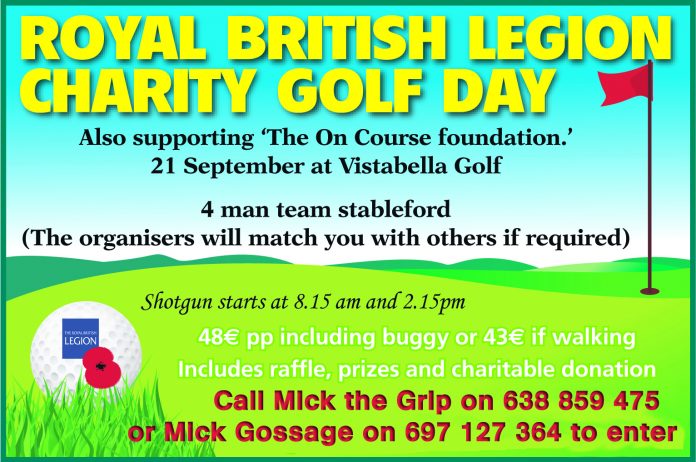 Sponsored by Costa Blanca Green Fee Services
Here on the Costa's golf is one of the biggest leisure time activities for both tourists and resident alike and with this in mind we have secured the services of Mike Probert of Costa Blanca Green Fee Services to provide a weekly round up of local golfing events and topics and in conjunction with us at THE LEADER will provide discounted golf prices to all of our readers and run our golf competitions.
British Legion Charity Day
The charity day in aid of the Royal British Legion and the on course foundation will be held at Vistabella on 21st September 2017 and the day is full with 144 players and 16 players in reserve and looks like being another successful day.
As in previous years Costa Blanca Green Fee Services and the Leader will be providing green fee vouchers from various local courses for auction or sale with 100% of the proceeds being handed to the respective charities.
The day is pretty full with two shot gun starts,two competitions and two prize presentations to be held and so time is at an optimum and to assist we are giving the chance for our readers and the competitors to purchase these vouchers in advance of the day.
If you would like to make an advance telephone bid for any of the green fee vouchers on offer (see list below) then call Mike Probert on 966704752 or 661345931.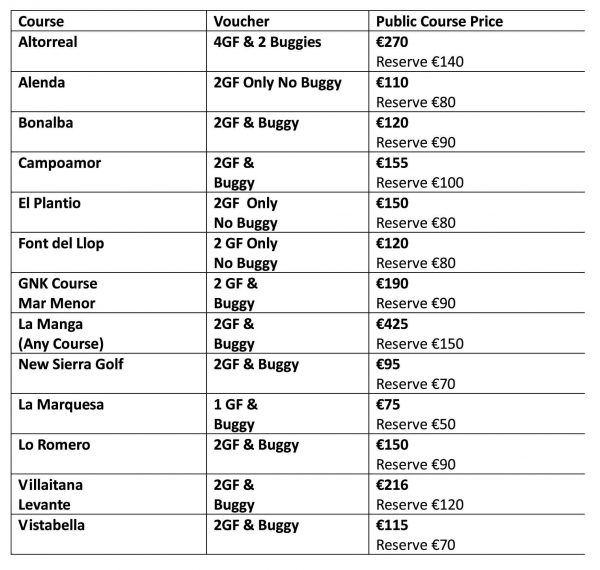 We at THE LEADER are committed to providing to our golfing readers affordable golf without the need to join a club or apply for a card but simply contact the number below to have instant access to discounted golf prices, many of which are exclusive to us.
The deals shown in the table are some of the best currently available to you until 30/09/17: