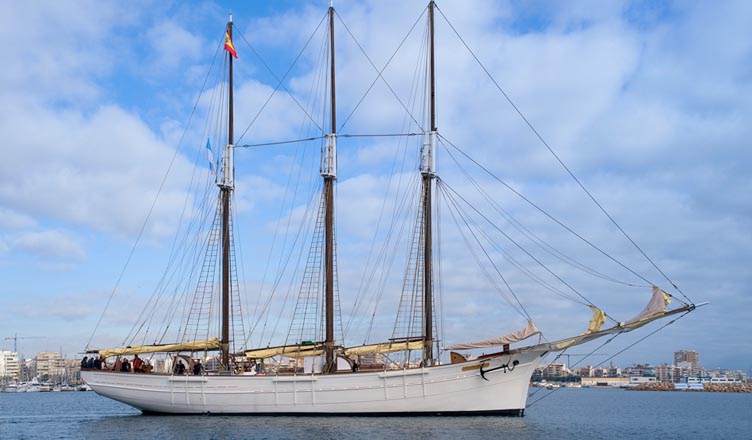 Torrevieja has asked the Nao Victoria Foundation to fund the costs of necessary repairs and maintenance to the Pascual Flores, which could reach a staggering 1 million euros.
Based in Seville, the Nao Victoria Foundation is a non-profit marketing and educational platform that promotes historical events, which are supported by the construction of historical ships (the Nao Victoria and El Galeón) that are sailed throughout the world's ports, and if agreement can be reached it ishoped that the foundation will take over the management of the Pascual Flores in exchange for its return for Torrevieja for approximately 2 months every year.
The city has already spent more than 4.5 million euros of public money on this imposing and historic 3-masted schooner, a onetime star of the TV series 'The Onedin Line. She was the last sailing ship built on the Arenal beach in Torrevieja in the second decade of the twentieth century.
The boat served for many years as a freighter. After her trading career finished she was British owned and based first at Dartmouth and then in Bristol. The ship was rescued in Milford Haven and sold to Torrevieja council for 160,000 euros. She was brought back to her home port of Torrevieja on a heavy lift ship where, in 2008, where she was restored at a cost, in the region, of 4 million euros.
Nine years later, during which time it has only once set sail, it is riddled with problems. Just last week areas of the wooden mast were found to be rotten and according to the mayor, Jose Manuel Dolon, the repairs that it urgently needs will cost the public purse between 600,000 and 1 million euros.
As such the council has now made contact with the Nao Victoria Foundation who, it is hoped, will relieve the city of the schooner and cover the costs of its necessary restoration.
They will than make use of the vessel, sailing it to historical events around the world, where it will promote the foundation and the city of Torrevieja.