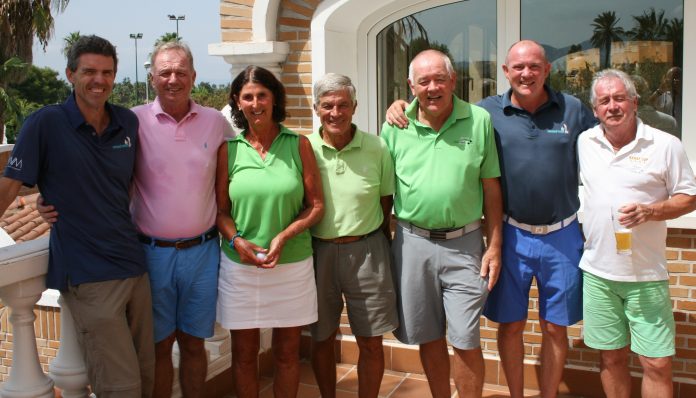 On Friday 25th August, at a hot and sultry Oliva Nova, Montgo Golf Society played a stableford competition kindly sponsored by Campbell Lamont Golf. We were honoured to have Campbell join us for the day as well as special invitee Damian Sanchez, the Oliva Nova caddie master who will be leaving us at the end of the month for pastures new.
Both guests performed to a very high standard, with Campbell recording an excellent 36 points of his 3.8 handicap, and Damian an equally impressive 33 points off 2. Unfortunately however these great scores were not enough to get amongst the prizes, as three wily old Montgo members took the spoils.
In first place, with a fine 38 points off 14.6, was George Braddick, pushing John Snellings 37 points off 9.8 in to second. In third place was another of our lower handicap players, Ed Wallace, with 37 points off 10, a score that will return his handicap to single figures. The two nearest the pin prizes also went to players with equally impressive shots. Shaun O'Gorman took the 3rd with a tee shot to just 1.96 mtrs, whilst Stella Fox took the 16th with a shot to 2 mtrs from the pin. There were no less than five 2's on the day, scored by Campbell Lamont, Damian Sanchez, Stella Fox, Roy Jones, and Geoff Willcock. There was one final singles knockout result, with Stella Fox just losing out 2 and 1 to Sally Cottrell in a very tight match.
Following the prize giving the captain John Feek presented Damian with a farewell gift on behalf of the members, thanking him for his support of the society and wishing him well for the future.
Our next event is on the 8th September, when we will be playing a Texas Scramble at Oliva Nova sponsored by Michel and Liz Grin. Guests are welcome, subject to availability and a current handicap certificate, and should register by visiting the website and completing an online booking form