STEVE HIBBERD WRITES …….Club president Vicente Boix has announced that as a reward to loyal Torry fans, he has decided to drastically reduce season tickets for the forthcoming season. At only 50 euros, this equates to a meagre 2.94 euros per match for the 17 home games available from the preferente league group 4 fixture list.
Hopefully all these 17 matches will be played at Vicente Garcia stadium, which has prompted the club to use VOLVEREMOS as their slogan on advertising posters. President Boix has stated that Torry will be playing at their spiritual home from the start of the season, even though the covered stand will be closed, suggesting the slogan, WE WILL BE BACK, becomes a reality.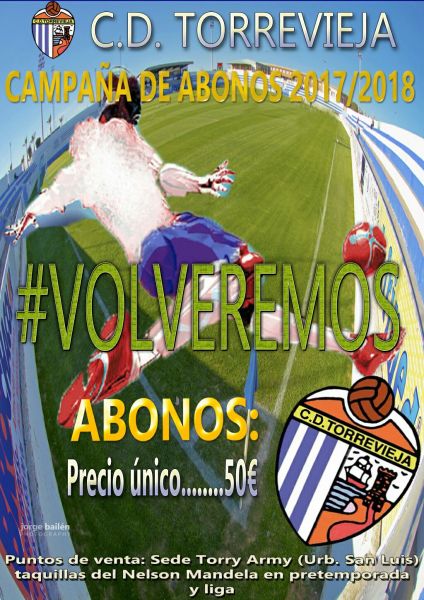 Wherever home may be, Torry now find themselves with a great opportunity to start off the new season with a bang. The Villena match on 10 Sep has been switched from an away to a home fixture, which will now be sandwiched in between home games against Almoradi on Sun 3 Sep, ko 7pm, and Alicante University on 17 Sep.
It was a quiet week regarding recruiting new signings, but manager Pedreno did secure the services of another central defender. Torrevieja born Santos (22) joins the club from 1st regional side Torrevieja CF, with a promise of more new faces arriving in the coming weeks.