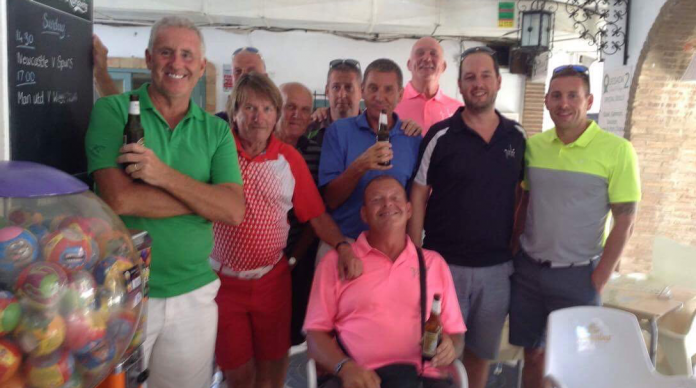 Our golf today took us to La Finca, with 29 players, 2 winners took the 2's pot, Andy Shaw and Phil De Lacy. Well done chaps. Our nearest the pins were sponsored by The Ale House, Ground Floor Villamartin Plaza. Hole 3, Colin Rust, Hole 6 Andy Shaw, Hole 11 Andy Shaw, Hole 13 Declan Crowley, Hole 16 Greame Clarke. All collecting 10€ bar tab for The Ale House.
Our lowest placed player was Barry Mitchell with 14 points collecting a bottle of wine to drown his sorrows and reflect on his game. The football cards were won by Karl and Chris Bellman.
Our Guests saw some cracking scores with Scott Wilson coming in with 32 points and Colin Rust on par with 36 points. Both winning wine and balls. Well done and thanks for coming.
Our Silver Division saw Phil De Lacy coming in 3rd with 34 points, Nick Peach with a peachy 37 points coming in 2nd and with a much improved score from last week with a fantastic 38 points and also the player of the day saw Kev Adamson win silver division.
Our Gold division also saw some great scores with Greame Scottish Clarke coming in 3rd place with 34 points, Nick Spicer with a sizzling 35 points and Steve The Hair Higgins with an impressive 36 points. Great day had by all.
Next week sees us visit Villamartin for our society Charity Day The AECC, the pink ladies, wearing Pink is essential. A few spaces left. Visit our webpage for more information on fixtures and www.theplazagolfsociety.com Or email us at theplazagolfsociety@gmail.com