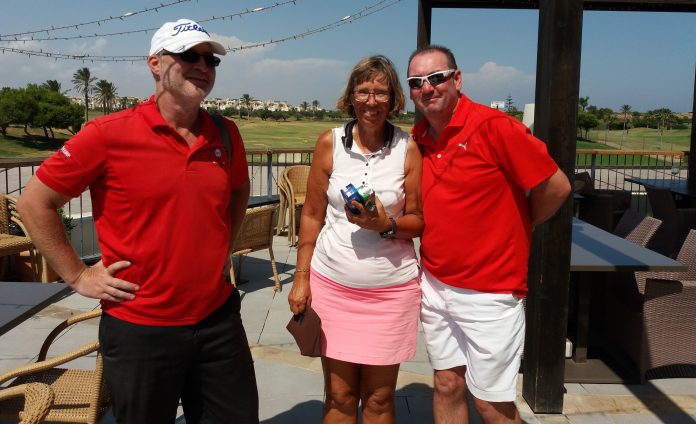 A welcome drop in recent temperatures, although still pretty hot and humid, met the 26 members and 3 guests who turned out to play Roda. With it raining heavily not too far north we teetered on the edge of some rain laden clouds, but not a drop fell.
The course, in such good condition only a few days before when some members had played it, was spoilt by the poor state of the recently spiked (and ridged?) greens. However, even with these hindrances some extremely good scores were posted, the stand-outs coming from Barry Roehrig and Theo Boelhouwer who both carded 40 points.
The day's stableford competition results, by category and in reverse order, were the following: Bronze Category: 3rd Chris Hamblett (28 on CB), 2nd Brian Butler (31 on CB), and 1st Phil Birtwistle, also with 31 points
Silver Category: 3rd Ken Flaherty (34), 2nd Colin Rust (36), and 1st Theo Boelhouwer with 40 points
Gold Category: 3rd Darren Hancock (35 on CB), 2nd Jamie Rorison (37), and 1st Barry Roehrig with 40 points.
Nearest the pins on the par 3's (open to all) went to John Osborne (hole 2), Eva Pettersson (7 and 13), and Kyree Skarsmoen (11).
The Abacus was won by Norman Padmore, but he was not there to collect it so it was awarded to Marg Birtwistle.
The Best Guest prizes went to winner Peter Devlin (36) who pipped runner-up Jim Starbuck on countback.
Our thanks go to the staff at Roda for their contribution to an enjoyable day.
Keep up to date with all SMGS matters by logging on to our website www.smgs.org or simply give Theo Boelhouwer a call on 694494824 to find out more about the society and its weekly golf get-togethers. Next week we will be at La Serrena.