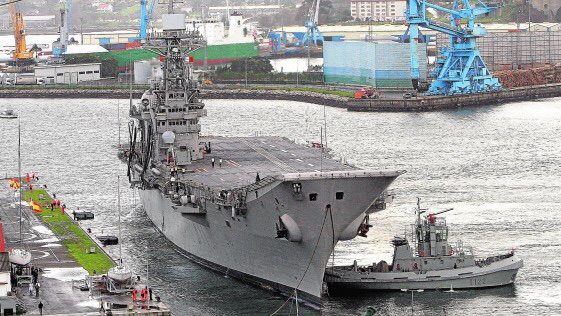 Surus Inversa, the company that owns the aircraft carrier "Príncipe de Asturias" (R-11), started work this morning on the Spanish Navy's former flagship as it embarked on it's final journey to Turkey where it will be dismantled.
This trip is expected to take 20 days, according to the company which specialises in ship recycling, After leaving the Military Arsenal of Ferrol the ship will be towedacross the Mediterranean to Turkey.
The final scrapping will take place at the Turkish shipyard Leyal Deltas, in the port of Aliaga. The Madrid Company Surus Inversa purchased the vessel at a military auction for 2.7 million euros.
Originally named Almirante Carrero Blanco, the Príncipe de Asturias, is an aircraft carrier that was the flagship of the Spanish Navy for 25 years (1988-2013). She was built in Bazan's Shipyards and delivered to the Spanish Navy on 30 May 1988.
She was removed from the Official List of Ships of the Navy on December 13, 2013 when she became the victim of defence cuts, the Minister of Defence, Pedro Morenés, taking the decision to scrap the ship because of the economic situation of the country at the time, as its annual maintenance cost was said to be about 100 million euros per year.