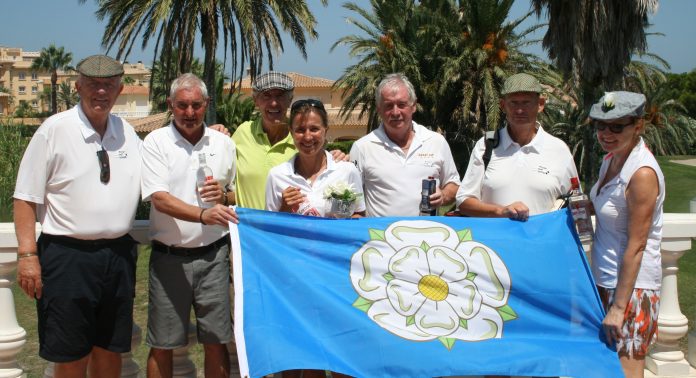 On the 4th August Montgo Golf Society played a stableford competition at Oliva Nova for the Yorkshire Day Trophy, kindly sponsored by our very own tyke, Gordon Gleeson. Ironically, on a day when it was chucking it down with rain in Yorkshire Oliva Nova was blisteringly hot, a heat that literally sucked the energy out of the players no matter how much water they consumed during their rounds, and left everybody in a sorry state in the clubhouse afterwards.
Needless to say the heat also took its toll on the scores, with only one member managing to play to their handicap.
In first place, continuing her spectacular run of form, was Sally Cottrell with an excellent 36 points off 17.6. In second place was our vice captain Denise Cooper, also enjoying a good run of form with 35 points off 17.4. Third place went to Tom Atkinson with 31 points off 21.4, and fourth was Russ Peters with 30 points off 14.8. Shaun O'Gorman and John Feek were the two players to miss out on countback.
There were three nearest the pins on offer, with Sally taking the 3rd, Ed Wallace the 11th, and Geoff Willcock the 16th. Our sponsor Gordon managed to join the prizewinners by scoring the only two of the day on the 16th to take home a coveted Montgo ball.
Our next competition is on Friday 18th August, when we will be playing a stableford competition for the Middleton Trophy, sponsored by Roy and Jan Jones. Guests are welcome, subject to availability and a current handicap certificate, and should register by visiting the website at www.montgogolfsociety.net and completing an online booking form